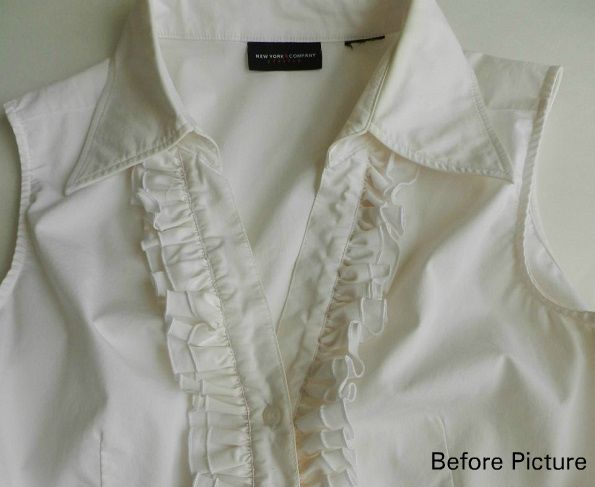 (I can't believe it worked!  This looks great!  I think I will wear it tomorrow!)
I know what you're thinking. What is the world coming to now! Did she say use toothpaste to help whiten her clothes? I did. I was tooling around the house trying to come up with different stuff that I could try to whiten my white clothes. I thought, "Try some toothpaste. Why, not?" My reasoning is that if we use it to whiten our teeth, then why not use it to whiten our white clothes.
Seriously, this is a white shirt that I am so in love with and of course it had that dingy look. I have been trying for the last two years to whiten or brighten it back up. I refuse to throw it away. The last thing I tried was the lemon and salt mixture. (Squeeze about 12 lemons, add a cup of salt, mix and then soak the shirt for a while. Hang in bright sunlight until it becomes bright white. Umm…….no.  Didn't work. Save your time for something else.) That was just one of the things I tried.
So, sitting in the kitchen, I decided to stir some stuff in a bowl. Kind of a like a mixture of different stuff I have tried over the years, with the exception of the secret weapon….TOOTHPASTE!  (I call it secret because it's the new thing I added.)
Even my daughter was like, "Ma, we need that toothpaste for brushing our teeth.  You've already used up one tube on that other shirt."  I had to test it out twice.  Didn't take before pics on the first white shirt.  Plus, it wasn't my favorite white shirt.  Test out first on a non-favorite shirt and then when it works, test it out on the favorite shirt.
Ingredients:
1 6.4 oz tube of Colgate Baking Soda & Peroxide Whitening Toothpaste (paste, not gel)
1/2 cup of baking powder
1/4 cup of salt
About 2 cups of vinegar  (depending on how large your clothing item)
Directions: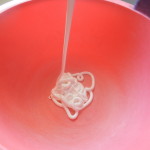 Squeeze the entire tube into a large bowl.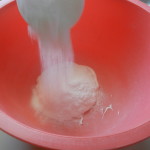 Pour in baking powder.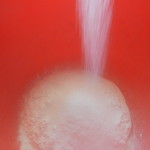 Pour in salt.
Then, again with the bubbly effect.  Pour in the vinegar and wait for that bubbling explosion.  Stir, quickly.  After the bubbling stops, stir to mix together. The mixture of that toothpaste and vinegar causes it to rise again as you stir.  It gets bigger.
Then, put shirt into the bowl and soak for a couple of hours.  I let this shirt soak for 3.5 hours.  No specific reason for that specific number.  I had to leave the house to pick my teenager up from school and it took a while to get back.  Soak it as long as you like.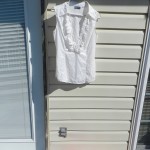 Then, wring and hang outside in the sun.  If you're hanging on the deck, like me, put a towel or something down so that you won't have the toothpaste mixture dripping on the deck. Though, I didn't notice any at all, especially if you wring it out tightly.  Try and do this experiment when it is hot and the sun is bright. Again, I am hoping to work with the sun.  Remember that lemon and salt thing I tried.  Hopefully, the bright sun and the salt that is mixed into this experiment will help also.  I put mines outside when the sun was on the back of the house.  After the sun went down, I brought it in and let it hang in the basement overnight.  Don't put it in the washer until in the morning. That way, it will be able to dry in the sun during the early part of the day.  For your info, this toothpaste mixture has a smelly odor.  That is why I'm hanging it in the basement.  Don't worry about the smell because it will not stay in the clothing after it has been washed.  Actually, it is going to smell so fresh after it has been washed.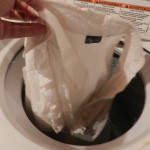 In the morning, put it in the washer.  Throw in another 1/2 cup of baking soda, along with your regular detergent.  After all, we bought a box of baking soda, might as well use it all up. Plus, I'm determined to give this white shirt all the help that I can.
Hang it back out in the sun.  Let it stay in the sun until it dries completely.  Then, check out the results!  P.S.  This shirt smells FABULOUS! I'm sure it's the toothpaste that has it smelling so fresh.  This seems like a long process, but trust me, you'll love the results and you can now wear that white piece of clothing with a bright smile…..
Of course, you will want to use this toothpaste concoction on a shirt or clothing item that you just refuse to give away or stop wearing.  Now, this is going to be the start of a bright summer!
Well….what do you have in your closet that you would want to try to brighten with this toothpaste concoction?  Trust me, you won't be disappointed!
Like this article? Sign up to get free email updates to Make It Or Fix It Yourself!