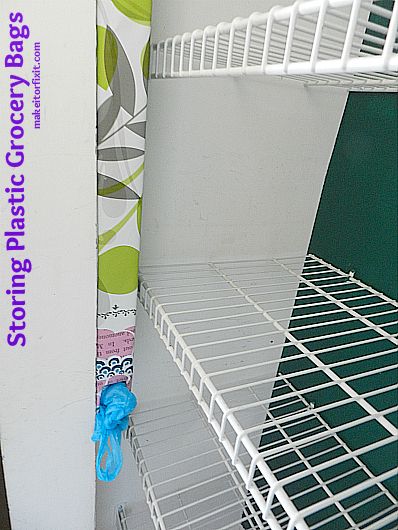 When it comes to storing those plastic grocery bags in our house, I normally just stuff them in the side part of our closet or pantry. (Do people really say pantry these days?)  I don't have a large kitchen closet for storing my groceries.  I know that some people like using the reusable bags and not using the plastic store bags when they're shopping, but I like the store bags because I used them as liners for my garbage cans in the bathrooms. I just needed to find a neater way to store them.  I tried putting them inside of a larger bag and keeping them at the bottom of the closet, but they kept spilling out all over the closet.  So, I came up with this nifty way of keeping them in check.  Now, all I have to do is pull out a bag when I need one and don't have to worry about them going everywhere.  Here's how I did it. (First, take a look at how I was keeping them previously.)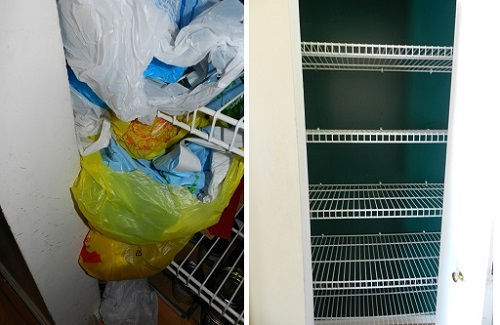 This is normally how we would store our plastic grocery bags.  Just stuff them in the closet.  As you can tell from the size of our closet on the right, it is not that large. (This post gave me an opportunity to clean and reorganize my kitchen closet.)
Items needed:
box that will fit comfortably inside of your pantry closet
wall paper, gift wrap or some type of covering (optional)
tape
nails
Instructions: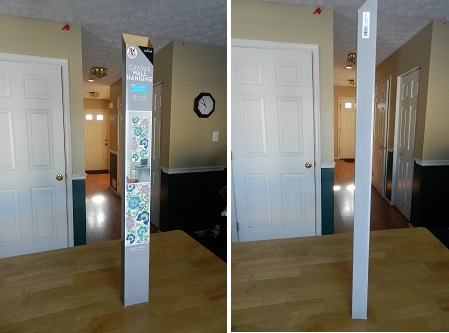 First, you'll need to find a box that will fit into the space allotted in your closet.  I found a box that was thin and long enough to fit into my small space.  Plus, it had a nice opening at the top for stuffing the plastic bags.  I purchased this canvas wall hanging from Bed Bath & Beyond for $3.00. It was on clearance and it was the perfect size box and wrapping.

I measured about 3 inches and cut a hole large enough to pull out the grocery bags without them getting stuck or falling out on their own.  You should make the hole close enough to the bottom of the box so that the stuffed bags will fall down when needed.

I covered my box because I wanted it to look pretty hanging in the closet.  Make sure and leave the top part open for stuffing bags.  This was a really pretty paper which is actually a canvas wall hanging. It really brightened up that dull gray look on the box.

I secured the opening with tape so that the wrapping wouldn't come loose when pulling out bags.  The wrapping turned out nicely.

I pushed the plastic bags down in the top part of the box.  Then, I used a broom handle to push them further down in the box.  You want to store as many as possible, but try not to over stuff the box too tightly because you want the bags to be able to drop down when you remove one.

I punched two nails through the top of the box.  I'm going to nail them into the wall to hold the box tightly inside of the closet.  Also, I nailed a nail through the opening slot to make sure that it would be secured to the wall and wouldn't come up.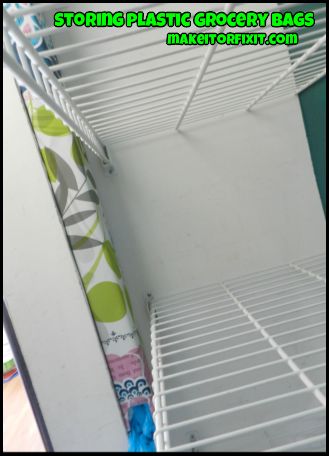 This is another shot of the box after being nailed into the wall.  Now, this is so much better and neater!
Do you have a great way of storing those plastic grocery bags?
Update 04/26/2015:  It would be a good idea to cut a hole in the middle part of the side of the storage container.  That way, if the bags stick, you would be able to reach them easier.
Like this article? Sign up to get free email updates to Make It Or Fix It Yourself!