If you need to come up with a simple dessert for a gathering, try these so-not-homemade peanut butter cookie ice cream sandwiches.  Of course, since I made these at home with premade items, I guess they may be considered somewhat homemade. They're easy to make and simply delicious.  Just grab a couple of store-bought items and you're ready to get started.  The key to making this come out right is to continuously keep the dough cold while you're working with it and keep the forks cold when you're making the designs on the cookie.

Ingredients:
Pillsbury Simply Peanut Butter Cookie Dough
French Vanilla Ice Cream
Directions: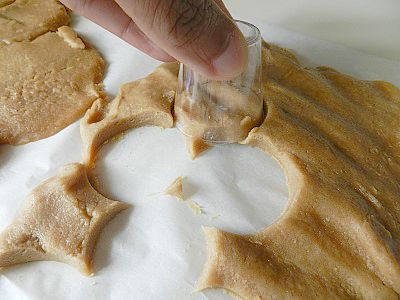 Roll out cookie dough.  Using a small round top (I'm using a top from a container.  I didn't measure it, but it is probably 1 inch or less.), press down in dough to make the round cookie shapes.  I didn't have a problem getting them out.  Most of them just popped out of the top.  For those that didn't, I just used a knife to pop them out.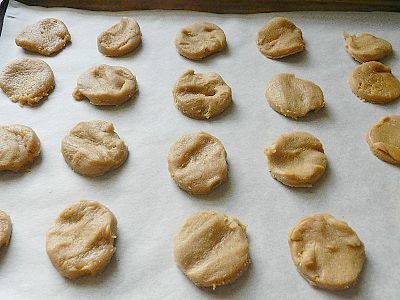 All cut out.  Aren't they so small and cute?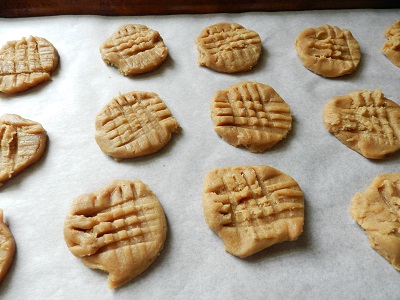 Make sure to keep the forks really cold when making the design on cookie dough.  It really helps the fork from sticking to the dough.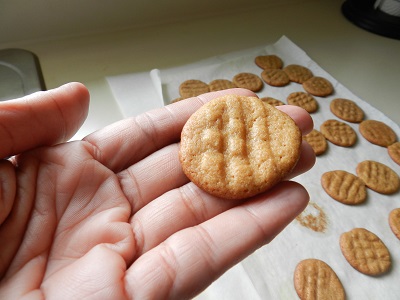 These are the perfect size.  Bite-Size!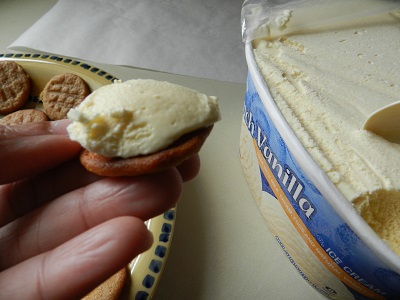 Let the cookies cool. Then, put a dollop of ice cream on top of one cookie.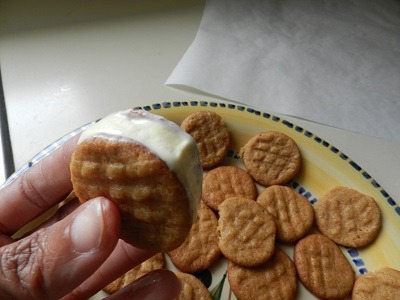 Press another cookie on top.  Wipe off excess ice cream on side.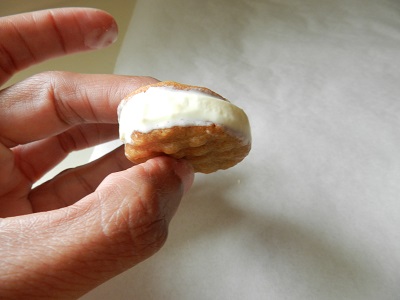 One down and so many more to go….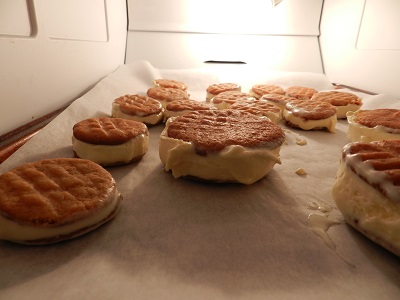 Do yourself a favor and work near the fridge.  That way, you can pop the cookies in as you finish making each one.  That's a large cookie in the center.  I did make a couple of big cookie sandwiches.  Let them stay in freezer for about 1 to 2 hours.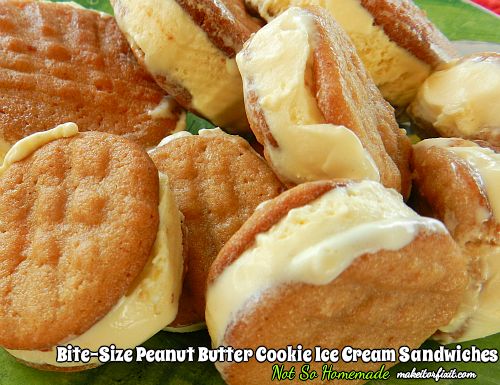 Then, sit out on the deck and enjoy these bite-size cookie sandwiches!  Eat fast!
Like this article? Sign up to get free email updates to Make It Or Fix It Yourself!