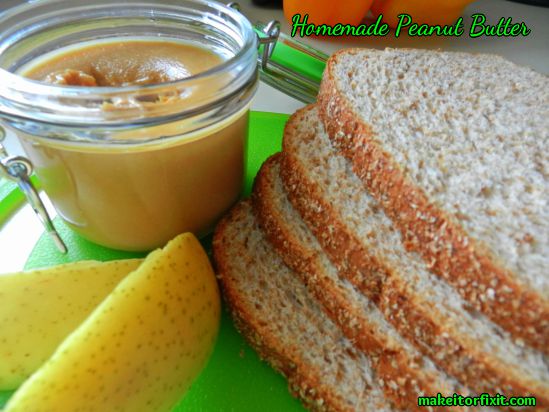 Why do I love homemade peanut butter? I love it because it's homemade and there's no sodium/salt in it.  High blood pressure runs in my family.  So, I try to cook and eat most things that do not include a lot of sodium. Peanut butter is definitely a favorite food item in our house.  I've been making it homemade for quite awhile now.  Typically, a jar of peanut butter has about 140mg sodium per serving (about 2tbs).  I read lots of labels since I have high blood pressure and it definitely pays to read those labels. If I make my own peanut butter, it has 0mg of sodium.  Can't beat that.  It's simply the quickest thing that you can make.  Most of the time, my daughter will make it with me.
Ingredients:  This makes enough to fill about an 8oz container.
1 1/2 cups of UNSALTED roasted  peanuts
1 tbs vegetable oil (or oil of your choice)
1 tbs sugar (optional)
1 tbs honey (0ptional)
Directions: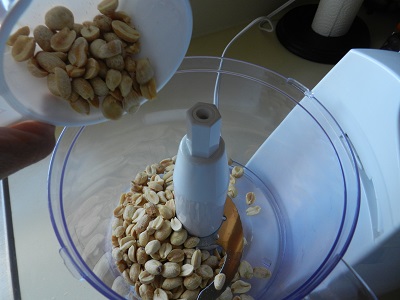 Pour the peanuts into a food processor.  Use a blender if you don't have a food processor.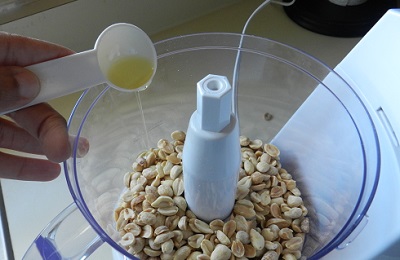 Pour oil into the food processor with peanuts.  Vegetable oil works best for me. I've tried using olive oil also, but prefer vegetable oil.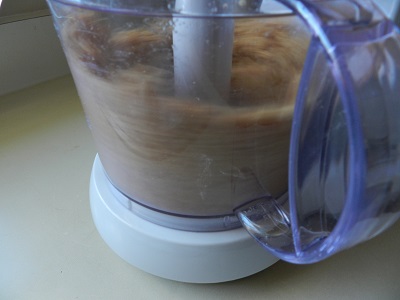 Give it a spin until mixture becomes blended and creamy.
Before you have completely blended the peanuts and oil into a really creamy mixture, add in the sugar and honey if you would like to sweeten the peanut butter.  I added in 1 tbs of sugar and 1 tbs of honey.  If you want it sweeter, add in more.  Or leave it out completely if you don't want to sweeten the peanut butter.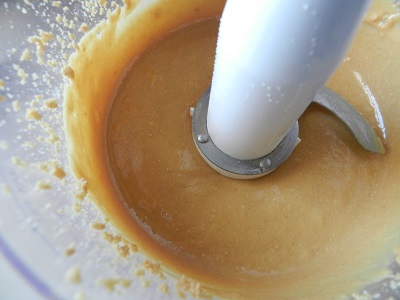 Your mixture will become really creamy and more liquid-like.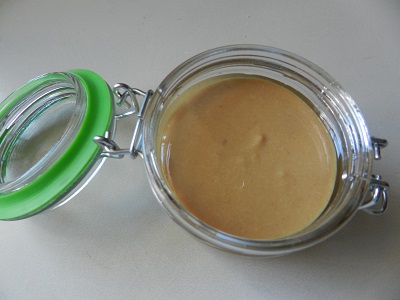 Pour into a container.  I'm using a 7oz jar.  Put lid on container and set in refrigerator overnight.  It will eventually become the texture of regular peanut butter.  Then, toast up some bread and spread on some of this yummy homemade peanut butter! Delicious!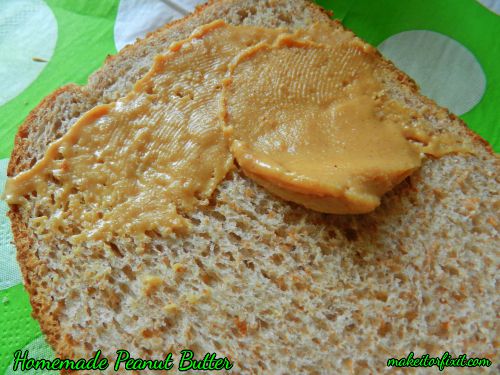 This photo gives you a look at how the texture thickens after it sets for awhile in the refrigerator. Also, store the homemade peanut butter in the refrigerator.  It should last for a couple of months in the refrigerator.  Since, I'm making a 7oz size, it will probably be finished off within 3 weeks.  I love eating peanut butter, so it definitely doesn't go to waste in my house.
Now, of course, you can make peanut butter into different types of textures…crunchy, smooth, etc.  I love the creamy texture.  What's your favorite type of peanut butter.  Do you make your own peanut butter?
Like this article? Sign up to get free email updates to Make It Or Fix It Yourself!