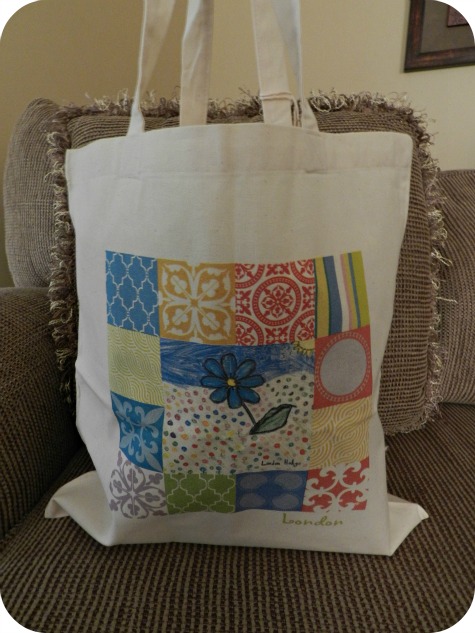 My kids are always drawing.  So, I thought this would be a great thing to review since my kids really love producing little sketches.  Now, I didn't say they were going to be fabulous painters or become known for their work.  They just love to draw.  There is this company called Junior Monet that takes your child's drawing and puts it onto wonderful products that you could keep as a cherished keepsake.  My youngest daughter was thrilled about this idea.  Her picture is the one that is included above on the bag.  (Her drawing is actually the center square only.)
So, when I first received the package, I opened it and it included the information about how to go about completing the task of drawing and returning drawn items to the company.  You have to make sure that you center the picture in the area on the paper provided for drawing.  My daughters set about to putting their masterpieces on the provided paper.  After the masterpieces were finished, (Yes, they are masterpieces. LOL), I mailed it back to the company and waited to receive an email and code to enter on the Junior Monet site. You should receive that in about 2-3 weeks.  I must say that I received an email quite quickly.  So, when you get the code, you go to the Junior Monet site and enter it.  Your child's drawing will come up.  They will have an option of using the picture where your child actually put a signature on their drawing or without the signature.  A lot of the items have an option for personalizing items, even if your child doesn't actually sign their drawing.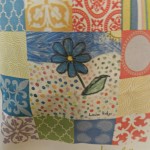 As you can tell, I went with the one that had her original signature, plus it came with signature personalized.  We selected a tote bag, the Patchwork Frame bag.  It was priced at $10.95.  They had a promo code on the site which brought it down to $9.31.  You have to factor in shipping, which was around $6.49.   This, of course, would be a little too pricey for me.  My daughter thought the bag was very cute.  I thought the picture was super cute, also.  I may be a little biased, as all parents are, when it comes to their child's artwork.  The tote bag material for this bag was made of a thin material.  I would have liked a thicker material that is a little more sturdy.  Though, I must say that the drawing on the bag looked exactly like the actual drawing. You can scroll through the categories of items offered.  They have many options to select from in the listing, such as, pillows, t-shirts, ornaments, mugs, etc.  They have lower priced, personalized keepsakes items, starting at $2.50.  The party invite cards are $1.90 per invite card.
Though, I was not too impressed with the pricing, I must say that they also have this program as a fundraiser.  The fundraiser seems like a great idea! Your school or organization would receive up to 30% of the net profits.  You know that moms, dads, grandmas and granddads would order little keepsakes with their child or grandchild's artwork.  This is probably a strong selling point for them.  Organizations are always looking for great fundraisers and different ones.  This is definitely a different one to use when it comes to fundraisers.
Got any artwork that you need to set to canvas and want to cherish as a keepsake……
I received a free product in exchange for a review, though, the opinions of the product are mines.
Like this article? Sign up to get free email updates to Make It Or Fix It Yourself!