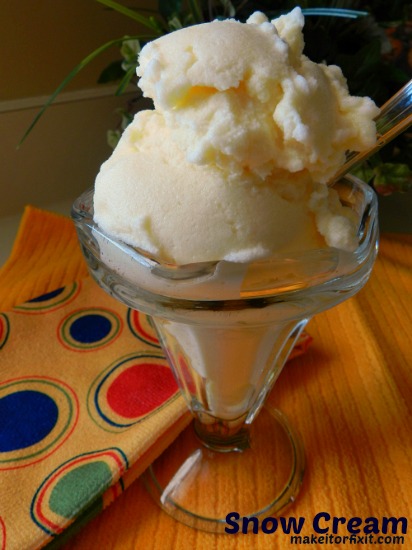 We woke up to lots of snow in Maryland! My kids are normally very excited about the sight of snow.  However, they were a little disappointed since school doesn't officially start for them until January 6th.  When they think of snow, they think of being out of school due to school being closed because of bad weather.  Oh, well.  Perhaps it will snow again on January 5th.  Of course, the snow brought on the lovely idea of making SNOW CREAM.  I remember having it as a little girl growing up in Mississippi.  It rarely snowed in Mississippi, but when it did, my mom would make snow cream.  You've got to try it at least once during a snowy day.  Give it a try when the next snow day hits your town.
Ingredients:
large bowl of clean snow
1 can of evaporated milk
sugar
vanilla extract
yellow food coloring (optional)
Directions: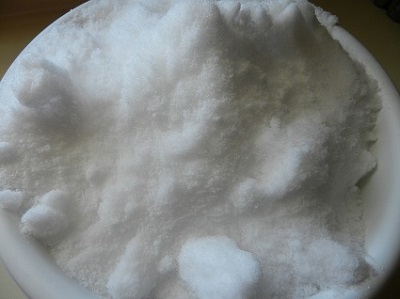 Collect a nice clean bowl of snow.  I use two large bowls when making snow cream; one for mixing and one for holding extra snow if needed.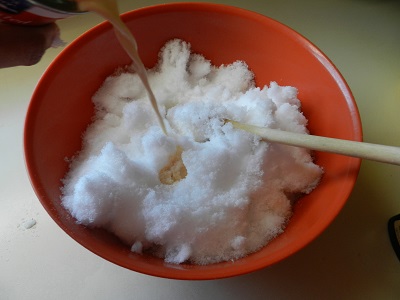 Pour in evaporated milk.  I used almost the whole can of milk.  The evaporated milk gives it a nice little yellow coloring.  That's why I like to use evaporated milk instead of regular milk.  You can also add in yellow food coloring at this point if you like.  I put in a couple of drops to give it a more richer coloring.  It's totally optional.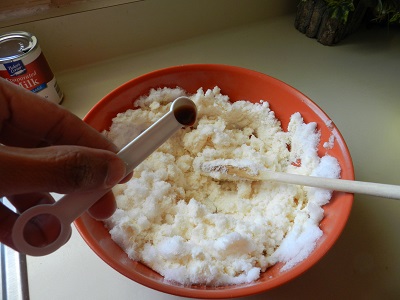 Then, pour in vanilla extract.  I started with 1/4 teaspoon of vanilla extract and ended up using about 1  1/2 teaspoon.  It will depend upon your taste.  Plus, I kept adding more snow as I went along.  So, I had to add additional extract.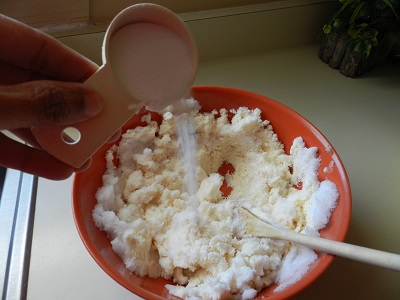 Add in your sugar.  Just like the extract, I started with a 1/4 cup and kept adding until it was sweet enough for me.  You'll have to taste as you go along and add additional sugar to sweeten to your taste.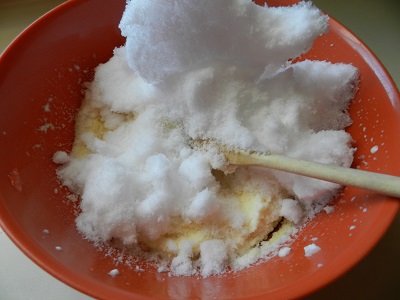 Add more snow if needed.  Sometimes, it takes me awhile to get the exact taste that I like and the snow mix melts quickly. So, I keep the extra bowl of snow close to add extra snow when needed.  When finished, just dish up a scoop for everyone.  If you don't eat all the snow cream, it's impossible to save it.   So, this time, I tried my hand at freezing the leftover in a Popsicle container that I bought from Everything's A Dollar Store.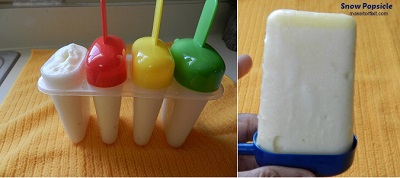 This is the cute Popsicle container.  Fill container with snow cream mixture.  Let freeze.  To remove the popsicle from container, turn sideways, and run hot water over the bottom part for a couple of seconds.  Turn upside down. Then, slide popsicle out.  I'm giving the popsicles a 10! The snow cream tastes great on a stick. This is another great way to enjoy snow cream.  Perhaps, it could be called popsicle snow or snow popsicle.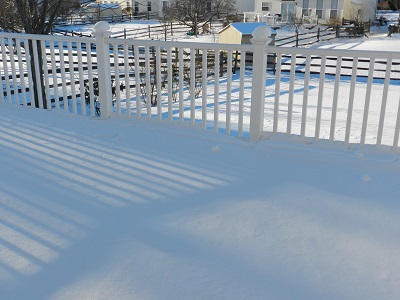 A nice shot of snow on our deck.    It's always wonderful to get a little snow during the year.  So, have you tried snow cream or made snow cream?
Like this article? Sign up to get free email updates to Make It Or Fix It Yourself!