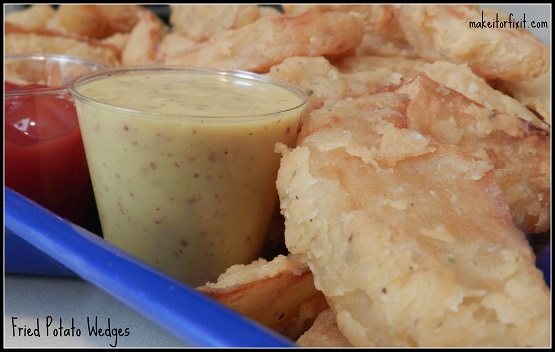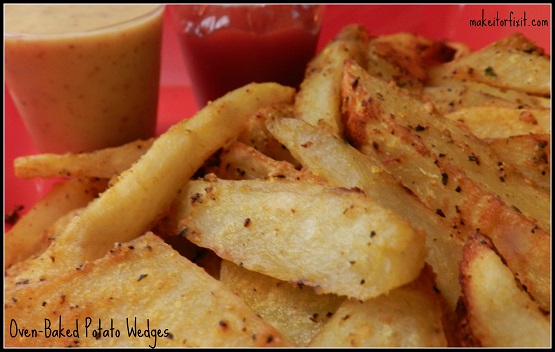 What do you do when you have too many potatoes and you don't want them to go bad? You have a potato-cooking day!  That's exactly what I did.  For some reason, I didn't get around to cooking the bag of potatoes and they were going to go bad.  So, I began cooking.  I decided to make two types of potatoes today…….fried and oven-baked.  Why?  Just in case somebody wanted there potatoes more healthier or somebody wanted their potatoes more crispier.  I've made the fried potatoes quite often.  My kids love those! This was my first attempt at the oven-baked ones.  Guess what?  My kids loved those, too!  So, if you're ever faced with having to have a potato-cooking day, try these.   As usual, directions and pics follow.  For these recipes, I will not give measurements on how much seasonings to put into the recipe because people have varying degrees of how seasoned they want their food.  I know that I don't like a lot of salt in my recipes, so I tend to use my own judgement.  Though, I will list what type of seasonings I used.  Also, if you're making fried and oven-baked at the same time, start with the oven-baked ones first because they take longer.
Oven-Baked Potato Wedges
seasoned salt
pepper
curry
grated parmesan cheese
olive oil (enough to coat potatoes)
Badia Complete Seasoning (like a Goya Season)
cooking spray
Fried Potato Wedges  (dry flour mix)
flour
seasoned salt
Italian seasoning
pepper
vegetable oil for deep frying
milk
hot sauce (optional)
Begin with washing your potatoes and patting dry, especially if you're keeping the skin on them.  I'm not.  So, I will peel mines, wash and pat dry.  Then, cut into wedge-shape.  It doesn't have to be exact.  Sometimes, mines come out great and sometimes they don't.
Soak the potatoes in very cold water.  FYI: When you soak the potatoes in very cold water, it keeps them from turning brown while you're in the cooking process.  I soaked the ones I'm baking and the ones I'm frying at the same time.  Drain, only the ones you're baking, put into a large bowl and keep the ones you're frying in cold water until you get the baked ones in the oven.
Directions for Oven-Baked Potato Wedges
First, drizzle enough olive oil to coat potatoes.  Add pepper, seasoned salt, curry, grated parmesan cheese, and Badia seasoning.  Coat evenly over potatoes.
Then, line a cookie sheet with foil.  Spray with cooking spray to keep wedges from sticking.  Line wedges nicely on cookie sheet.  Let bake up to 40 minutes.  It may take less time than that, so, keep a watch on them in the oven.  And, ta-da! They're ready!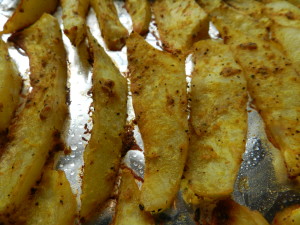 Yum!  Now on to the fried potato wedges……
Directions for Fried Potato Wedges
Mix all the dry ingredients in a plastic bag to make flour mix for coating potatoes.  Prepare a bowl of milk and couple of dashes of hot sauce (optional).  Begin to heat the oil for frying.
You will be double-dipping these fried potatoes to make them extra crispy.  First, put wedges into the flour mix.  Then, remove potatoes from flour mix and place into milk, making sure to cover completely in the milk.  Next, remove from milk and place back into the flour mix.
After oil is hot enough, place wedges into the oil.  The key to having great crispy wedges is to start frying the potatoes on high.  After they have turned a nice golden brown, turn down to a very, very, low setting.  This is done to allow the potatoes to cook through completely and soften on the inside.  I'm not exactly sure how long it takes to cook completely through.  I normally just take out one and do a taste-test.  Then ta-da! They're done!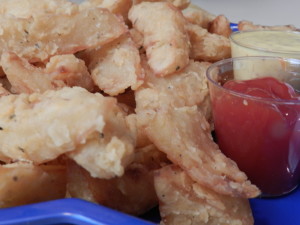 Yummy!  They were both so great that they deserve a side-by-side shot!

Have you ever made homemade potato wedges?  If so, do you like yours fried or oven-baked?
Like this article? Sign up to get free email updates to Make It Or Fix It Yourself!