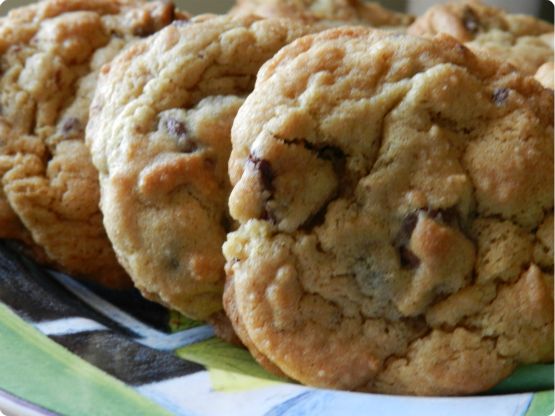 I was back in the kitchen again.  My kids told me that I was supposed to bake them chocolate chip cookies last week.  Well, of course, I used some of the chocolate chips in the Edible Flowerpot Cake and didn't think that they would remember about the cookies.  Of course, they did.  So, my daughter, London, was in the kitchen early this morning to help me.  We are on Spring Break this week…yay!!! So, she woke up early to help me.
I cut this recipe in half so that I wouldn't have to bake so many cookies.  I suppose I could've put the dough into the freezer for later, but I like to keep the sweets down to a minimum.  The recipe halved made about 24 cookies.  The listed ingredients will give you about 44 cookies. These are so delicious to eat when they are warm.  Don't wait for them to cool.  Just pick up a glass of milk and some warm cookies and start eating.  FYI: I overbaked the first set and had to bake a second set.  So, the photos are from the second set.  Well, don't think that we didn't eat the first set, because we did.  They were just as tasty, too!
Preheat oven to 350.  Don't start preheating until you are getting ready to start laying the dough rounds on the cookie sheet.  The key to this recipe is to keep everything chilled as much as possible.  It's a little time consuming because of having to put the bowl or items back in the refrigerator to chill again.
Ingredients:
2 sticks of salted butter (keep chilled)
2 eggs (keep chilled)
1/2 cup white sugar
1 1/2 cup light brown sugar
2 tsp vanilla extract
2 3/4 cups all-purpose flour
1/2 tsp salt
1 tsp baking s0da
1 1/2 tsp baking powder
2 1/4 cup of semi-sweet chocolate chips! You can use less if you would like, but the chips help to bulk up the cookies.
Directions: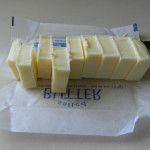 Make sure to keep butter in refrigerator until ready for use.  Cut the butter into small squares.  Put back into refrigerator for about 3 minutes to rechill.
In a bowl, combine the sugar and the butter. Blend until it becomes a grainy, doughy type of mixture.  Put back in the refrigerator for another 3 minutes to rechill.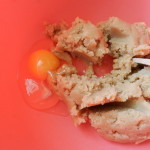 Add eggs right from the refrigerator and put into the sugar and butter mixture.  Blend only as long as is needed as not to overblend.  Put back into the refrigerator for 3 minutes.
Remove from refrigerator and add in baking soda, salt, and baking powder.  Add in vanilla also. Blend as little time as possible. Put in refrigerator for 3 minutes.
Remove from refrigerator and add in flour.  Blend.  It will become very stiff.  Try to work as quickly as possible.
Now, for the fun part!  Pour in all of those chocolate chips.  My daughter was like, "Wow! That's a lot of chips!"  Blend until your dough mixture looks like the last photo on the right. Of course, you know it…"Put it in the refrigerator to rechill."  Put your cookie sheet in the freezer to chill for a few minutes.  If you have parchment paper, you may cover the cookie sheet before dipping out the cookie rounds.  I didn't have parchment paper, but it helped that I chilled the cookie sheet.  It helps to keep the cookies from spreading too fast.
Dip out the rounds.  I used a tablespoon.  It worked out perfectly.  Bake for 10 or 11 minutes.  (This depends on your oven.) Keep an eye on the oven.  You don't want to overbake, as they will become too dark.  Put the spatula into the freezer when you put the cookies in the oven.  Most recipes will say to leave on cookie sheet to cool.  But, take these off as soon as they come out of the oven.  That's the reason for the chilled spatula.  It removes them without any breaking or cracking.  Enjoy!!!!
Is chocolate chip your favorite cookie to bake?  If not, what is your favorite cookie to bake or eat? Let me know by sharing a comment below.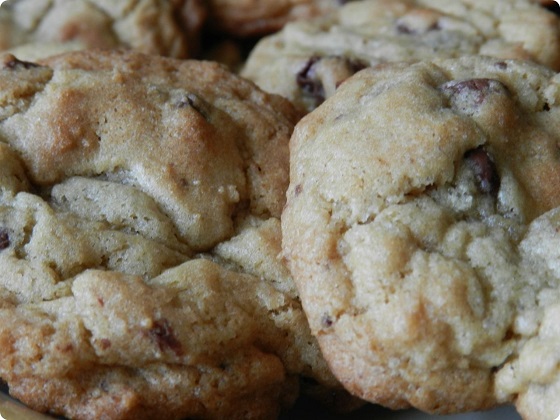 Like this article? Sign up to get free email updates to Make It Or Fix It Yourself!