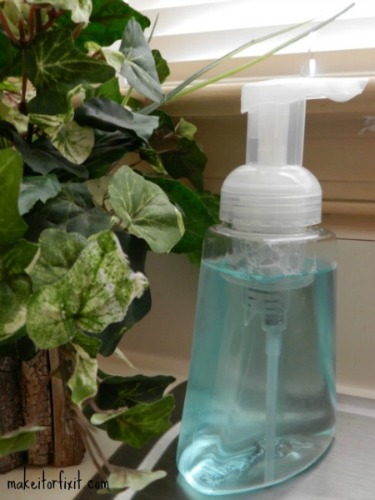 For my daughter's birthday, she bought a foam hand soap at Dollar Tree.  She loves this store.  My child takes after me.  She loves getting the most for her money.  Now, that she has managed to use it up in a month or so, she wanted a new one.  I think that she really just likes the foam effect landing in her hands.  However, all her birthday money is gone.  So, of course after a little bit of research and trial and error, I conquered this task.  FYI:  Try not to make the mix bubble up too much when fixing it because it may cause the spout to clog and not make foam.  Also, don't overuse too much soap.  Foam is normally a lot of water and little soap.  Now, on to the directions.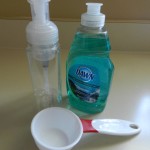 This is really pretty easy to make.  All you need is an item that provides some type of soap, such as dishwashing liquid.  Plus, water.  I used Dawn Dishwashing Liquid since I have a lot of it at home.  The combination is easy to mix.  For the size of the container I am using, I used 1 cup of water and 1/4 cup of dishwashing liquid. (I've used less than 1/4 cup dishwashing liquid sometimes and it still provides a nice foam.)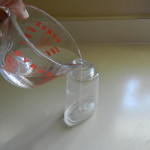 I poured in 1 cup of water.  To deter the mix from making too many bubbles when mixing, I used a measuring cup to pour in the 1 cup of water first.
Measure out the amount of dishwashing liquid to use.  I am using 1/4 cup of dishwashing liquid.  Using a funnel, pour the dishwashing liquid into the foam soap container.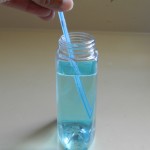 Use a drinking straw, or any other straight item, to stir the mix.  Stir slowly.  Try not to make too many bubbles when stirring.  That way, you will not clog the spout.  Too many bubbles forming in the bottle may cause the spout to clog.  I know this from experience since making this mix.  Replace spout top and it's ready for use.  So, let's see if mines actually made foam soap.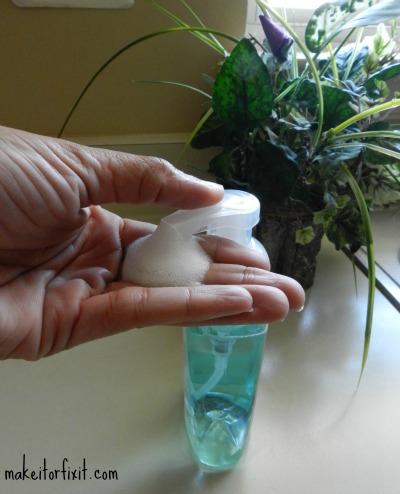 Yay! It works! Now, I just need to teach my child how to mix this formula!  So, have you made foam hand soap or refilled a foam hand soap container?
Like this article? Sign up to get free email updates to Make It Or Fix It Yourself!