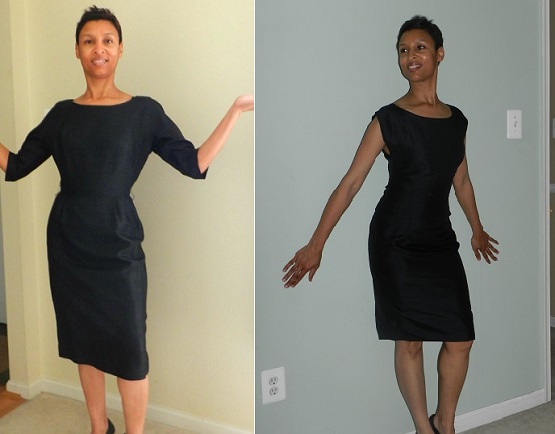 (This is the same dress that I have on in the above picture.  The pic on the left was taken when I got up in the morning with no makeup, hair not combed and way too much light in the room.  The second pic is the after dress.  You guessed it…I combed my hair, made up my face and took this pic at night with a flash.  Everyone looks good at night and with the right lighting.) LOL.
Okay. Everybody needs a black dress! So, if you don't have one and can't afford to spend a lot of money on one, then do like I did.  I went to the Thrift Store and bought this not-so-cute black dress for $3.98.  Now, all I need to do is to turn it into a cute black dress.  This is going to take a little work, but not outrageous.  It took me 4 hours to turn this dress into a classy, chic dress.  So, let's get started.
First, lay dress on flat surface.  Cut off sleeves.  We definitely need short sleeves for this to be a cute dress.  Pin sleeve area. (This will be the toughest area to work with since I'm free-handing this and I don't have a seam to follow.)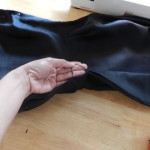 Remove that belt loop.  We have no need for a belt.  I want to keep the mid-section free from anything that will add to the waist-area.
I've got to find a way to get rid of those pleats. Ugh! So, the best I can do will be to top-stitch the pleats so that this area will lay as flat as possible.  First, I will press down the pleats.  Then, top-stitch. Much better!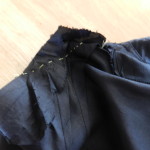 Baste down the under arm area before working on the sleeve opening area.
Now, top-stitch the sleeve opening. (Did I mention that I won first place in the District and State competition in 11th grade for the top-stitch? I know.  So long ago.)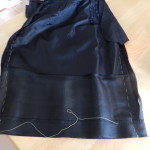 Baste down the side seam after fitting it to your body.  I want a snug fit so I'm basting about an inch or more all the way down.  Then, sew down on the sewing machine, making sure to follow along right beside the basting. (Basting is your friend when taking in clothes.  It's a quick stitch with a needle and thread and can be easily removed after sewing with machine.)
I am not going to hem this dress, yet.  I am just going to pin it into a shorter dress.  I haven't decided if I want it to stay short or maybe keep it long.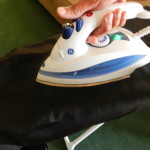 Press down the entire dress.  You're done!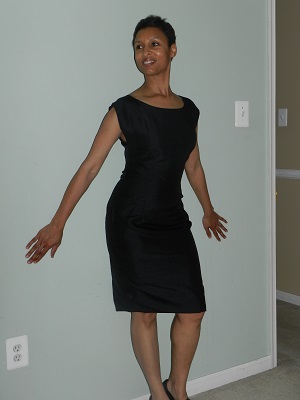 Like this article? Sign up to get free email updates to Make It Or Fix It Yourself!