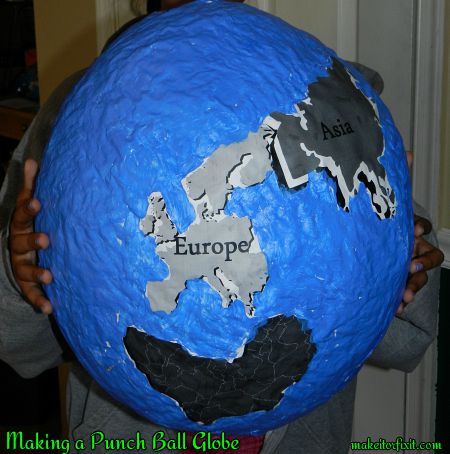 Today, I'm showcasing one of my daughter's homeschool projects.  (For history buffs, Africa is upside down on the picture. Somebody glued it upside down. It was a little too late to tear off and glue again. My daughter said that it just means that Africa is going places in this world. Love it!)  This is a simple project to make, but it does take awhile to finish it.  It's great if you're teaching about continent location or learning the continents.  It was a really fun project to do.  It can be a project for various ages.  We were studying continent locations, so it worked great for us. Plus, I can use it as an art project, also.  People use different materials for making these, so if you find something is cheaper and works better, then go for it. I bought all materials for this project from Michaels Arts and Crafts.  Of course, I took a coupon with me.  Saving is always at the top of my list.
Materials:
large punch ball (Michaels, 2 for $1.50)
newspaper strips
art paste (you can make your own if you like)
white acrylic gesso
blue acrylic paint
Directions: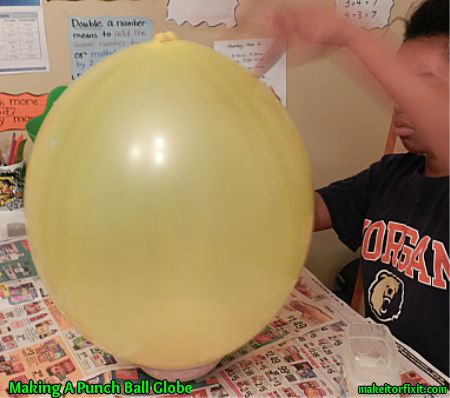 Blow up punch ball.  (You may use regular balloons if you like.  The punch ball just seems more sturdy than the regular balloon.) I think we blew the punch ball up too big.  If you blow it up at the right stopping point, it will have a more round shape.  Spread Vaseline on balloon.  This is an opportunity to use up the last of my regular Vaseline. I now have Homemade Vaseline that I use and is listed on my blog. You can find the recipe on my blog. The Vaseline keeps the newspaper from sticking to the ball.  That way, if the ball burst, then it won't make the paper sink it with it.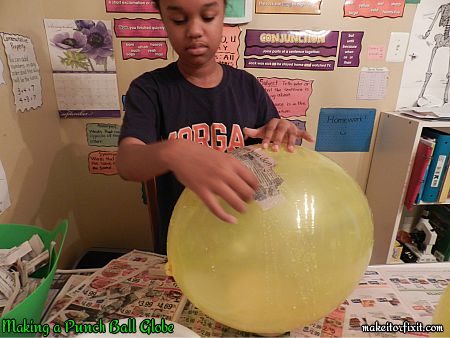 Cut up strips of newspaper.  You will need quite a bit.  Follow the directions on the art paste jar to mix it correctly.  Dip strips into art paste. Place on balloon.  It gets messy, so make sure to put down lots of newspaper.  Also, we used a sturdy bowl to hold the balloon when putting on newspaper strips.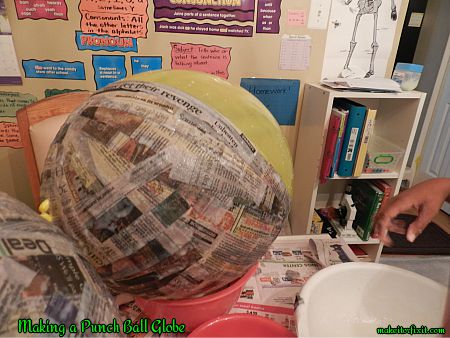 Completely cover the balloon.  Let dry overnight. Then, layer again.  Let dry overnight.  You will repeat this process until you have at least 3 or 4 layers.  We only did 3 layers. It seemed sturdy enough.  Plus, my daughter was anxious to start painting.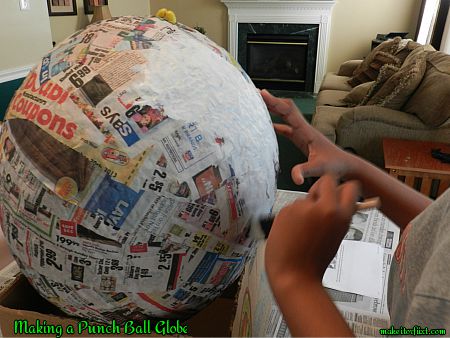 After newspaper has dried completely on balloon and you feel it has enough layers, then spread on white acrylic gesso.  The gesso gives the balloon a sturdy, smooth texture.  It smooths out all the areas of the pasted newspaper.  Love the feel of the balloon, now.  It will make the paint job really easy.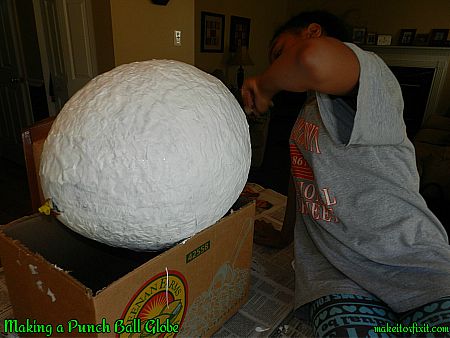 Finish spreading the acrylic gesso over the entire ballon.  It is really smooth now.  Retouch areas after it dries to make sure that all little spaces are filled in completely with the acrylic gesso.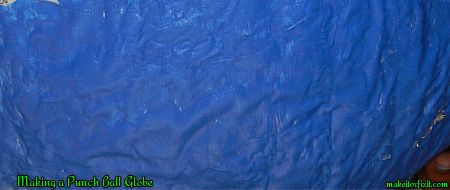 After the white acrylic gesso has dried overnight, then paint globe.  My daughter actually mixed some of the blue paint with the white gesso to lighten up the blue paint that we bought.  When paint dries overnight, go back over areas where the paint needs to be retouched.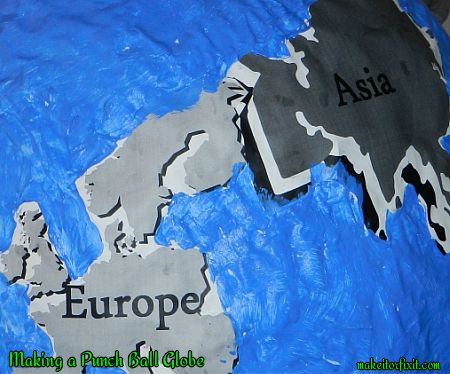 After paint has dried, paste on the continents.  I had to look for large pictures of continents or you can enlarge them on a printer.  My daughter did the work for this project on her own.  If you're interested in making a globe, then you might want to try this project. Simply fun!
Like this article? Sign up to get free email updates to Make It Or Fix It Yourself!