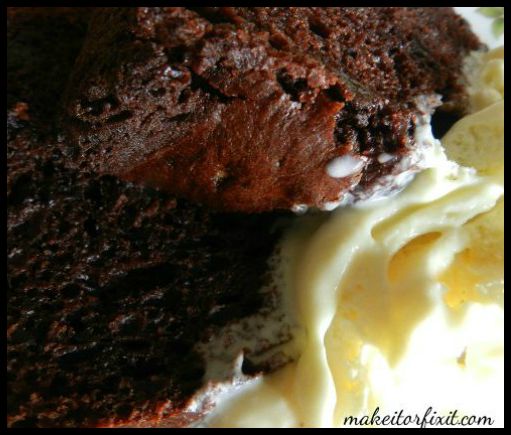 My! My! My! This is so delicious! The little dark parts of the cake are the chocolate chips.  The french vanilla ice cream on the side is the "icing on the cake".   So yummy!  Of course, I had to eat this after taking the photo…..with the ice cream melting and all.  The cake is warm and so gooey up against the ice cream.  Believe it or not, the ice cream held up long enough for me to take enough photos to pick a great shot.
This cake would be called a semi-homemade cake.  I do use a cake mix when I bake this one.  I love when I make this chocolate cake, filled with semi-sweet chocolate chips.  It makes the house smell so good! Plus, the kids have picked this one as their favorite of all the cakes I bake.  I haven't made a chocolate cake since I made the Edible Chocolate Flowerpot Cake.  That's been a while.  This post just concentrates on making a chocolate chip cake.
Ingredients:
1 box of chocolate cake mix (your choice)
2Tb of cocoa powder
1 box of instant pudding and pie filling (3.9oz)
1 cup of semi-sweet chocolate chips
1  1/2 cups of sour cream
4 eggs
1/2 cup of vegetable oil
1  1/3 cup of water
Direction: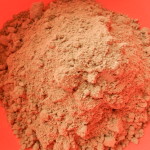 Pour cake mix into a large mixing bowl.
Add in the cocoa and oil.
Before adding in the eggs, make sure you whisk them in a separate bowl and then add to cake mix.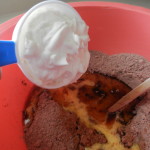 Put in the sour cream.  This is what makes it so moist.
Normally, chocolate chips are added after you blend the cake batter.  But, I'm adding mines before I blend.  First, I'm going to chop up the chip some with a knife.  It will blend better.  Then, pour into bowl with cake mix.  Stir the mix with a spoon just to blend a little bit.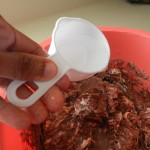 Then, pour in the water.
Blend ingredients together with a blender.  Pour into a bundt pan.  Let bake for 55 minutes.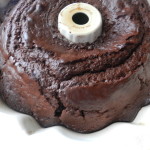 Take out of oven when cake starts to pull away from the sides.  You can try inserting a toothpick to check and see if done.  Normally, my toothpick can only go so far down since this is such a large cake.  But, oh boy…..look what this cake turns out to be in the end!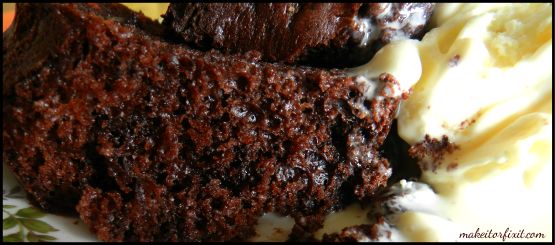 Would you like a slice?  Or two?  Have you baked a chocolate cake lately?
Like this article? Sign up to get free email updates to Make It Or Fix It Yourself!