I'm so glad to finally find something to make where I'm able able to use some more of the beeswax.  I bought a block of beeswax last year to make Homemade Vaseline and it has been sitting in the closet.  These little bars are so cute! Plus, they are magnificentfor the skin.  Got a chance to use more of the coconut oil that I bought, too.  Simple to make and you're going to love rubbing them on your skin.  Since, they are made with beeswax, they will retain their shape and not melt.  An added bonus is that they are wonderful for keeping the feet smooth and soft!
Ingredients:
1 cup of beeswax (may use pellets it you have them)
1 cup of coconut oil in solid form
1 cup of grape seed oil (may use other types of oil)
essential oils (optional)
Directions: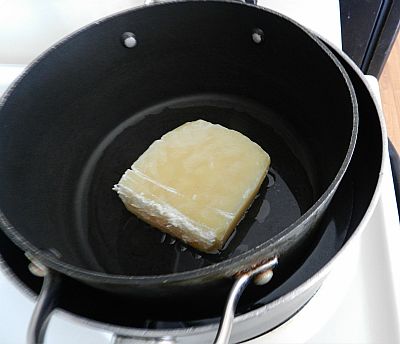 I don't have a double boiler.  So, I put a smaller pot inside of a larger pot that's filled with some water. Inside of the smaller pot, I put a little bit of water; enough to barely cover the bottom.  Then, I put in the beeswax.  If you have the beeswax pellets, it is so much easier to measure them out.  I eyeballed for the size of block needed for 1 cup.  Allow to melt.  It only takes a couple of minutes for the beeswax to melt.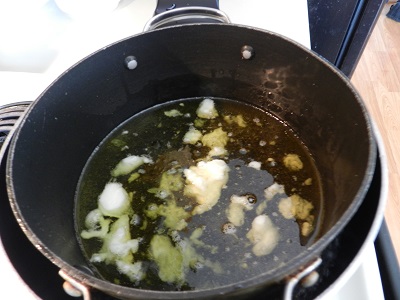 As soon as the beeswax is almost melted, throw in the coconut oil and the grapeseed oil. You can substitute the grapeseed oil for almond oil or pretty much any type of oil that you have on hand.  When I poured in the grapeseed oil, it turned into little balls.  However, it will quickly melt along with the coconut oil.  Stir.  As soon as it was completely melted, I poured it into a large measuring cup.  If you're going to scent your lotion bars, add it into the mix when it is in the measuring cup.  I rarely scent any homemade products that are being used on my skin.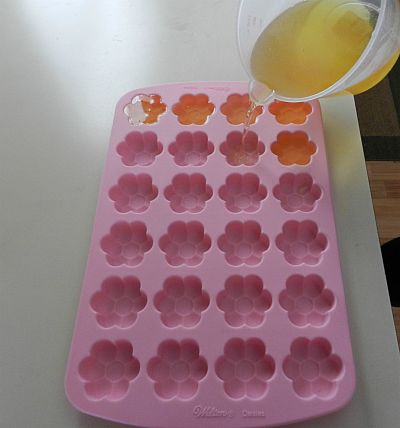 Using this cute flower mold tray, I poured the in the mix.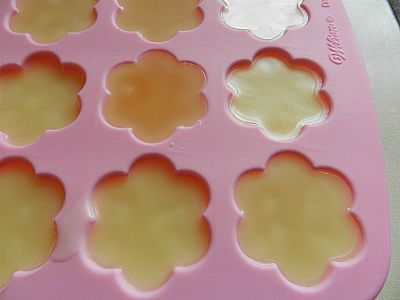 Trust me when I say that it does not take long for these to harden.  They are already starting to harden and they have only been sitting for a couple of minutes.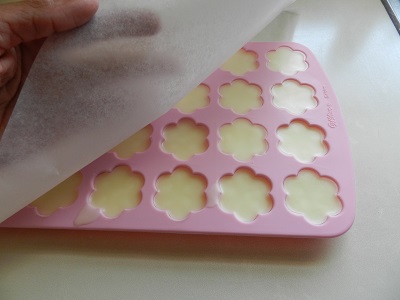 To make it easy to remove from the flower mold tray, I covered the tray with wax paper.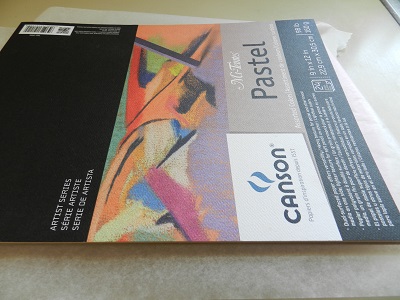 Then, I covered with a book to make it easy to flip.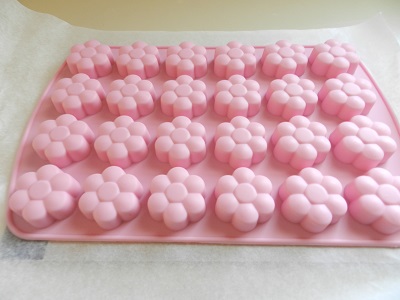 Flip it over.  Tap a couple of the flowers on the back if they seem stuck.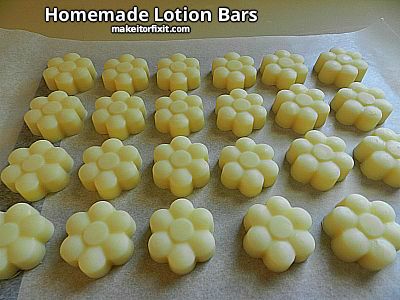 Remove tray and you have gorgeous lotion bars.  They are wonderful on the skin!  I think I will find a small container to keep one of these bars in my purse.  Perhaps, I should start calling these lotion bar flowers.
Giant snapshot of making lotion bars….
Like this article? Sign up to get free email updates to Make It Or Fix It Yourself!