So, today is the perfect day to try my hand at making homemade pudding pops.  I remember eating these all the time when I got my first apartment in 1989.  I liked them because of the creaminess and chocolate taste, plus they were not so sweet. Loved that part. ( If your kids are use to eating really sweet ice cream, this my not be their cup of tea. You may have to add in a little sweetener for them.)  My only concern about making these today was whether or not they would come out tasting creamy or icy when I removed them from the freezer.  Low and behold, a bite into them right of the freezer and they were creamy!  Of course, when you let them sit for a little bit, they have an even creamier texture.  I know that the box says to add milk when making the pudding, but I thought I would alter just a little.  I've seen some recipes that put whipped cream in to make it creamy.  Didn't have that on hand and always try to use exactly what I have on hand at home.  That's the great thing about making homemade….you can alter recipes to work for you at home. Plus, I was able to use up some items at home.
Ingredients: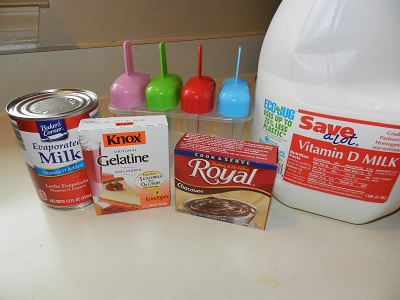 You'll need the following ingredients:
1 box of Pudding & Pie Filling (3.9 oz)
1 cup of whole milk
1 cup of evaporated milk
1 tsp of Unflavored Gelatin
Popsicle Holder or other container for freezing pops
Directions: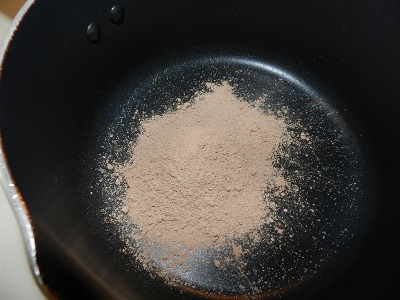 Pour packet of pudding and pie filling into a small pot.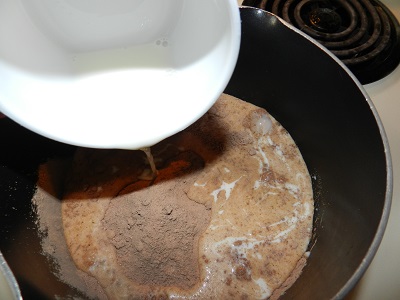 Add one cup of milk to the pudding and pie filling.  The box requires two cups of cold milk, however, I'm only adding one because I am replacing one with evaporated milk.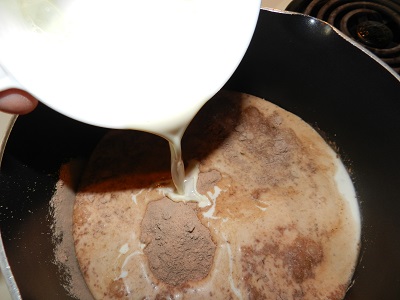 Add in one cup of evaporated milk.  This will help with the creaminess.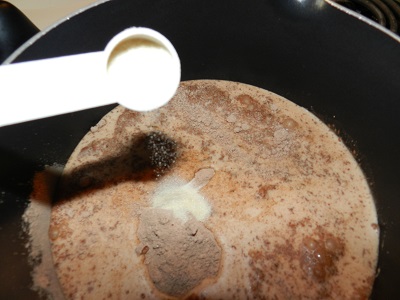 Add in one teaspoon of Unflavored Gelatine.  This will also help with making it more creamy. So glad to be able to use up more of this gelatine that I bought when I was working on another homemade item.  Stir constantly until it starts to bubble and remove from stove.  (If you want it sweeter, you will want to add in a sweetener when you remove pot from stove.)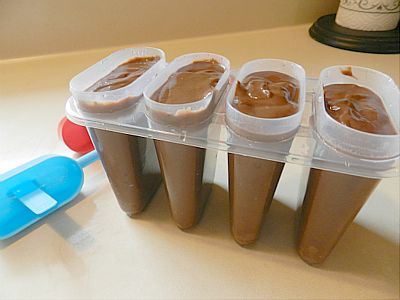 Fill containers with pudding mix.  Place in freezer.  Let sit overnight or until frozen completely.  Normally, it takes about 8 hours or so for them to freeze.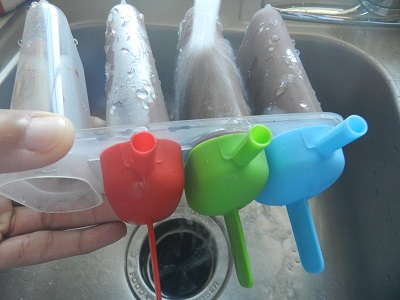 After they've frozen, run hot water over them to loosen from the container.  Then, while they are upside-down, grab hold to the stick and wiggle it out from the container.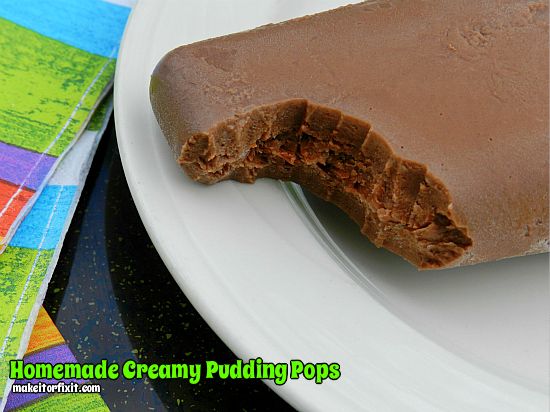 Then enjoy!  Now, I'm off to try and make these in vanilla and chocolate & vanilla swirl.
Like this article? Sign up to get free email updates to Make It Or Fix It Yourself!