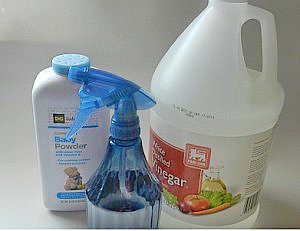 The summer is here and the ANTS are back! Each year I try to think of ways to get rid of ants in the house. Now, of course, you can't completely get rid of ants. They're small and can get through any cracks.  So, I am going to offer the best way to control the ants in your house.  Specifically, the kitchen.  I hate for ants to crawl around on my counter tops and stove.  Afterall, this is where your food is located when you are cooking.  I don't waste time buying expensive sprays or powders anymore.  They don't work.  So, here is my regime. It has been pretty good at holding the ants at bay.
First, wash down the counter tops, stove and cabinets with vinegar and water.  Just combine in a spray bottle.  I am not going to say how much water and vinegar to combine.  I usually combine my mix so that the vinegar is still strong. Some people might want it milder.
Second, let dry.  Then, apply a light dousing of baby powder over counter surfaces and stove.  Make sure to wipe these areas down nicely so that you won't have a white powdered covered kitchen. The powder left on towel is enough to wipe down cabinets.  So, don't try throwing powder up in the air to cover cabinets.  Though, that might be kind of funny…..
Also, you may want to caulk up any holes that you have that are really noticeable for ants to come through.  But, don't get carried away with caulking.  Like I said, they're ants.  They can get through any tiny openings, regardless.
You should notice less ants as the days go by.  When you see them return gradually, you might want to follow the steps above again.
You can use the baby powder on the carpet to rid it of ants.  Just sprinkle a little on the carpet and vacuum as usual.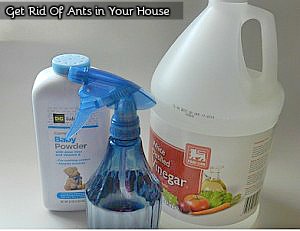 Like this article? Sign up to get free email updates to Make It Or Fix It Yourself!