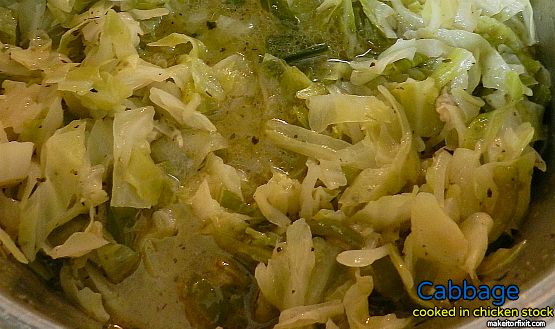 Whether you like cabbage as a side dish or as a main dish (which is how I like it), you'll love it even more if it's cooked in a tasty chicken broth or stock.  Sometimes, I will have a meal with just greens and cornbread, cabbage and cornbread or any type of beans with cornbread.  Today, I wanted cabbage.  To really enjoy cabbage, I cook it in chicken stock/broth.  It gives it that savory flavor.  So delicious!  If you want tasty, flavorful and delicious cabbage, then you must cook them in chicken stock or broth. For this recipe, I'm making my own chicken stock.  It allows me to control the amount of sodium that's in the stock.
Ingredients:
Chicken Stock:
2 leg quarters (great for making chicken stock)
1 onion
1 bell pepper
salt/pepper to season
1 tsp ground sage
1 tsp poultry seasoning
1 tsp Italian seasoning (optional)
Making Cabbage:
1 cabbage
1 1/2 onions
1 bell pepper
2 TB vinegar (optional)
2 TB vegetable oil
olive oil
Directions:
First, make your chicken stock.  You can make it ahead of time if you want and use later.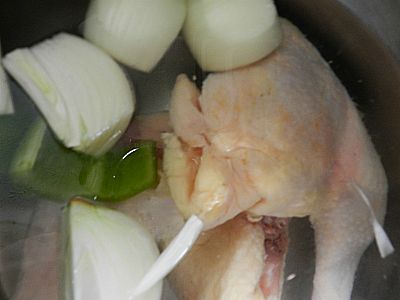 Put the chicken leg quarters, onion and bell pepper in a pot, along with the seasonings. Let it cook until chicken is done. It should take about 45 minutes to 1 hour, depending on the size of the leg quarters.  Leg quarters make great chicken stock because the thighs are fatty.  When done, remove the chicken and vegetables from the stock.  You may have to strain the liquid if small pieces of chicken and vegetables remains in the stock.  Set aside.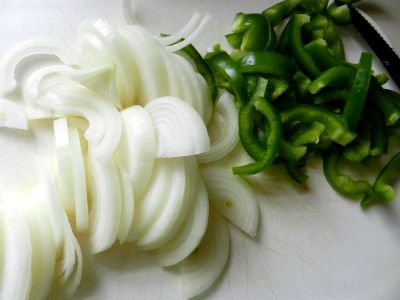 Chop onions and bell pepper to saute.  I normally use 1 1/2 onions. I love a lot of onions in this dish.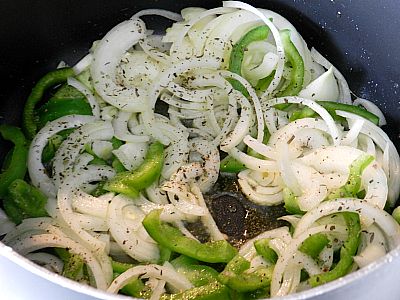 Pour olive oil in pot.  Enough to cover the bottom; about 3TB. It depends on how large the onions and bell pepper.  Saute until the onions become translucent. You don't want the onions and bell peppers to get too soft.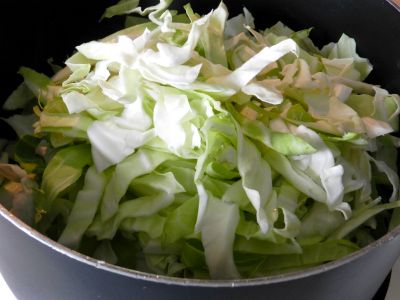 Put cabbage into pot with sauteed onions and pepper.  Just stuff them into the pot.  They will boil down.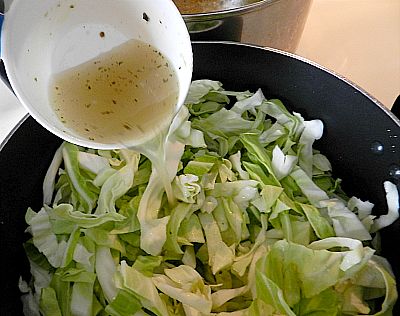 Pour in chicken stock.  Cabbage does not need a lot of water or stock to cook because it is a vegetable that contains a lot of water already.  Pour in enough stock to come up half way to the level of the cabbage.  You can pour out some if it is too much water while it is cooking.  Pour in the 2 tbs of vegetable oil. The vegetable oil is optional.  I think putting in vegetable oil may be a Mississippi thing that I picked up while learning to cook. Season with a little salt. Let the cabbage cook for about 15 or 20 minutes on medium heat.  Cooking times will vary according to heat level.  How long to cook can vary with the person cooking.  If you like your cabbage with a slight crunch or if you prefer it soft, you can adjust the cooking time.  Season to taste.
When done, dish up a nice size serving of cabbage and a slice of homemade cornbread. Sometimes, I sprinkle a little red pepper flakes on top of cabbage to give it a kick.  Words can't describe how tasty this dish turns out….
Do you have a favorite side dish that you eat as a main dish?
Like this article? Sign up to get free email updates to Make It Or Fix It Yourself!