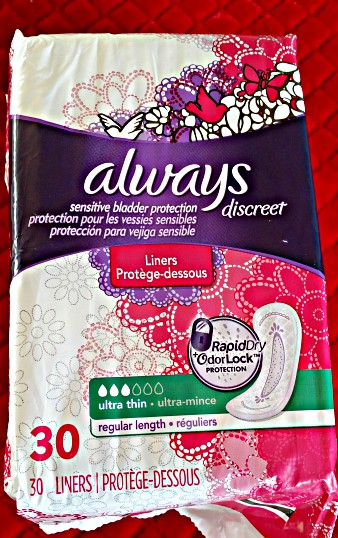 I was asked to write a post about Always Discreet. My first thought was….I can't do that!  Nobody's talking about bladder leaks. Especially me.  That is so personal. However, I couldn't pass it up because it is so me. Perhaps, it's you. I'm sure that I'm not alone. First of all, I didn't even know that 1-in-3 women experience bladder leaks or that 1-in-2 African-American women experience bladder leaks. For instance, raise your hand if you're the person that sneezes, laughs or lifts a heavy object and the first thing you focus on is going to the bathroom. Yep. I have my hand raised. Any sneeze leads me to the bathroom. Of course, my kids think it's because I drink too much water. That's only a small part.  I'm sure it's attributed to the fact of having a weak bladder or urinary  incontinence. What is urinary incontinence? Just another saying for bladder leaks, whether mild or heavy. There are various types of urinary incontinence. (This is a normal part of some people's life….my life). So, trust me when I say that liners are a staple in our house. It's not only for the protection, but for the comfort and peace of mind it provides. Now, I'm not new to Always. I always buy their panty liners.  I've bought their products for ages. However, this is my first time trying Always Discreet. I think that I've been doing this wrong. I should've been focusing on a sensitive overactive bladder protection product that actually provides more protection, than a regular liner.  I bought the Always Discreet liners. I couldn't wait to test them out and see if they would be a thumbs down or thumbs up for me. So, how am I liking them? My first thoughts when removing the liner from the package: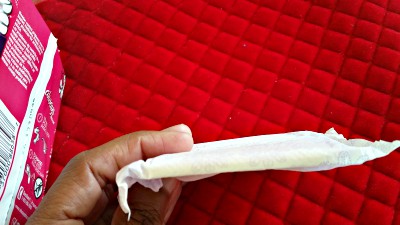 Well, that's ULTRA THIN. Perhaps, I forgot to mention that the package says ultra thin. Plus, this is not even open. So, you know if it's thin when closed, then it's definitely thinner when opened. If you're like me, when you think of bladder leak protection, the word BULKY comes to mind. Remove that thought if you're trying Always Discreet Liners.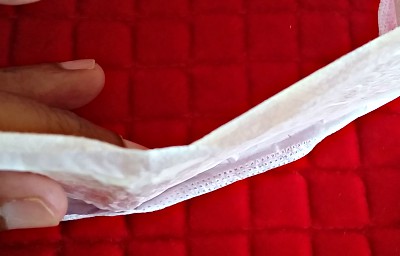 Super thin! Already liking this…(Trust me. You won't even know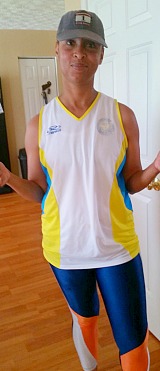 that you're wearing them. However, the protection is so much better than a regular liner. Whaaaaaat! Just put in four miles of running. Feeling super confident, dry and protected! That's right. I'm a runner, too.)
Not convinced on whether or not you would like them? Well, they come in various types. Just take a look at Always Discreet Products. They not only have liners, but they have pads and underwear for ladies with an overactive bladder. Plus, each type comes in different varieties. For example, the liner comes in Light, Super Light or Ultra Thin.
Still not convinced? Check out how the liner is so great at protecting you than a regular liner.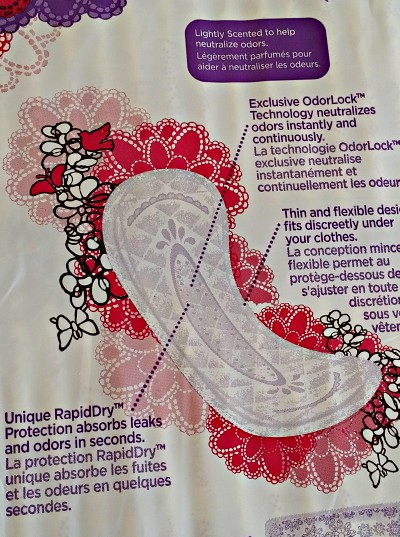 This is what caught my eye. It's the unique RapidDry™ protection and the OdorLock™ Technology. Plus, it absorbs 2x more than a regular liner. (Side Note: The packaging on this product is so darn cute! Somebody definitely had women in mind when it was designed.) The price is very reasonable. I purchased my pack from Walmart. You can also purchase online. The liners were priced at $4.84. Let me also mention that I'm a coupon girl. So, if everything's better with a coupon, then definitely check out coupons for Always Discreet products. Who said that this was a tough topic to discuss? Look-a-there.  I'm done. This was not a tough topic to discuss. This is a topic that we shouldn't mind discussing or be embarrassed talking about with other women. It's a normal part of life. With the bladder leak products that Always provides, your worries are less. You have to try it for yourself. Perhaps, you've already tried it and want to let others know about it.  If so, don't be afraid to start a conversation @Always Discreet or here with #Always Discreet. Or, start a conversation right on my blog. You never know who you can help along the way. By the way…Thumbs Up on Always Discreet!
Save
Save
Save
Save
Save
Save
Save
Save
Save
This is a sponsored conversation written by me on behalf of Always Discreet. The opinions and text are all mine.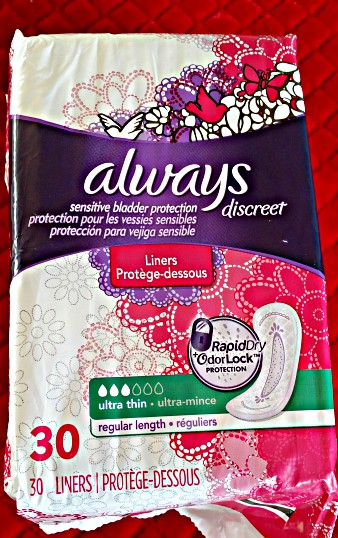 Save
Save
Save
Save
Save
Save
Save
Save
Save
Save
Save
Save
Save
Like this article? Sign up to get free email updates to Make It Or Fix It Yourself!