Just started making this recipe.  My husband is always buying bananas, but we don't eat them fast enough.  As soon as I turn around, the bananas have turned brown.  I hate to waste food so I looked for different banana bread recipes and tweaked them until I came up with this banana-nut recipe.  Most recipes for banana bread is pretty much the same, however, this muffin recipe is magnificent.  I like walnuts, but I'm sure you can use any type of nuts that you like.  My kids and hubby can never eat just one……..including me.  Enjoy!
Banana-Walnut Muffin       (Makes at least 16 to 18 muffins)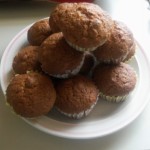 1 2/3 c  all-purpose flour
1/4 teaspoon nutmeg
1/4 teaspoon cinnamon
1/2 teaspoon salt
1 teaspoon baking soda
1 cup  sugar (do not add with dry ingredients)
1/2 cup  vegetable oil
2 eggs
3 to 4 bananas (use very ripe bananas)
2 1/2 tablespoons of sour cream
1 cup  walnuts chopped (more or less as you like)
This recipe cooks at 350 degrees for 30 minutes
Directions
Mix the dry ingredients in a large bowl, with the exception of the sugar.  Put in the flour, nutmeg, cinnamon, salt and baking soda.  If you want to sift them together, go for it.  I normally just use a fork and mix the ingredients together.
Next, beat the eggs and sugar in another large bowl until it looks like vanilla milkshake. Pour oil into the eggs and sugar mixture.  Whisk together a few seconds.
In a separate bowl, mash bananas.  I use my potato masher.  It works great.
Add the mashed bananas and sour cream to oil and egg mixture.
Fold in the dry ingredient mixture into the oil and egg mixture.
Put the walnuts in last.  Line muffin pan with cupcake papers.  Spoon mixture into muffin pan.  Try not to overfill because muffins will rise.
Let cook for a few minutes before serving….unless you're like my family.  They eat them hot.  Enjoy!
Like this article? Sign up to get free email updates to Make It Or Fix It Yourself!