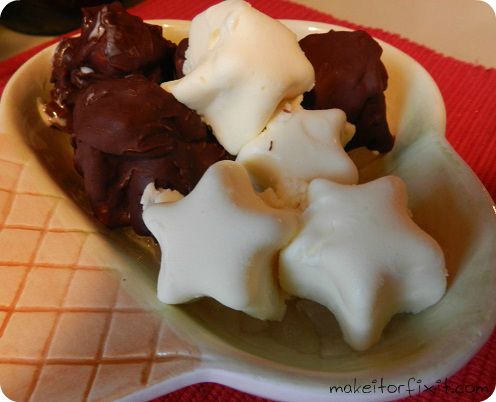 Today, I decided that I would make some ice cream bites with the remainder of the ice cream in the refrigerator.  I like ice cream. Some people in my house love ice cream.  I normally like ice cream in small doses instead of a bowl of ice cream.  So, this seemed like the ideal thing to make today.   However, when you're working with ice cream, you have to work fast and it gets to the point where it is downright hilarious.  You don't get a lot of do-over shots and you can't move your subject around to get the perfect shot.  And, on top of that, I had the nerve to cover some in hot chocolate.  I left some plain. Overall, it was definitely fun.
I decided to make it more interesting by making shapes with the ice cream.  I used ice trays made out of stars.  Probably a neat idea if you're having a party and people want bite-size desserts, especially children.  The chocolate ones were actually stars to begin….that is, until I dipped them in warm chocolate.  (Imagine the humor in yelling at someone to hurry up and take the pic.  Too funny!)
Ingredients:
1/2 gallon ice cream (Use whatever size you would like.  I had about half of the 1/2 gallon remaining in the fridge.)
1 12 oz bag of semi-chocolate chips
3 tbs of vegetable oil
ice cube trays (optional…you can just make balls if you like)
Directions: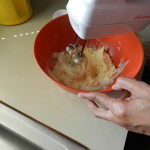 Put ice cream into a large bowl.  I blended mines because I'm going to make star-shaped ice cream bites and I need to put the ice cream into a container to squeeze ice cream into  ice trays.
I used a container that I have for frosting cupcakes and cookies.  I filled the container with the ice cream.  This makes it so much easier for getting into the ice trays.
Squeeze enough ice cream to fill each hole.  Try not to overfill.  Set them in the freezer for a couple of hours.  Also, set a cookie sheet into the freezer to chill.  You will use it later when emptying ice trays.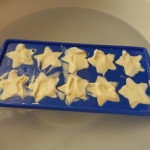 Now, silly me.  Why did I think that I would freeze these and they would pop right out? Any way, I set them in some not-too-hot bowl of water.  It only took a couple of seconds and I was able to to turn them over on a cold sheet pan that I had set in the freezer to chill.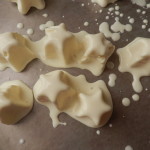 Once you pop them out…this may require a little hitting the ice cube tray on the cold sheet pan to get them out…. (LOL), then set them in the freezer quickly to freeze again.  I would say a couple of hours.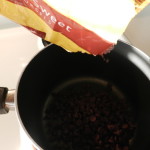 When you think that your ice cream has frozen long enough, begin making the chocolate to cover some of them.   Don't forget to put in your vegetable oil to make it smooth.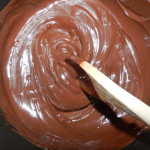 Keep stirring to get a nice consistency.  Then, let it cool down until it is a nice warm temperature.  Warm enough to dip or spoon over the ice cream stars.
This is where speed is a must.  Laugh along the way because it definitely gets funny.  I dipped some of my ice creams stars in and I spooned some of the chocolate on some of them.  As soon as you get them covered, quickly put them back into the freezer to freeze again.  I put some ice in the bottom of the dish so that the ice cream bites wouldn't melt before I took a couple of shots.
I think I like the ones without chocolate.  These small bite-size ice cream stars fills the spot when I need just the right amount of ice cream.  This is a fun thing to do with kids…so much fun!
This reminds me of the Bon Bon Ice Cream that you could buy.  Are they still being sold?  So, what do you think?  Would like you bite-size ice cream or a whole bowl?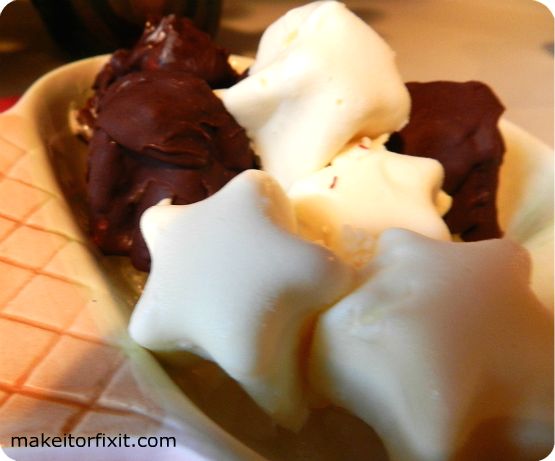 Like this article? Sign up to get free email updates to Make It Or Fix It Yourself!