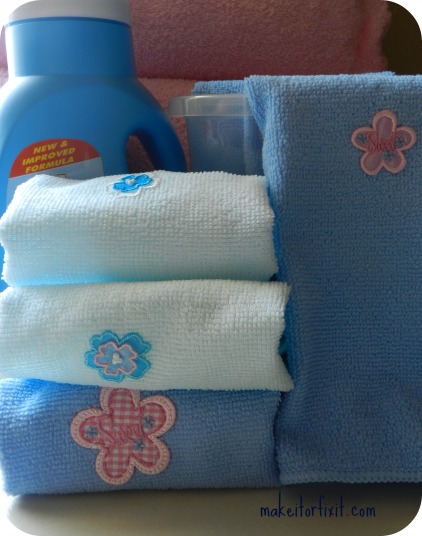 My box of dryer sheets is almost empty.  So, this was the perfect time to try and make some homemade dryer sheets.  Anytime I try something new, I always try and use items that I have on hand at home.  If I need to purchase something, then I try and get it from the Dollar Tree.  That way, if it doesn't come out right, at least I didn't spend a lot of money.  Unfortunately, I didn't have any of the necessary items on hand.  Even though I'm using towels, I didn't want to use the ones I had at home.  I thought it would be easier to get a couple of inexpensive towels that I could distinguish from the set at home.  So, off to the Dollar Tree I went.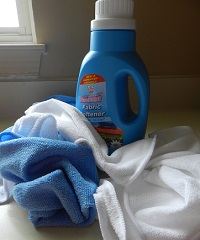 I found a pack of microfiber washcloths for $1.00.  It had 3 in a pack.  I bought 3 since I figured I would love this DIY project.  Picked up some liquid fabric softener for $1.00.  That was all I needed for this project.  I've scoured the internet and basically this is all that is needed from the various searches that I performed.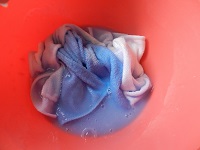 Using a large bowl, I poured the fabric softener into the bowl.  I put a little bit of water in it also.  The fabric softener is very thick and putting a little water in it makes it easier to squeeze out.  You'll know what I mean if you perform this DIY.  Just let it soak for a few minutes.
Then squeeze out.  This is how the washcloths look after I took them out of the fabric softener.  The white washcloths turned a pretty light blue.  Pour the remaining fabric softener back into the container.  Hang washcloths and let dry.  (I hung them on the deck and of course it was so windy that the washcloths were everywhere when I went back out to get them. I didn't have any pins.)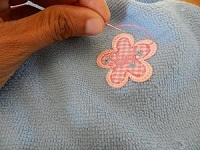 I'm all about doing something a little different than anyone else.  So, to be able to clearly distinguish the washcloths that were to be used as dryer sheets, I found these little fabric flowers that I had in my sewing basket.  It's amazing what you collect over time if you sew every now and then.  They are so cute! These were actually iron-on but I sewed them on to make sure they wouldn't come off later.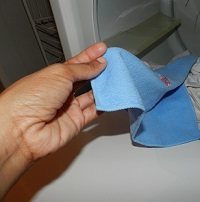 So, when I put a load of clothes into the dryer, I can just pull out the homemade dryer sheet (washcloth) and put it back in the plastic bin that I'm using to store them.  This is my third time using this blue washcloth. I'm very pleased with these homemade dryer sheets so far.   I'm keeping count on how many times I can reuse them.  I'm sure I'll know if it needs to be soaked again when my socks start clinging together or clothes start sticking to me.
I'll try and remember to come back and update.  Have you tried this before?  If so, how did it turn out?
Like this article? Sign up to get free email updates to Make It Or Fix It Yourself!