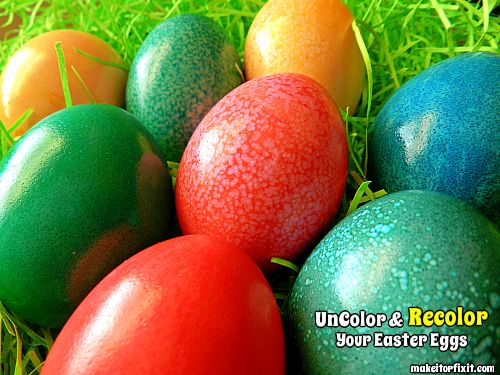 (There is also a 41 second video at bottom of post where I remove the color from egg.)
I was coloring eggs and decided that I didn't want the color that I put on the egg.  I thought it would be so cool to uncolor the egg and recolor it.  So, I thought about all the experiments that we do for homeschool science experiments and came up with a cool idea to take the color off the egg.  Of course, you don't want to uncolor all of your Easter eggs, but perhaps you make a mistake and want to start over.  Or, perhaps you want to thrill the kids with this little technique.
Ingredients:
vinegar
cup or container
food coloring or egg dye
water
To color my eggs, I used food coloring since I had lots of it on hand.  (You can use the regular egg dying kits.) When I dye my eggs with food coloring, I put a little bit of vinegar into the food coloring. For example, I used 1/2 cup water and mixed in about 1/4 teaspoon of vinegar. 
Directions:

Boil and color your eggs as you do normally.  I colored my eggs in plastic bags since I didn't have paper cups.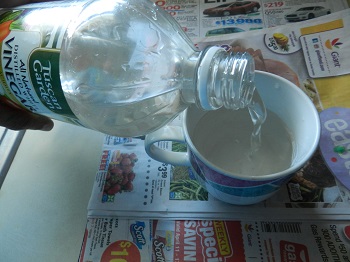 Pour one cup of vinegar into a container.

Place the egg into the cup of vinegar.  It will start to fizz or form bubbles around the egg.  The vinegar is actually eating away some of the outer shell which will help to remove the color.  Let it sit in the vinegar for about 8 minutes.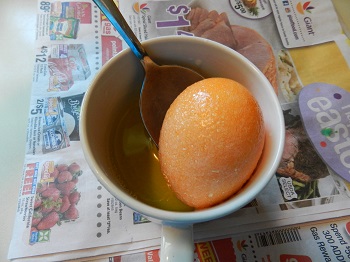 After 8 minutes or so, remove the egg from the vinegar.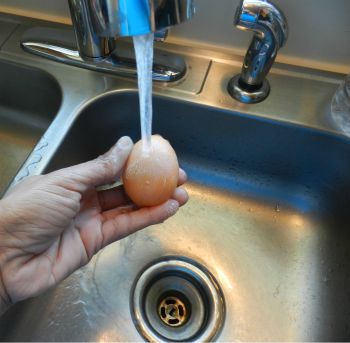 While running under cool water, use your hand to wipe away the color.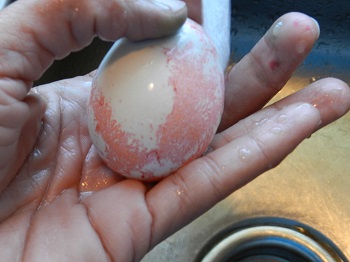 The color should easily come off of the egg. Remember, that since the egg was sitting in vinegar, a tiny layer or parts of the shell was also removed when taking off the color.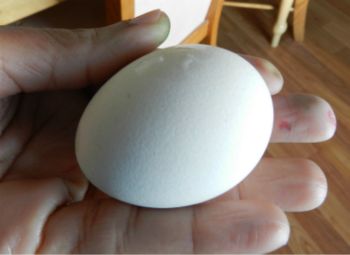 Now, you're back to a light-colored egg.  There will be a slight tint of coloring remaining on the shells but it is not that noticeable.  You can now recolor the egg.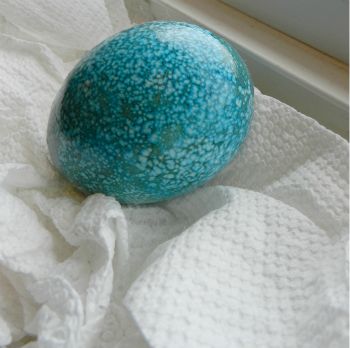 When you recolor your eggs (using normal method of coloring an egg), they will come out SPECKLED.  Since vinegar removed little parts of the outer layer, it will only color the egg a speckled-look.  It is so pretty! I love the blue and the red one that is speckled.
(short video demonstration of removing color from egg)
Uncoloring (I don't actually think that is a word.) and recoloring is a fun idea when you want to entertain the kids or change a color on an egg.  It's a different way to color eggs.  What unique ways do you use when coloring eggs for Easter?
You may also want to check out how I colored eggs last year with vinegar and a necktie in my post, How to Dye Eggs with a Necktie and Vinegar.
Like this article? Sign up to get free email updates to Make It Or Fix It Yourself!