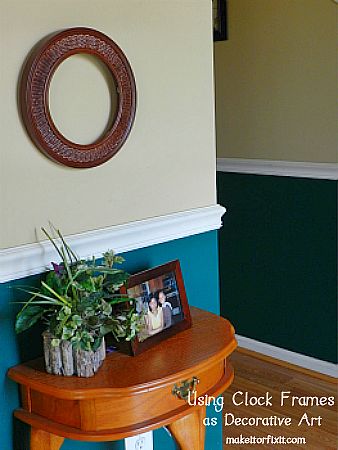 Sometimes, I will be out driving and will stop at a new housing development that is open.  I'm not actually looking to buy a house right now. However, I like to look in model homes to pick up decorating ideas.
Recently,  I stopped at a model home and really liked the decorative art on the wall.  It was a circular-shaped piece of dark wood with the opening in the center.  I think the wall contained at least three of the circular-shaped pieces of art.  Of course, I'm sure it was probably expensive.  I took a picture of it with my phone and vowed to be on the lookout for using that type of art in my house, but with a very inexpensive price.
Well, I found a shape that I liked in the thrift store.  However, it was connected to a clock.  Didn't let that stop me.  It turned out perfect! Plus, it only cost $2.  And it's so simple to turn into art for the wall.  Check out below.
Directions:
This is a large frame.  It was the perfect size for my front door entrance.  Try to locate clock frames that have the color and size you would like to use.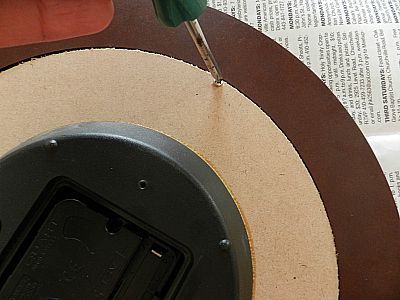 Using a screwdriver, remove any screws on the back of clock.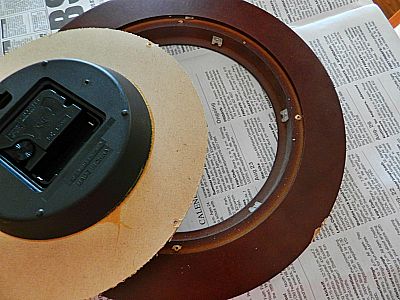 Remove the back.  This was the perfect clock because the back just popped out.  I thought that I was going to have to use a hammer to knock out some parts.  Nope, worked perfectly.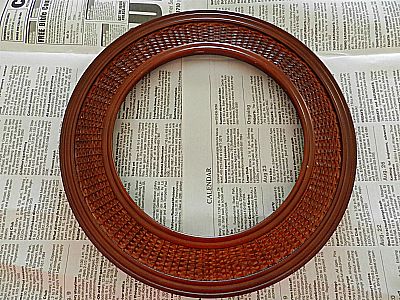 It was the perfect shape and circle on the inside.  Love this!
Like this article? Sign up to get free email updates to Make It Or Fix It Yourself!