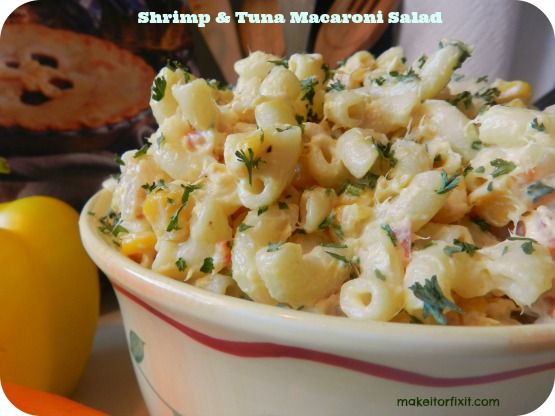 Today, I felt like having a salad.  Not just any salad.  I wanted shrimp and tuna macaroni salad.  The weather is still warm but I can feel a slight chill in the air.  It was the perfect weather for making a macaroni salad.  Did I mention that I like to put a lot of stuff in my salad?  Well, not too much stuff.  Here are the ingredients and directions if you want to try this fabulous salad.  When making salad, always add or delete ingredients to your satisfaction.  I didn't put any salt in this salad because I am limiting my salt intake.  Feel free to put salt to your taste.
Ingredients:
2 1/2 cup elbow macaroni
1/2 to 1 cup of whole kernel corn
20-25 large raw shrimps
1 cup mayonnaise
1 to 2 teaspoons yellow mustard
1 tablespoon of honey mustard
1/4 cup red peppers (optional)
1 or more teaspoons parsley
black pepper
1 can of solid white tuna in water
Directions:
Prepare the following ingredients before you begin boiling macaroni.  Cut up red pepper, if using.  Peel shrimp and cook.  Set aside.  Boil corn.  Prepping ahead of time makes it much easier to prepare this salad.
Boil elbow macaroni according to package directions. Drain macaroni and rinse to cool.  Pour into a large bowl.
Open a can of tuna, drain, and break up.  Pour into bowl of macaroni.  Mix in shrimp and corn.
In a separate bow, mix together mayonnaise and mustard.  Sprinkle in some black pepper. Mix into macaroni.  Pour in a little bit of honey mustard.  Mix.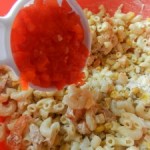 I saved the red peppers for last.  You may want to taste a little of the salad on a separate dish with some peppers mixed in.  Some people in my house like it without peppers.  So, I separated half of this dish without peppers for some family members. I like it with peppers.  That's why it was saved for last.
Top with parsley.  It just makes a dish so pretty.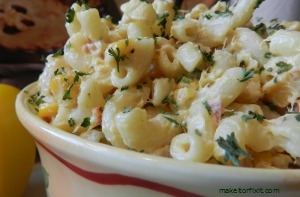 This is one of my favorite dishes to eat.  Yummy! I like to eat this salad warm or cold with some crackers on the side.  Do you have a favorite macaroni salad? If not, this might be one you want to try…..
Like this article? Sign up to get free email updates to Make It Or Fix It Yourself!