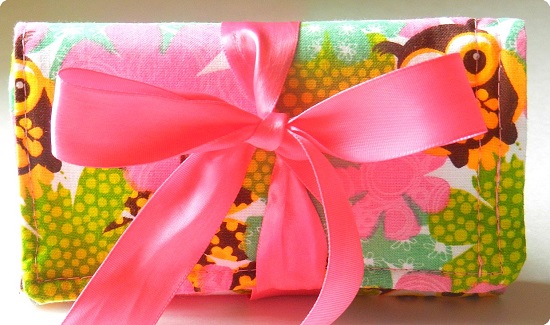 (Make sure to scroll all the way down to see how it looks when open!)
Well, today, I decided to pull out my sewing skill that I picked up in high school during 10th and 11th grade. Now, the whole reason for making this is that my daughter's girl scout troop (yep…I'm the leader) was completing a skill for their First Aid Badge and making a first aid kit was one of those skills.  We made a tin first aid kit for the troop. But, while I was looking on the internet, I came across this one on Positively Splendid  by Amy and decided to not let this challenge pass me by. It took me about 3 hours to make this due to the fact that I had to take pics along the way. (Plus, I had my teenager to take some of the pics, which was a feat in itself.)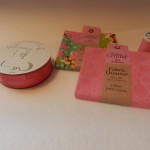 Items that I used: ribbon (18 in), fabric quarters in 2 different colors (18 x 21 in), fusible interfacing (6 x 11 in) and matching thread(s). There is ample enough fabric in the fabric quarters.
Measure and cut the inner piece, outer piece, and interfacing (all three pieces are 6 x 11 in). My inner piece and outer piece are the same color.  Amy suggested lightweight fusible interfacing but I got heavy weight which meant I would have to sew mines on since it was not the iron on type.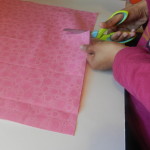 Measure and cut the pocket piece.  This is the largest piece. (13 x 11 in)
Using the pocket piece, fold the short end up 2 and 1/2 inches, pin and then iron. Fold up the opposite end. It should be about 4 inches, press.  Then, fold up the short end over the large end until it forms like a pocket, press.
This part gets a little tricky if you're not in to sewing.  (Please check Positively Splendid if you need more details). First, make a marking 2 inches from the left edge of the lower part of the pocket piece, one closer to the top portion and one closer to the bottom portion. I used a colored pencil which I'm sure you shouldn't but I did. Then, make another marking 1 and 1/2 from 2 in marking.  You will make 3 more markings that are 1 and 1/2 in apart.  The last marking should be 2 in apart from the right side.  I put pins to show you the markings that I made. You will need to take them out for the next step, though.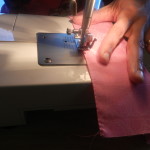 Open folded piece and stitch along both edges. Refold.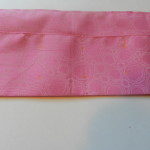 Sew down markings 1, 3, and 5.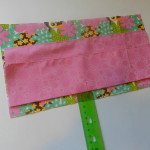 Lay outer piece down face up.  Put pocket piece 1/2 inch on top from the bottom.
Pin down 2 and 4 markings.  Sew 2 and 4 all the way up to top of pink fabric.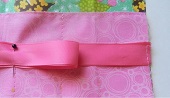 Put ribbon together with right side facing on outer piece.  Baste down on right edge and then fold and pin ribbon in center until later.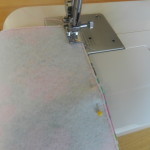 Attach interfacing to wrong side of outer piece and sew (you will have to sew unless you buy the fusible kind) to wrong side of your outer piece.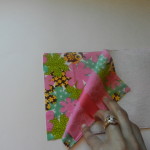 Next, place the inside piece face up on surface and attach the piece with the interfacing (outer piece) so that the right sides of fabric is facing each other.  Remember, I'm using the same colors for my outer and inner piece.
Sew around the item about 1/4 inch all the way around, except for 3 inches.  You need at least 3 inches so that you will be able to turn it over.  Clip the edges. Then, turn over. I used a pen with the top on it to push the corners out nicely. Press down the item before you continue.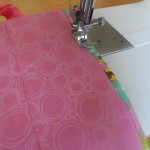 Stitch around the entire item.  You will need to close up 3 inches that was left open and continue sewing. Also, make sure that you top stitch the edge at the bottom where the pocket piece was placed a 1/2 in from the bottom.  I forgot to do this and had to do it later.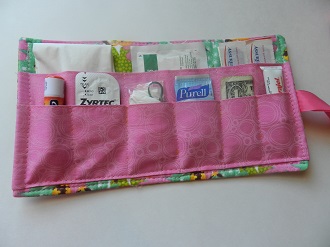 Ta Da!!! It's done and it's cute! Insert whatever supplies that you want in your first aid kit.  I put chapstick, zytec allergy medicine, rubber band and safety pin, Purell hand sanitizer, Orajel, tissue, band aids, etc,.  My daughter decided that she definitely needed this one besides the one they made in girl scouts.  Besides, it's so cute, who wouldn't want to carry it in their purse.  My oldest daughter wanted to know if I can make that into a wallet for her. Woo…I'm tired. Sewing is not difficult, but I forgot how tiring it was. LOL. Do you sew? What item have you sewn lately?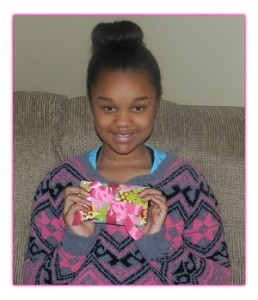 My daughter enjoying her new fabric first aid kit!!
Like this article? Sign up to get free email updates to Make It Or Fix It Yourself!