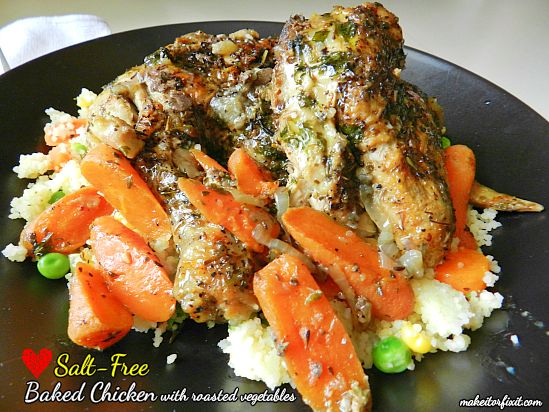 It has taken me a whole year to learn to eat without salt.  This is my favorite dish that I have perfected when it comes to cooking with no salt.  It takes times to adjust to food with no salt or sodium.  There is already sodium content in raw chicken.  Most foods will naturally contain a certain sodium amount even before you start prepping it for cooking.  This is really a good thing, though.  I have learned that the key to eating with no salt is to make sure that you use LOTS of no-salt seasonings and PLENTY of vegetables, especially those with a sweet taste, i.e., as sweet onions and sweet carrots.  Love roasted carrots! You can adjust to eating with no salt or very little salt or sodium.  Of course, practice, practice, practice.
For this recipe, I will not list amounts on seasoning.  (See comment in first photo directions) I used quite a bit and did not measure.  Since, you are not using salt, don't skimp on loading on the seasoning.
Ingredients: (feel free to add in your favorite seasoning….the more the merrier)
1 whole chicken (cut breast away from chicken)
1 whole onion
carrots
1 to 2 small red potatoes
Italian seasoning
oregano
pepper
sage
curry (optional)
cilantro
Directions: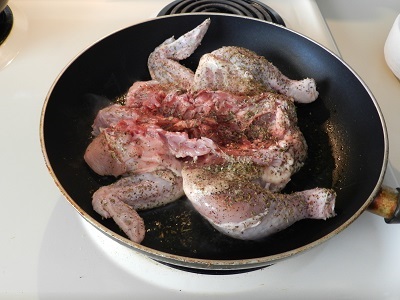 First, cut the breast portion away from the whole chicken, and press down to flatten out.  I don't like to make this recipe with the breast of the chicken.  I also leave the skin on the chicken.  It just gives it an added flavor when done. Season with all of your favorite seasonings.  I am not listing amounts for seasoning, however, please make sure that you coat front and back of chicken completely with lots of seasoning.  Don't hold back when it comes to the seasoning.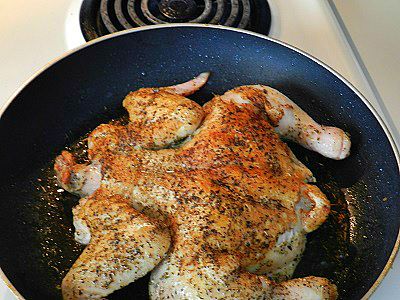 Brown on each side for a few minutes.  Just keep an eye when browning.  It doesn't take that long…perhaps about 5 or 6 minutes. Love the look of the chicken after browning.  Remove from pan and save oil and drippings.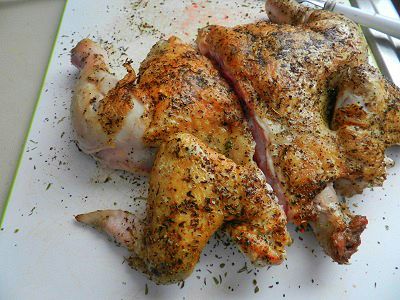 I cut the chicken in half to fit comfortably in a large dish.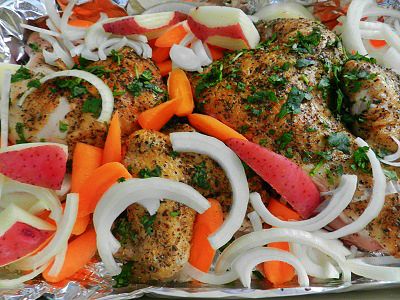 Now add in your vegetables…onions, potatoes, carrots.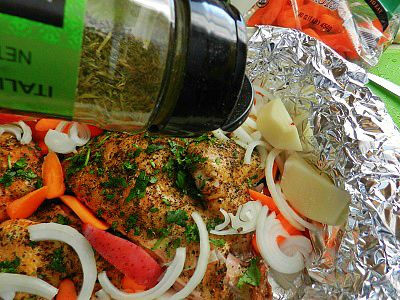 Add more seasoning.  This will help to coat the vegetables.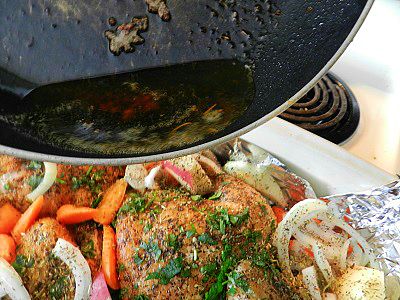 Add oil and drippings from pan used for browning chicken.  More flavor…yum.  Cover with foil. Place in oven on middle rack.  Let cook for 1 hour 15 minutes.  Then, place under the broiler for about 5 minutes.  Pay careful attention and check often when under broiler.  Depending on how brown and crisp your preference for skin on chicken, leave in longer or shorter than 5 minutes.
Remove from broiler. Let cool.  Serve over a bed of couscous, rice or pasta.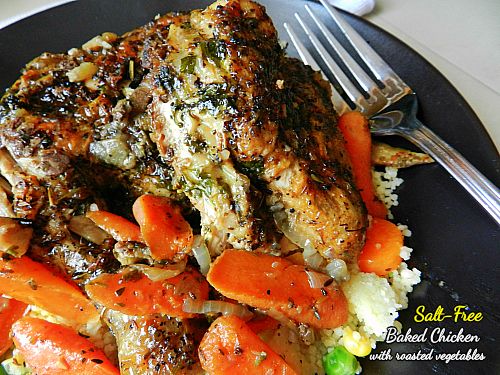 Simply delicious!!!
Like this article? Sign up to get free email updates to Make It Or Fix It Yourself!