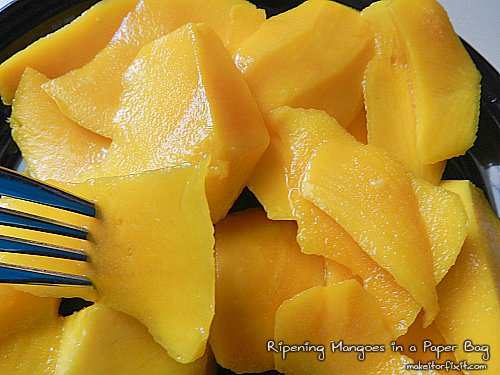 While strolling through Walmart yesterday, I passed by a stack of mangoes. Of course, I squeezed them to see if they were ripe, as I always do. They were not ripe. Really hard. Typically, I would just keep going, but they were on sale and I really wanted mangoes. So, I decided to test out if mangoes would really ripen with the paper bag test. First time trying this. How did it work out?

Just for good measure, I also tried putting some mangoes in a bag with a banana and some without. Read somewhere that the banana would speed up the ripening process. Now, the mangoes are supposed to ripen nicely after 1 day. Put them in a bag. Came back to check after 24 hours to see how ripe they had gotten.
24 hours Update: Mangoes were still somewhat hard. Had gotten a little softer, though. However, I noticed no difference between the mangoes with or without banana in it.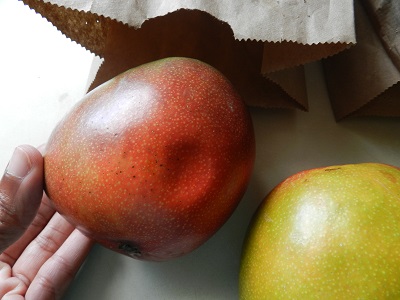 48 hours Update: Well, to my surprise, the mangoes are really soft. You can tell by the imprint that I made in the mango in the above picture. So, I would definitely recommend leaving in a paper bag for at least 2 days.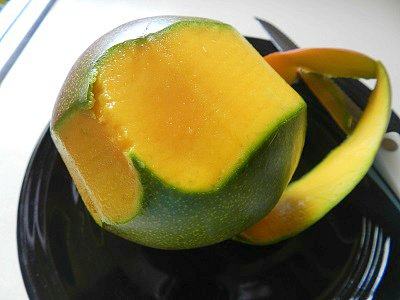 Don't pass up those mangoes that are not soft when you're in the store. This little paper bag tip really works! I think I'll be having more mangoes this summer…
Like this article? Sign up to get free email updates to Make It Or Fix It Yourself!