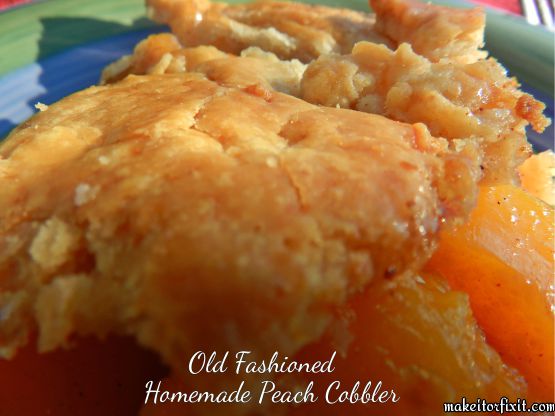 I decided to try my hand at making homemade peach cobbler with homemade pie crust.  Of course, we know that the crust makes the cobbler.  If you don't have awesome crust, then it's downhill for the rest of this recipe.  For my first attempt, I must say that this came out so delicious.  The crust is so crusty and tasty.  Okay, enough of me bragging on how great this turned out.  On to the recipe. I'm going to show the pie crust recipe first.  You'll need to make it and let it chill in the freezer for awhile.  While you're waiting for it to chill, you can make the filling.
Ingredients:   (Pie Crust….makes two pie crusts)
2 cups all-purpose flour
1 tsp salt
1 or 2 tbs white sugar
1  stick of unsalted butter (make sure its really cold and cut into small squares)
6 tbs of vegetable shortening (I used Crisco)
6 or 9 tbs of ice cold water (just pop ice in water and let it get really cold)
1/2 tsp nutmeg
Directions:
Using the food processor, pour in flour, salt, and sugar.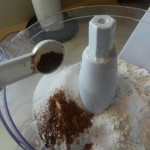 This step is a little different from most recipes.  I'm adding in nutmeg into the flour mixture.  I love nutmeg and tend to add it to most things when I'm baking.  It just gives it the added flavor.  Pulse to mix all the dry ingredients together.
Put butter and shortening into the food processor with the flour mixture.  Pulse the food processor a couple of times.  You will want to have little balls in it the size of pinto beans.  Then, add in enough drops of cold water until you get the look in the photo below.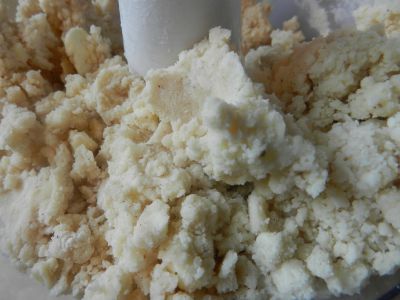 You will want to make sure that when you press the dough between your fingers that it will stick together.  Keep adding water if it doesn't stick together when you pinch it between your fingers.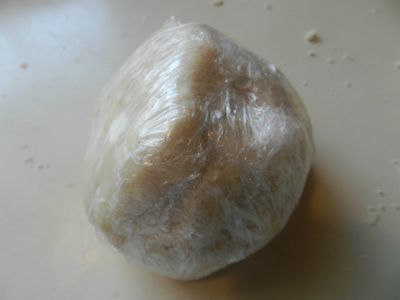 Cut the dough mixture in half.  Make two balls and wrap in plastic.  Put in freezer and let chill for about 30 minutes.  After 30 minutes, pour flour on counter.  Roll out into the desired shape that you need.  I'm using two crusts. One for the bottom and top.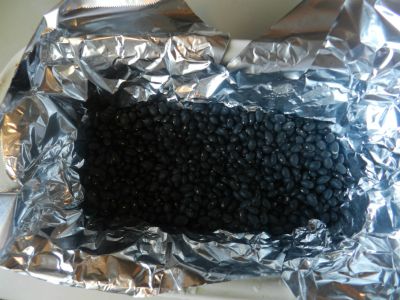 I'm also going to pre-bake the bottom crest on 350 degrees so that it is crusty by putting it into the dish, covering with aluminum foil and using beans to hold it down.  I've seen people use pennies to hold it down, but I was afraid to use those. Let bake until it gets brown enough for you.  I let the crust stay in about 20 minutes.  You'll need to judge the time for your own liking. Please keep in mind that it will also go back in the oven.  When it's done, pour peach filling over the bottom crust, layer it with top crust and place in oven on 350 degrees for another 50 minutes.  It took the cobbler about 50 minutes in my oven.  After 30 minutes had passed, I had to cover the edges with foil to prevent them from burning.  Take out and let cool. (I used a loaf pan for this cobbler.  Just making a small amount for my family.  Increase ingredients if you want a larger cobbler.)
Ingredients:  (Peach filling)
2 15oz cans of peaches
1/4 cup brown sugar
1/4 cup white sugar
1/4 tsp nutmeg
1/4 tsp cinnamon
2 tsp cornstarch
Directions:
In a large bowl, pour in peaches. This is where you decide how much juice to keep. If you do not want much juice, then drain most of it.  Or, perhaps drain one can and keep the juice in one can to put in the filling. It's totally up to you.  I didn't use much juice at all because I don't like my cobbler that watery.  Of course, that meant that my cobbler was mostly peaches and crust.  Add in white sugar, and brown sugar. Next, pour in cinnamon, nutmeg, and cornstarch.  Stir to mix the ingredients together.  Set aside until ready to pour into pan.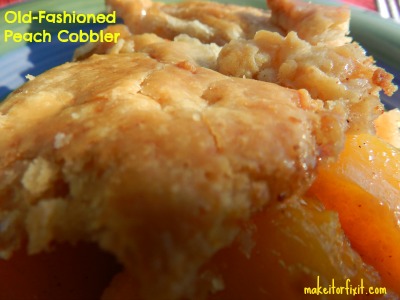 Don't forget to have a glass of milk when eating this delicious peach cobbler.  Have you made a peach cobbler? Did you make the pie crust from scratch?
Like this article? Sign up to get free email updates to Make It Or Fix It Yourself!