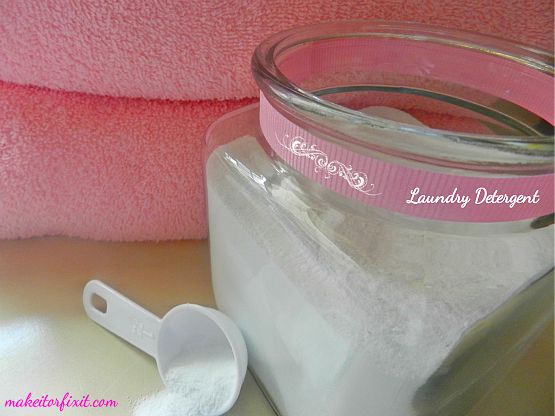 I finally got around to making the homemade powdered laundry detergent.  On the internet, I've seen many recipes for making laundry detergent.  As always, I try to put a different spin on whatever homemade product I'm attempting.  So, instead of purchasing any additional items for this product, I used what I had at home already.  Some of the items are similar and some are different from the typical recipes. The most important thing was whether or not it actually cleaned my clothes.  So, here are the ingredients and the directions.  I must mention that I am totally impressed with this detergent! It works! It cleaned my clothes so nicely.  I, purposely, didn't put any scented oil when whipping this up.  I wanted to smell the cleanliness of the laundry, instead of any perfume scent.
Ingredients:
3 c Borax
2 c Baking Soda
3/4 cups dish liquid
2 tbs hydrogen peroxide
Directions: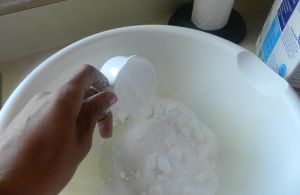 Pour 3 cups of Borax into a large bowl.
Add 2 cups of baking soda.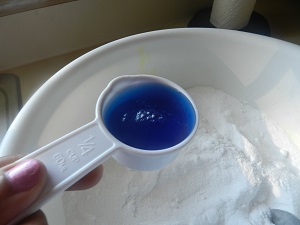 When adding the dish liquid, add 1/4 cup at a time. Stir to combine.  Then, slowly, add in the other cups, making sure to stir each before adding in the remaining dish liquid.  The dish liquid will start making little balls in the mixture. Don't worry that it is getting wet.  You will let it sit out awhile to dry after mixing it in the food processor. I used Dawn Power Clean dish liquid for this recipe.  I like it because it seems to be so powerful, but I'm sure any ultra dish liquid would work just as well.  Remember, I said that I was using things that I already had in my house.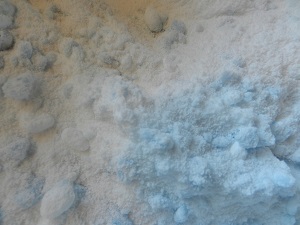 This is how the balls start to form after mixing in the dish liquid.
Add in 2 tbs of hydrogen peroxide. We were having a homeschool lesson and I found out that hydrogen peroxide was used to whiten and clean clothes.  I'm only adding 2 tbs because I'm not sure how strong it actually works in clothes. Plus, I'm using this in dark clothes also and 2 tbs didn't seem to affect the clothes at all, in terms of bleaching out my dark clothes.  When I remake this, I will try adding additional hydrogen peroxide.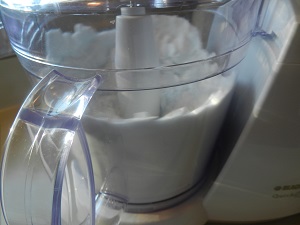 Put mixture into a food processor.  I want to make the grains of this mixture really fine.  I make enough homemade products that I actually use this particular processor for making homemade items.  I'm sure if you only have one, you could easily just clean it out afterwards.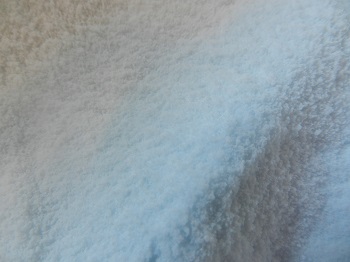 The mixture comes out really fine after going through the food processor.  If you look closely, you can see it has a blue-colored look.  This the due to the blue dish liquid that was used.   It needs to sit out and dry some since it will have a moist touch to it.  I put it in a large bowl to dry.  You could also spread it out on aluminum foil.  It should dry in a couple of hours.  Then, pour into a nice container.  When washing, put 3 tablespoons in a large wash load.  Adjust for smaller wash loads.
Have you tried making a homemade laundry detergent? How did it turn out?  Did you use any different types of ingredients? Most importantly, did you like the homemade laundry detergent?
Like this article? Sign up to get free email updates to Make It Or Fix It Yourself!