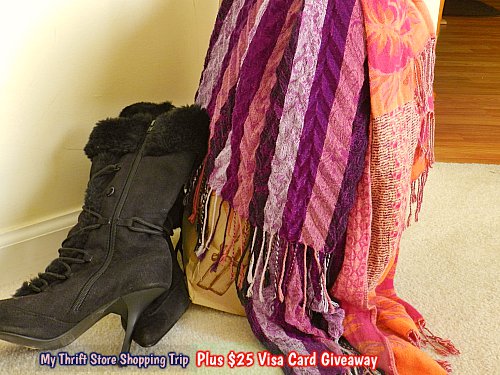 I must admit that I am definitely a thrifty person.  That's one of the reasons that I created this blog…to save money.  Every now and then, I will hit up the thrift stores to find some great steals or deals.  Check out what I found when we visited Virginia during President's Day. (I'm late on posting my thrift store items.) If anyone knows me, really knows me, then you know I love scarves and purses.  Yep..love them! Well, I googled "largest thrift stores in US" and I came across one that happened to be about an hour and 15 minutes from my house.  It called Unique Thrift Store.  It's located in Falls Church, VA.  It is so huge! Fabulous place! Go on a holiday.  It's 50% off.  The girls and I went down and dug into all the goods there.  Came out with these items.  My teenager made out with the best deals.  We actually had a contest going on between the three of us on who would find the best items at the best prices.
Found these lovely scarves.  I've worn the striped-colored one quite a bit, especially during all of that cold weather that we had recently.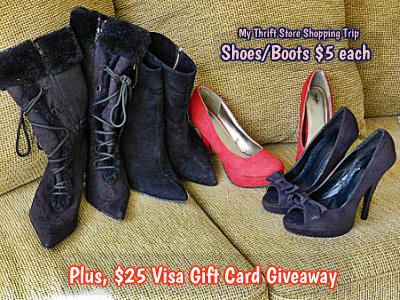 My daughter found these.  They were $5 each after the 50% off discount.  Four pairs of shoes/boots for only $20.  We let her win.  My youngest child didn't find anything.  Usually, she's the queen of shopping.  Will definitely visit Unique Thrift Store again if I get a chance.
Now, $25 Visa Card Giveaway! This is to show my appreciation for all the people that visit my blog. Thank you!  I came up with the $25 amount because when I shop at regular stores (New York and Company is my fav!), I try to find an entire outfit for under $25.  You can check out a video I made on my $25 and under finds here.  So, I'm in the giving mood! Definitely, enter so you can try and win this money! Perhaps, you'll be in a thrifty-shopping mood and go out and find yourself some great deals.  If you win and find some great deals, please come back and share what deals you found.  Of course, feel free to share some of your great finds today…..
Please follow the rules to enter the Giveaway.

P.S.  There are many ways and chances to enter using the Rafflecopter below.  So, take advantage of all the chances or as many as you would like.  Please note that if you select the "subscribe to Make It Or Fix It ( It's free.)" chance, make sure that you respond to the email that is sent to you so that you can actually activate your subscription to get credit. Good Luck! The giveaway will run from April 17 – April 30 and then a winner will be randomly selected using the rafflecopter. (U.S. Residents only. 18 years or older.)

Like this article? Sign up to get free email updates to Make It Or Fix It Yourself!