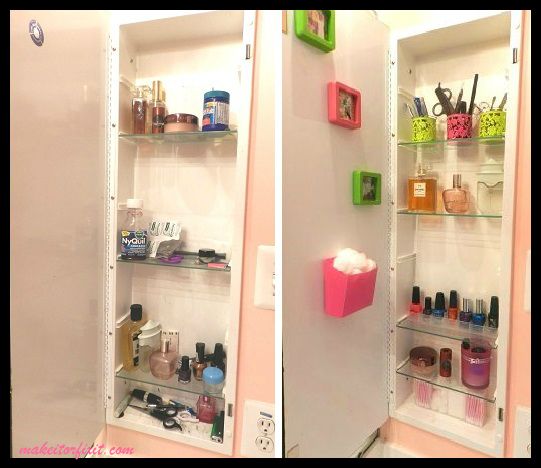 If you're like me, then you rarely go in your medicine cabinet.  The only time I open this cabinet is when I would like to put on perfume some days, throw on a little makeup or use the scissors to trim my hair.  The very reason I hate to open the cabinet is because stuff is always falling out when I'm reaching in for something.  So, of course I try and minimize the times that I open it.  We rarely keep any medicine in here.  That NyQuil has been in there for a couple of years.  All medicine is kept downstairs.  This is more like a ME Cabinet Makeover.  Why? Well, it has all of My personal stuff in it.  No medicine.
This cabinet is not outrageously messy, but it definitely could use some cleaning and organization.  For organizing help, I pulled things from other parts of the house to use in the cabinet.  The only items I purchased was the container holding the fingernail polish and the candle holders from the Everything's A Dollar Store.  The fingernail polisher holder is actually a pill container. It worked perfectly.
So, let's see what I did: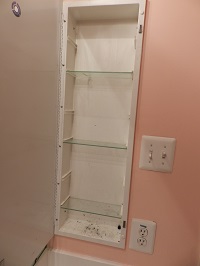 I took everything out of the cabinet.  This medicine cabinet only has three glass shelves in it.  In the makeover, you'll notice four glass shelves.  I stole one out of the children's bathroom.  They definitely don't go in their medicine cabinet. They'll never miss it. All of that black marking came from my eyeliner pencil…… I think.

I cleaned those dirty glass shelves.  Looks fabulous now.
Then, I cleaned out the cabinet.  Put the glass shelves back.  By gosh, that looks brand new.  Perhaps, I just need to leave it empty and clean.  However, if I did that, then it wouldn't look like this: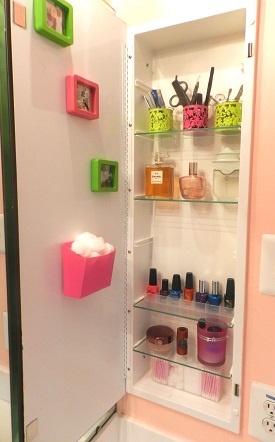 So neat! You'll notice that I put little magnetic frames on the door part.  They didn't need to be on the refrigerator anyway.  I put some family pictures in them.  I have a little pink plastic container that I used as a cotton ball holder. You can attach magnets if you're using a container that doesn't have one on it.  I didn't put a glass shelf above the fingernail polish because I needed the extra space that the cotton ball holder would take up when I closed the cabinet.
I think my favorite thing is the pill holder container.  It was a single container that had slots for days of the week. I cut off the tops on the pill container holder.  It works perfectly in keeping my fingernail polish from sliding and moving around.  Same goes for the the candle holders. They are great for holding my lipstick, eyeliner pencils, mascara, etc. Finally, those scissors will not slide out of the cabinet when opened.
I'm loving the cabinet now.  What did the kids say? "Mom, can you do the one in our bathroom?"
So, what do you think?  Have you done a medicine cabinet makeover lately? Or, is your cabinet already neat?
Like this article? Sign up to get free email updates to Make It Or Fix It Yourself!