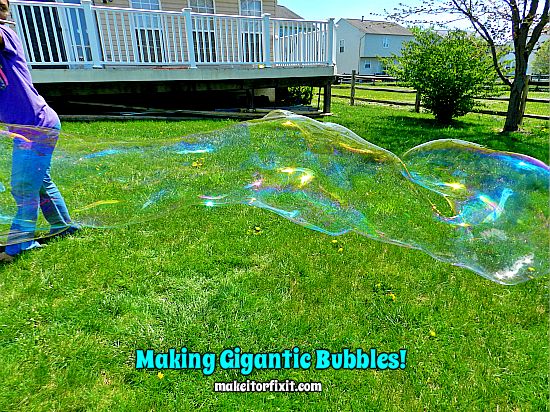 I must admit that I had so much fun making these gigantic bubbles.  The kids loved seeing them, also.  It's getting warmer and you know it'll soon be summer.  This little activity will definitely keep the kids entertained.  When I first thought about making huge bubbles, I was going to try and make it from this tubing material that I had at home.  Then, I went online and found all these wonderful tutorials on how to make your own gigantic bubbles and the wand that you'll need to use. Some of the sites that I visited was Tatertots and Jello and The Enchanted Tree. I kind of tweaked some of the measurements while going along to make it work for me.  You know how you need to add more of this or more of that to get it to work.  So, don't be afraid to add or delete items when you're trying to make large bubbles.
Items Needed:  Bubble Mixture
18 ounces of Dawn Ultra Liquid
2/3 cup of Glycerin…(purchased at CVS)
13 cups of Water
Items Needed:  Bubble Wand (all items purchased at Home Depot)
(2) 48in wooden dowels…..$1.46 each
Cotton String ……..$3.21
2 Screw Eyes……$1.00
4 Metal Washers…$0.11 each
Directions for making bubble mixture: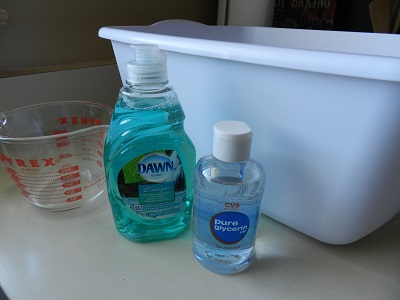 These were all the ingredients that I used for making the bubble mixture.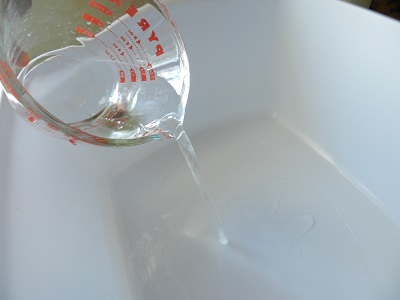 Using a large container, pour in 13 cups of water.
Then, pour in 18 ounces of Dawn Ultra.  I used two of the small 9 oz size bottles since I usually have a stock of these sizes.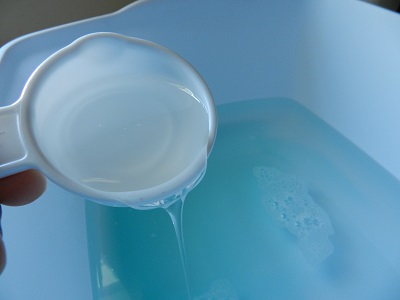 Pour 2/3 cup of Glycerin into the mix.  I started off with 1/3 cup but then added the additional 1/3 because the bubbles didn't hold long.  After adding the extra 1/3, the bubbles seemed fantastic.  I bought the Glycerin a long time ago.  Can't remember how much it cost.  Was glad to finally use the additional Glycerin.  Stir ingredients.
Directions for making bubble wand:
Screw one of the Screw Eyes into one end of each of the wooden dowels.  I bought the #12 pack which included 4 screw eyes.  I was able to screw them in by hand without having to make a hole in the dowel first.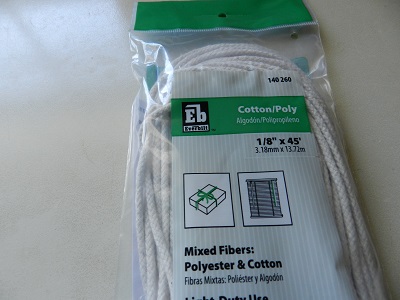 Using some cotton string, measure off 100 inches for the long string and 70 inches for the shorter string. You don't have to use the exact measurements that I used.  You just want to make sure that one string is longer than the other.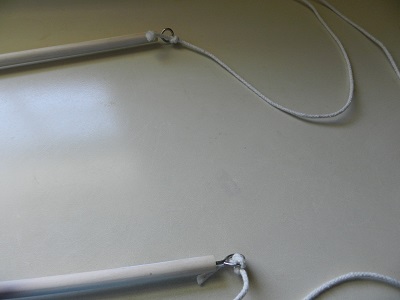 After cutting string to measurement size, insert short string through screw eyes and tie.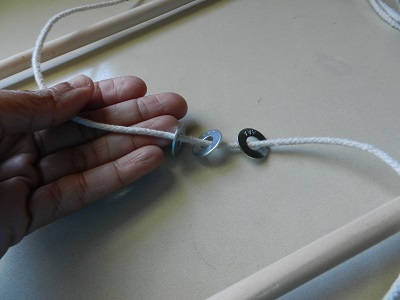 Before inserting longer string through same eye screws, string metal washers on the long string. I don't think that it will matter about the size of the metal washer.  The metal washers will help to hold down the longer string.  (I lost one of the metal washers and only used three. It still worked perfectly.) Then, tie through eye screws.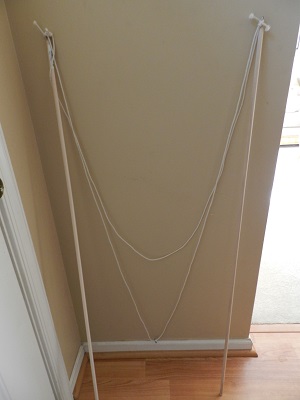 Here is a look at the finished product.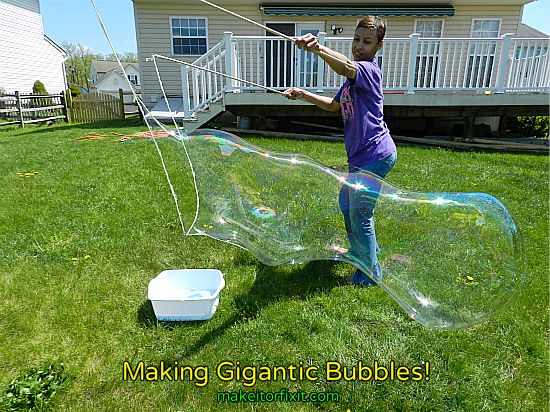 Dip wand into bubble mix and slowly pull out.  Extend wand outwards when in air so that bubble will become larger.  I will definitely take more pictures as we continue to make bubbles.  (On a mission to make the largest bubble in town) Once you catch on to making the bubbles, it is FUN! FUN!  Store in an airtight container.
Have you tried making gigantic bubbles?
Like this article? Sign up to get free email updates to Make It Or Fix It Yourself!