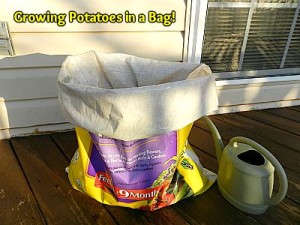 I'm so excited to try my hand at growing potatoes in a bag this year! I have a raised garden bed, also. Due to the amount of space, I decided to try growing the potatoes in a bag this year.  My other vegetables that I am planting will be grown in the garden bed.  I'm planning on planting onions, tomatoes, squash and……a blackberry bush (somewhere in the backyard). I normally plant the vegetables or fruits that we eat on a regular basis and lots of it.  Last summer, we even planted watermelons.  We did a lot of traveling last year during the summer, so I didn't plant a lot of vegetables.  Just watermelons.  For some reason, I didn't know that potatoes are so easy to grow when it comes to planting.  They'll grow in any containers with the usual ingredients.  So, I can't wait to see how they turn out.  I'll definitely post pics as they continue to grow.  Here is what I did to start the planting phase.  Thank goodness the snow has finally left.
Items needed:
bag (I'm using the bag that held the soil. 56.6L)
soil
water
seed potatoes
Directions: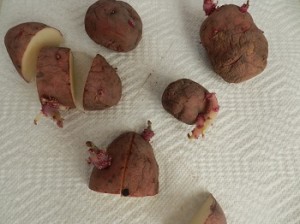 I bought some seed potatoes.  In this pic, my seed potatoes were already sprouting nicely.  If not, you can let them sit out until they start sprouting.  (As you know, when you buy potatoes and don't eat them in time, they start sprouting also.)  I didn't try growing them from store-bought potatoes since this is my first time.  I read where others had tried growing potatoes from store-bought potatoes and they didn't produce a good harvest.  For some reason, the potatoes were very small when they were ready to harvest.  So, I'm sticking to the seed potatoes for this trial.  Cut them if they are too large.  Just leave an eye on each part that you cut. Then, let the cut parts sit out for a couple of days before planting. These were not that large, but I cut a few and kept some whole.
Empty bag of soil or use whatever bag of your choice.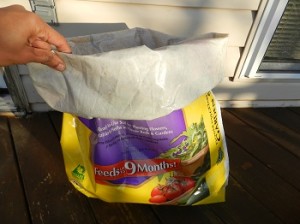 Fold the bag down.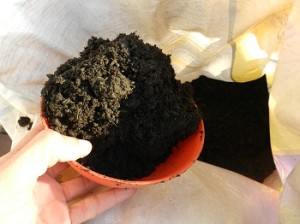 Fill the bottom of the bag with 3 inches of soil.  The soil I used had a fertilizer in it.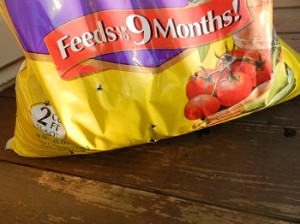 Using some type of pointed object, poke holes in the bag to allow drainage.  Put holes all around the bag. I used a screwdriver.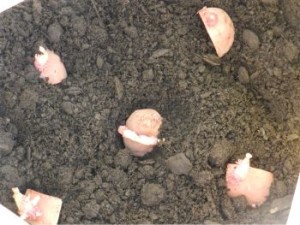 Put your seed potatoes in the bag.  Try to keep the eyes that are sprouting facing up. I put five in the bag.  I probably should've placed about three in the bag, but I'm super excited about growing them in a bag. (Whenever I plant something for the first time, I tend to overdo it.)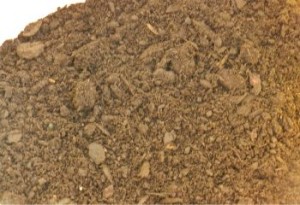 Cover seed potatoes with about 2 inches of soil.  You want to make sure that you fully cover the seed potatoes but not too deep.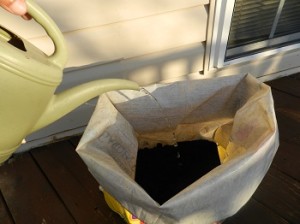 Water the seed potatoes.  Now, I just need to wait for nature to take its course.  When the seed potatoes  start growing and gets about 5 inches above the surface of the dirt, I will put about 2-3 inches of dirt on it.  I'll keep repeating that process until the stalks are about 5 inches above the top of the bag.
UPDATE:  After a month, the potato seeds are coming up nicely.  Hopefully, the cold weather has decided to move on.  We've had some cold days in May, also.  Here's to warmer weather and a nice harvest.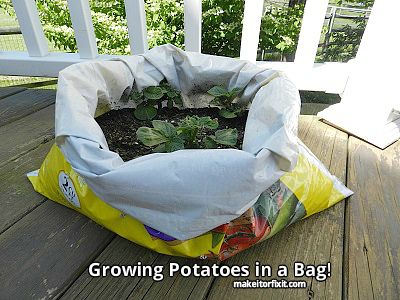 These are some of the photos of vegetables that I have grown in the past and from my raised garden bed:
I have my fingers crossed that my fruits and vegetables grow nicely this year, especially my potatoes and blackberry bush.
Have you grown potatoes? What are some of the fruits or vegetables that you have grown?
Like this article? Sign up to get free email updates to Make It Or Fix It Yourself!