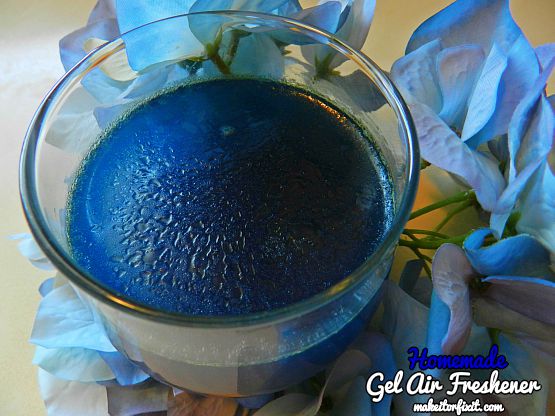 During the summer, I made air freshener with baking soda, essential oil and sidewalk chalk (to color baking soda). So, I thought it was time to try and make the gel air fresheners.  I'm on a mission to make everything homemade.  This was a fairly easy DIY to make. You only need a couple of ingredients and it's quite inexpensive. I used lemon essential oil to scent the gel air freshener.  It has a wonderful lemony scent.
Ingredients:
1 box of Knox Unflavored Gelatin (1 oz)
2 tablespoons of table salt
2 cups of water (1 will be cold water)
food coloring (optional)
essential oil
Directions:

Before you begin, prepare the glass jars or containers that you will use to hold your gel air fresheners.  Put in a couple of drops of food coloring, about 5 each, into the containers. This was a great tip that I picked up from DeandresCrafts. Then, I put in at least 20+ drops of essential oil…..I kind of lost count of drops after 20. I think I may have put about 30 drops into each container. You could just use a teaspoon or half teaspoon to measure out some essential oils.  That way, you won't have to stand there shaking drops all day.  You may want to use less or more. Of course, the preference on drops for both scent and color will depend on the tint of color and the scent that you would like. (Update: You will definitely want to start off with at least 2 teaspoons of essential oils and add additional as needed. The gel air fresheners require a lot of essential oil to give off a nice scent.) I made an orange colored gel and a blue one.  I made the orange color gel by mixing equal parts of red and yellow food coloring.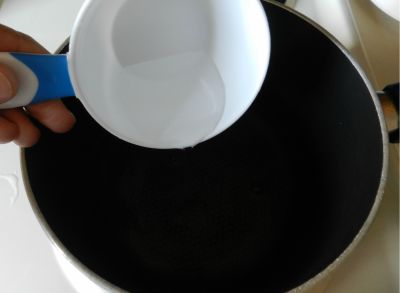 Pour 1 cup of water into a pot.

Let water begin to boil and pour in all four envelope packets into pot.  Stir until it dissolves.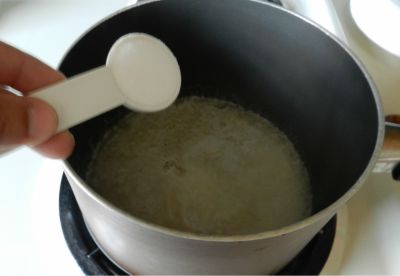 Then pour in salt. Stir until dissolved. Remove from burner.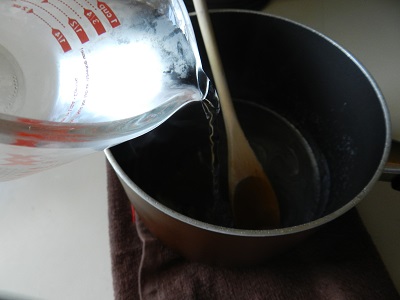 Pour in the cup of cold water. Stir.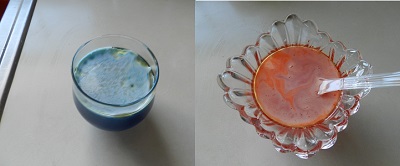 Pour gel mix into the containers.  You'll notice that there will be a foam residue on the top.  You can stir the jars a little bit with a plastic fork, spoon, or knife.  You don't have to do that much stirring. Don't worry about the white foam on the top.  It will stay on the top for a while, but will eventually leave after it begins to gel.  Let the containers sit for 24 hours so that the gel will set.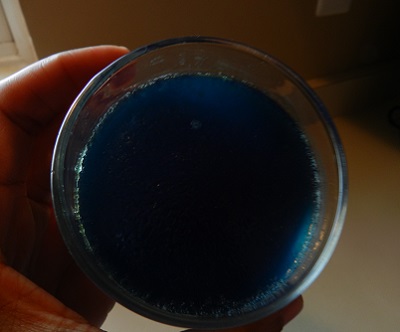 You'll notice that after 24 hours, the gel has set and the white foam residue has disappeared.  It has a wonderful lemony scent to it.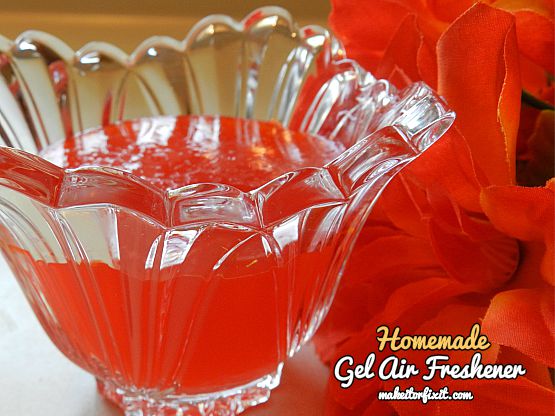 This is a pic of the orange colored gel.  They both have the lemony scent.  Love them.  Will update later on how long the scent lasts.  That way, I'll know whether or not the next time I have to add more essential oil drops.
Have you tried making the gel air fresheners or any type of air fresheners, yet?  If not, you might also like the post that I did on Homemade Air Fresheners that are made with baking soda.
 Update:  4/14/2014
I made these gel air fresheners in January 2014.  When you make the gel air fresheners, you will want to start off adding at least 2 or 3 teaspoons of essential oil in order to have a nice scent.  Of course, this will depend the strength of  the essential oils. Some oils carry a stronger scent than others.  The Homemade Air Fresheners that I made in the summer seems to provide a stronger scent than the gels.  Of course, the gel air fresheners are so cute.  I will add more essential oils when making these the next time.
Like this article? Sign up to get free email updates to Make It Or Fix It Yourself!