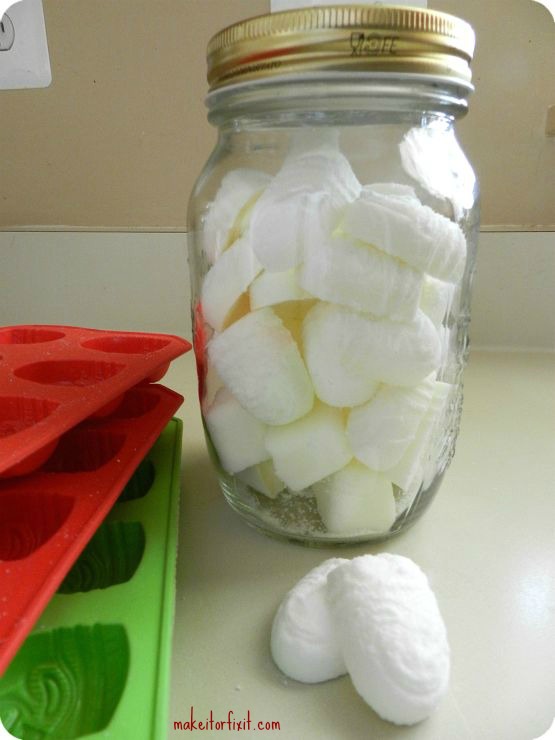 I definitely enjoyed trying this! How neat! I must say that this is one of my How-To favorites.  Why? Well, this one comes in really handy for me.  We don't use the dishwasher to wash dishes that often.  I, or the kids, normally do them by hand.  So, I don't usually buy a lot of dishwasher detergent.  (That's an item that is quite expensive.) We have tons of dishwashing liquid for handwashing. (I stockpile this when there is a major sale, along with using a coupon.)  However, since we use our dishwasher for holding the dishes to dry, I have to run it at least once a week to clean it, plus run a load of dirty dishes while I'm at it.
So, I came across ways (most of them the same with a few minor differences) to make the dishwasher detergent and was definitely intrigued with making it into cubes.  Looks like it would store better in this form.  The websites that I saw made them into regular ice cube sizes.   The ingredients are simple enough. You should have most of this in your home, with the exception of Borax.  Most recipes seem to have added lemon essential oil.  I just used unsweetened lemonade packets because I had that on hand at home. Love that smell!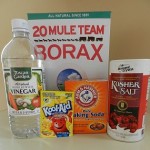 Ingredients
2 cups of Borax (purchased at Walmart for $3.13)
2 cups of Baking Soda (or Washing Soap)
2 packets of unsweetened lemonade (or Essential Oils)
1/2 cup of Kosher Salt
1/2 cup of vinegar
ice cube trays (I used mask shaped trays from Everything's A Dollar $1 each and regular trays that I already had at home.)
wax paper (optional)
Directions:
Pour Borax into a mixing bowl.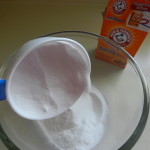 Add in the baking soda or washing soda.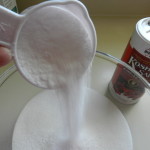 Pour the kosher salt into the bowl with other ingredients.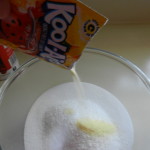 I used 2 packets of the lemonade. I wanted a really lemony scent! (You may use essential oil if you would like.)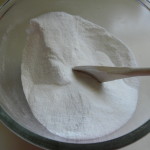 Stir to blend the ingredients.
This is the fun part!  Pour the vinegar into the bowl.  The vinegar will cause bubbling to began.  (We have done so many experiments with vinegar for homeschool that I thought I was teaching another lesson.)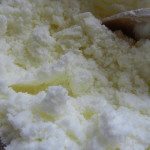 Your mixture should look somewhat like this.  It should still be a little moist so that you will be able to press it down and mold it into the ice cube trays.
I used regular trays and the mask-shape trays.  I couldn't just stick with the simple/regular trays.  You need to pack them really tight so that it binds better when it hardens.  Notice how I began packing it down in the blue tray. How many trays you use will definitely depend on how hard you pack them down.  Of course, my mask trays are smaller in depth, so I used a total of 2 regular trays and 3 mask trays.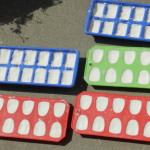 Now, you're suppose to set them in a sun-filled area (probably inside of your house) and let them harden for about 24 hours.  Personally, after making this, I think that it takes a couple of days to really harden to a good solid feel.  Of course, you should definitely remember to pack them down really tight.  Since, it was almost 85 degrees yesterday, (Did I mention that I'm a winter girl?) I set mines on the steps until the sun went down and then brought them inside.  The following morning, I set them back outside again.  I'm sure these will continue to harden as time passes.
After they have hardened, remove from the trays.  After emptying a couple of trays, I found that if I put wax paper around them while emptying, the cubes came out better.  It was for more of a precaution, than a necessity.  The regular ice tray cubes are actually too big for my dishwasher.  Of course, you could always fill the tray half-way and pack it down to make smaller tablets for the dishwasher.  Too late for me though.  I filled mines to the top.  The mask shape cubes are the perfect size for me.
These are some close-ups of the mask-shape cubes.  So cute!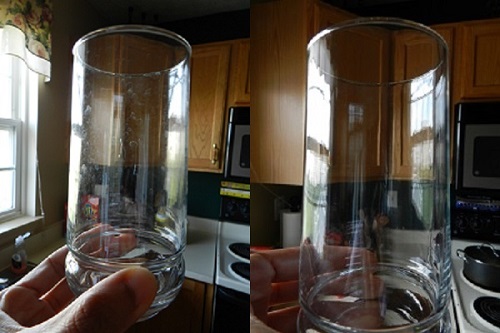 So, how did it work in the dishwasher?  The first shot is a picture of my glass using a n0-name brand of dishwasher liquid that I had at home.  The second shot is a picture after using the homemade cubes.  That is not bad at all!  Second picture of the glass looks great! Now, I must say also that I used vinegar in the Jet Dry rinse container when I used the homemade cube.  I've never used vinegar in my rinse container.  My mother told me to use vinegar a long time ago, but I never did.  However, when trying the homemade cubes, I decided to and there is definitely a difference.  These will definitely not go to waste. (I only used 1 cube in the dishwasher.)
There was something that I always wanted to know.  Do you use your dishwasher on a regular basis?  But, most importantly, do you use your dishwasher to hold the handwashed dishes until they dry? I don't know many people that actually towel-dry their dishes.  We did when we were growing up, but definitely not now.  Oh, I guess I wanted to know if you spend a lot on your dishwasher detergent and if this is something that you may try?
I'll have to post as time goes by whether or not I am still as happy about using the homemade tablets in a later post.  Hope you try it! Really, would you want to miss the action where the vinegar causes the fizz…..
Update:  If you find that yours do not cooperate now or does not work after a time period or leaves a film on your dishes, you may have to do a trial and error test and swap out some things until you get it to work exactly as you want it.  (Lemi Shine is also a suggestion for stopping a film that may occur and has worked great for some people. I am going to play around with adding this in a new batch that I am making. Another great suggestion was to sneak a few drops of dishwashing liquid soap into the center of the dishwasher detergent mixture inside of the cubes and close up before setting out to dry.  How cool!  ) There are options listed in the ingredients that you can pick and choose from until you come up with the exact ingredients that work for you.  I am still testing mines…..
1/4 cup Lemi Shine (If you notice that after making your batch that a film starts to get on your dishes after a short time, try adding this to the next batch that you make. You may want to adjust your dry ingredients if you try adding this.) 
While you're here, feel free to scroll through the comments.  Some of the visitors had wonderful suggestions. I love my readers!
I will be updating next month on how happy I am with the use of these homemade dishwasher detergent cube…..
Other suggestions for solving film that might occur:  One reader suggesting swapping out the Borax after she developed a film over her glasses and that solved her film problem.
Like this article? Sign up to get free email updates to Make It Or Fix It Yourself!