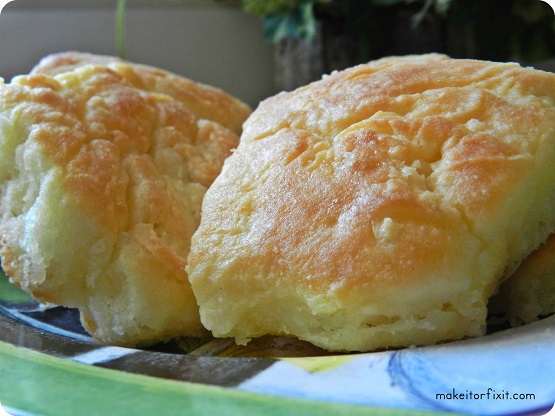 Today, I decided to make homemade biscuits.  Let me just say that I do not like thick biscuits.  I'm the person that would cut out some of the middle of the biscuit if it has too much bread in the middle.  It's obvious that I like the top of the biscuit and the bottom of the biscuit.  So, I have perfected this biscuit recipe to make it a thinner or flatter biscuit.  If you make this and you want to have a thick biscuit, then just double the recipe.  For me, I'm mostly looking for the crust on the top and the bottom.
I make my biscuits with all-purpose flour.  I never buy self-rising flour.  Also, I don't buy buttermilk, I make mines.  I have used regular buttermilk in this before but somehow it tastes better when I make the buttermilk.  If you want to cut out some of the steps, then by all means use self-rising flour and buttermilk.
Makes about a dozen biscuits. Preheat oven to 425 degrees.
Ingredients:
1 1/2 cups all-purpose flour
1 1/2 tsp baking powder
1/2 tsp salt
1/2 stick of unsalted butter
1 cup milk
1 tbs vinegar
2 tbs butter (for brushing the tops of biscuits)
biscuit cutter or glass for cutting out biscuits
pastry blender (or use your hands)
(If using self-rising flour: 1 1/2 c self-rising flour, 1 c buttermilk, 1/2 stick of butter and 2tbs butter for brushing the tops of biscuits.  You won't need the other items.)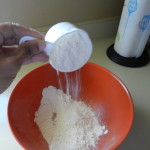 Pour flour into large bowl.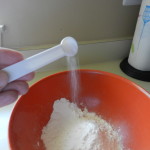 Pour in baking soda and salt into all-purpose flour. Stir together.
Cut unsalted butter and put onto bowl. Break up butter pieces into tiny pieces in flour.  If you have a pastry blender, use it.  However, my hands seem to work better.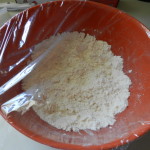 Cover bowl with plastic wrap and put into the refrigerator to chill for about 10 or 15 minutes.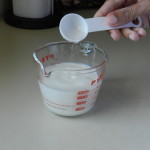 While the mixture is chilling in the refrigerator, make the buttermilk.  Pour in 1 tbs of vinegar into 1 cup of milk.  Let stand for at least 5 minutes.  I normally just let mines sit for the entire time my mixture is in the refrigerator.
Don't pour the entire glass of buttermilk into the flour mixture.  You might not need the entire glass.  You don't won't the batter to get too thin.  It seems that I always have about a 1/4 cup left over.  Stir.  It should look somewhat like the pic on the right.
Pour some flour onto a surface.  Then, pour the batter onto the floured surface.  Cover the batter with the flour and knead a couple of times.  Try not to overwork the batter.  Flatten out according to how thick you want your biscuits.  As I said earlier, I like a flatter biscuit so my thickness when I roll it out is not very much.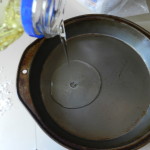 This is something I learned from watching my mom fix biscuits. She would always pour a little oil, maybe a tablespoon or two, into the pan you're using.  Then, set into the oven and let it get hot.  This helps with giving that crusty type of biscuit.  Skip this part if you don't won't a crust. You would want to do this before cutting out biscuits.
Now, the fun part is always cutting out the biscuits.  Mines usually lose that round shape and I'm sure this is due to the thickness of my biscuits.  I'm using a glass to cut out my biscuits.  If you have a biscuit cutter, go for it.  When using the glass, make sure to dust the rim of glass with flour, so biscuits won't stick to the glass.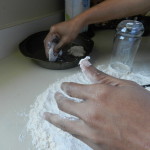 After I cut out a biscuit, I will put it in the oil, then flip it over so the oily part is on top.  (This gives me a crust on top and bottom. Yay!) Continue step until pan is full.  If needed, make a ball with remaining batter and flatten out again to continue making biscuits.
Put into oven for 15-18 minutes, depending upon your oven and how brown you want them.  When they come out, melt the 3 tbs of butter in microwave and brush onto tops of biscuits.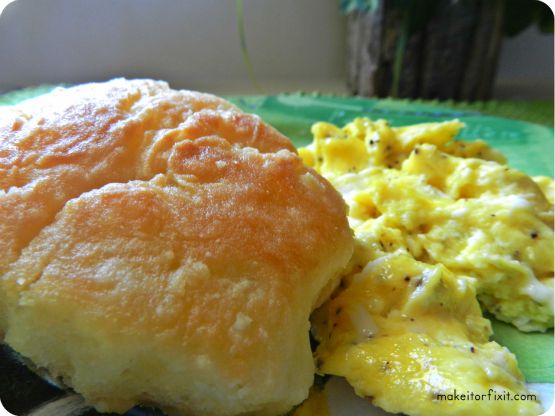 These are the best biscuits around! Of course, I don't make these too often because I would end of having to run a marathon each time I ate these.  But, oh, so delicious!
Do you have a favorite homemade biscuit recipe?
Like this article? Sign up to get free email updates to Make It Or Fix It Yourself!