I decided to finally fix the waistband in a couple pair of jeans today. I have two pair that are my favorite.  Of course, the waistband is too large.  It seems that any pair of pants that I buy has a waistband that never fits.  And, I do not like to wear a belt, especially with jeans.  Not trying to add any extras to the waistline.  Well, to solve my problem, I tried making the waistband adjustable by adding buttonhole elastic.
Items Needed:
knit elastic or buttonhole elastic (amount needed depends upon size of pants)
thread
needle
sewing machine (optional)
Directions: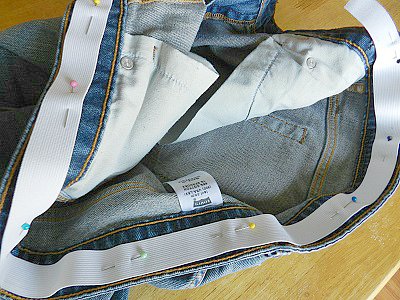 Measure elastic around inside of waistband to get an idea of how much elastic you will need.  Cut to length needed. Remove.  I bought the prepackaged elastic that came in 1 yard.  It was plenty for the jeans that I'm fixing.
If you purchase buttonhole elastic (buttonholes pre-made into elastic), you may skip this part. I made my own buttonholes into the elastic I bought from JoAnn Fabric.  It was $2.49.  The pre-made buttonhole elastic is more expensive and not sold in the store.  It was priced $22.00 online from JoAnn.  Of course, I was looking for a cheaper way. However, I did find some later online from Etsy that is inexpensive.  I've ordered it for future use.  It was priced under$10.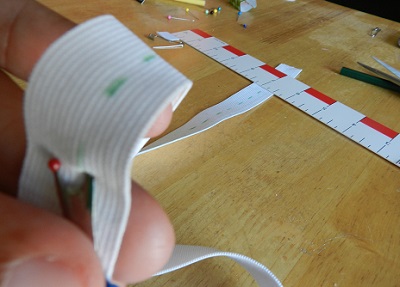 Making the holes are easier if you start with punching a hole using a seam ripper.  Then, insert sharp scissors in hole and cut small slit. If you have really sharp pointy scissors, then you may be able to make the holes without using a seam ripper.
I didn't make buttonholes. I just cut small slits about 1/8 inch.  It doesn't seem to ravel. You want to make small slits because you will be stretching the holes over a larger button.  I will be testing it out over the months.  Unlike children clothes, I won't be making too many adjustments on this elastic.  Usually with children, you keep moving the elastic to adjust to weight gain or weight loss.  One thing to keep in mind is to make sure to cut holes on the same line to keep it neat.  I spaced the holes a little over 1/4 between each other.  FYI: I did not make buttonholes over entire elastic strip.  I took a short cut and made just enough holes for adjusting waistband to my liking.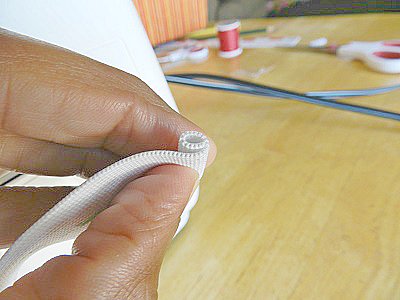 Roll the edge of the elastic as above.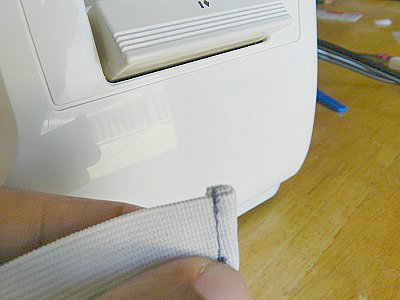 Then, sew down on machine or by hand to keep the elastic from raveling.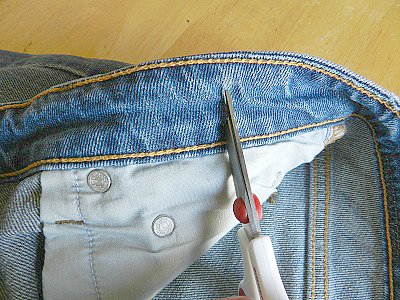 Now, cut a straight slit on each side of jeans according to the size of the elastic being used in pants.  My slits were cut about middle way above each pocket. I'm using 3/4 inch elastic.  So, I cut slit a little bit larger, around 1 inch.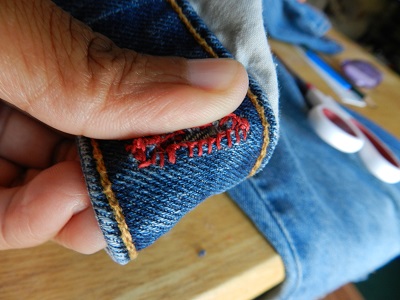 I finished the slit with a buttonhole or blanket stitch. It's a good idea to do a buttonhole or blanket stitch on the cut slit.  That will keep it from fraying or raveling. This is a pretty easy stitch.  There are some pretty easy and simple instructions that are online for making a buttonhole or blanket stitch. Such as the one here.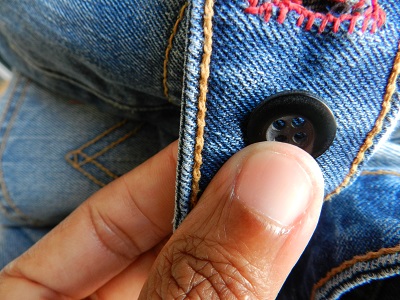 Add a button beside each cut slit, going toward the zipper area of the jeans.  The button is about 1/2 inch away from the cut slit.  The button has to be sewn on without going completely through the material.  You don't want the stitches showing on the outside of waistband when you wear them.  It's a little tricky, but just think about sewing buttonhole only through one part of the waistband.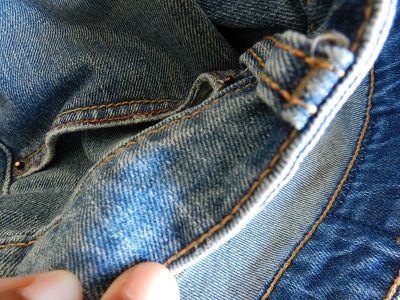 Notice how you can not see on outside of waistband where I have sewn the button in place.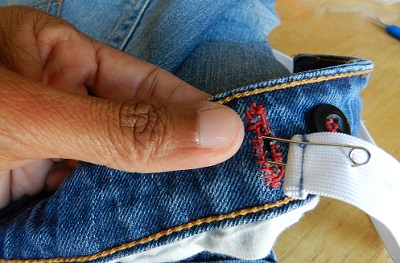 Attach a safety pin to one end of the elastic strip.  Push through to other cut slit by pushing and pulling on the safety pin when inserted through the waistband.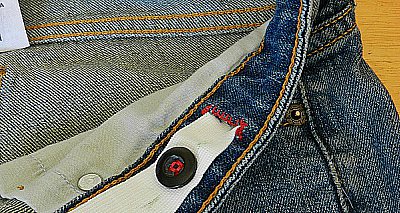 Make sure to button down the elastic on opposite end of elastic when nearing the end.  That way it will not slide all the way through. (That would make more work for you!)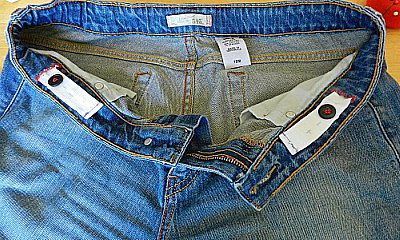 This is how it looks when done.  Adjust as needed by pulling more elastic through and then button.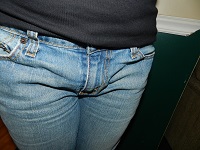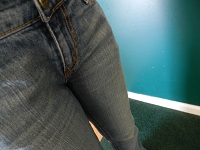 One of the great benefits of adjusting the waist in this particular pair of jeans is that I don't have puckering in the front of the jeans, anymore.  The second picture shows how much neater the jeans are in the front.  Love this!  Can't wait to wear these today!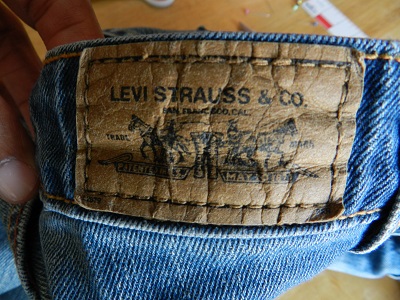 One other thing that I want to point out is that if you're making an adjustable waistband with Levi jeans, the label is sewn through the waistband.  Using a seam ripper, remove the stitches around the label.  Then, you will be able to push the pin and elastic all the way through waistband.  I ran into that problem.  Easily fixable!
Don't forget to check out How to Quickly Repair a Broken Zipper if you need help in this area. You can tell I'm a jeans-wearing girl.
Like this article? Sign up to get free email updates to Make It Or Fix It Yourself!