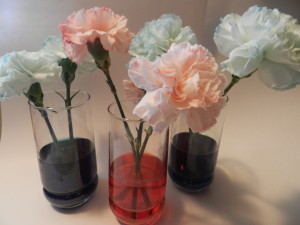 I was trying to dye carnations for a girl scouts' meeting.  It didn't go well at first until I put my science lesson to use.   This is actually a really neat activity to do with your kids.  It will teach them how plants take in water…through the stem.  This is unique in the sense that the kids will notice the carnations turning a different color because of the colored water that the flower takes in through its stem/root.
Items needed:
food coloring, white carnations and clear glass
Directions:  Really simple.
Fill a clear glass with water. You may use a plastic clear bottle. (about 1/2 or 3/4)
Put about 8 drops into water. This will depend on how deep you want the color.
Cut the stem of the white carnations.
Place the white carnation into the colored water.
Let stand for at least a day.  (My troop was hoping that the change of color would take place in 1 hour.)
After one day, examine the color. Wow!  This is a great time to explain fully how plants take in water through their roots.
Like this article? Sign up to get free email updates to Make It Or Fix It Yourself!