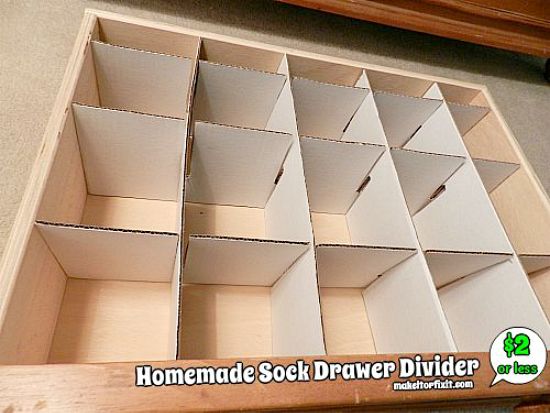 How many of you are tired of your junkie (unorganized) sock drawer? I was folding clothes and was about to put away the socks and I realized that I was totally tired of having a junkie sock drawer.  It was so hard to find a pair of socks to put on each day.  Not to mention, the socks were never paired up to its match.  (I must admit that I throw them in the drawer without a match, too.)  So, today I decided to get organized.  Of course, that means making something homemade.  By making it homemade, I'm able to have a divider that's the exact size of the drawer.  You can make these dividers without spending a dime if you have a large piece of cardboard box at home.  If not, purchase the project boards that the kids use for school.  They're only $1 at the Everything's A Dollar Store.
Items Needed:
cardboard box or (2) project boards
ruler
box cutter
Measure the inside of your drawer. You want to measure the length, width, and height of the inside of the drawer.  My drawer measured 14in x 20in x 5 in .  Five inches in height will allow me space to store 2-4 socks in each slot. I'm happy about that part.
Directions:

Find a cardboard to use for making the dividers.  This project board has a nice thickness that works perfectly.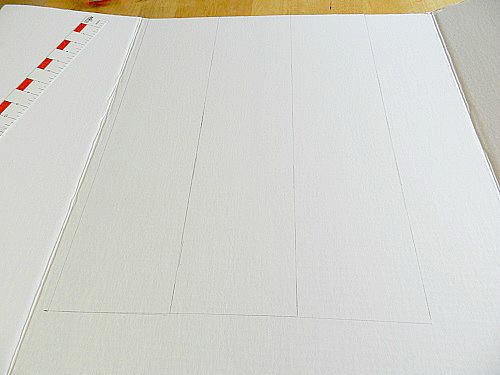 Measure the divider pieces according to your drawer measurements.  You will make two sets of divider pieces.  One set will be for the width measurement and one for the length measurement of the drawer.  In this pic, I am drawing for the length of the drawer.  Both sets will be the same height.  For instance, these pieces are 20 inches long and 5 inches high.  I am making 3 to 4 pieces.  I only used three of the 20 inch pieces.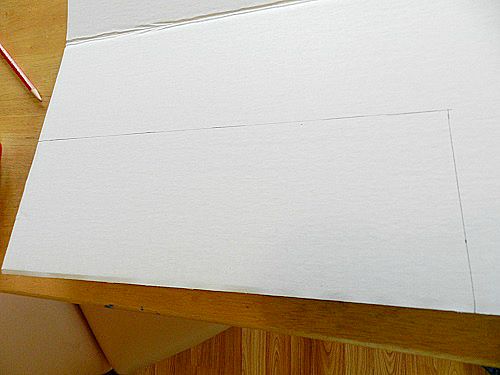 Next, I made the smaller divider pieces.  This one is 14 inches long and 5 inches high.  I made 4 pieces.  I used all 4 pieces.
To make the inserts or slots on each board, go down 4 inches. Then measure down about 3 1/4 and about 1/4 inch apart.  Make a little loop at the end.  The 3 1/4 inches is based on my 5 inch drawer height.  You will have to make it shorter or longer depending on the height of your drawer.  (Whatever length you're cutting for the slots, just make sure to leave about 1 1/2 in at the bottom of the divider piece.) Measure down 4 inches from the slot you just drew and repeat the step until you get to the end of the board.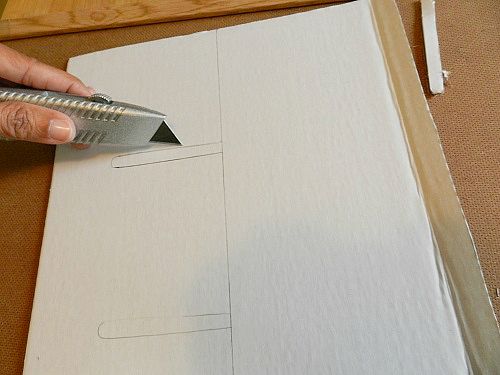 Using a box cutter, cut the slot part first. It's easier that way.  Then cut out the entire divider parts.

This is how they looked. Notice how the end part of smaller.  That is fine.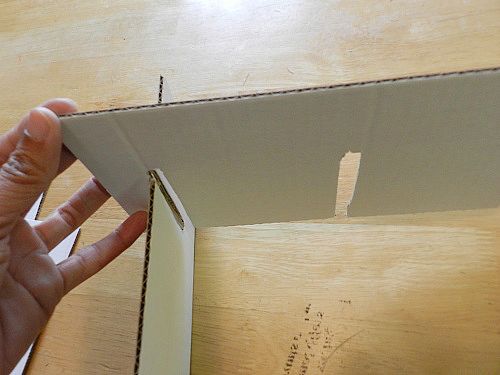 >?
Put the divider together by inserting the smaller divider piece into the larger divider piece slots or inserts.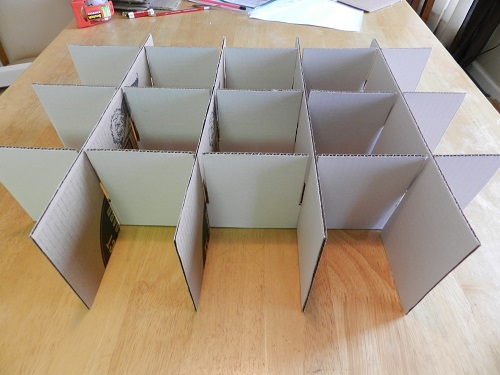 This is how the finished product looked before I assembled it inside the drawer.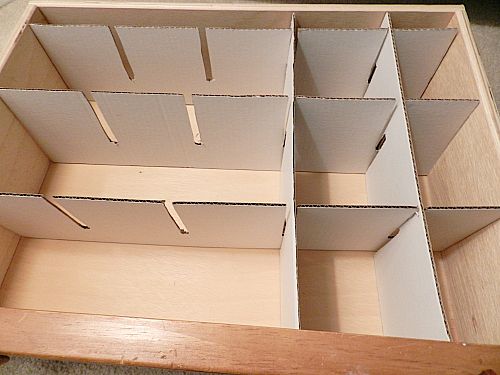 Begin assembling the dividers into the drawer.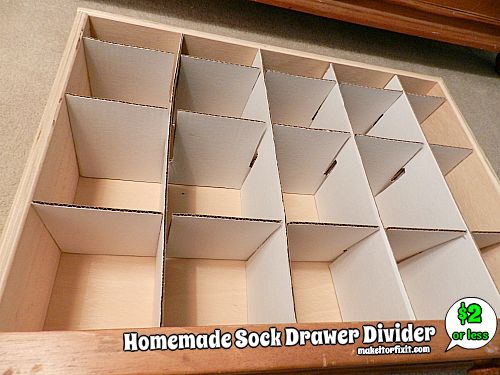 Ta Da! Now you have your very own handmade sock drawer divider.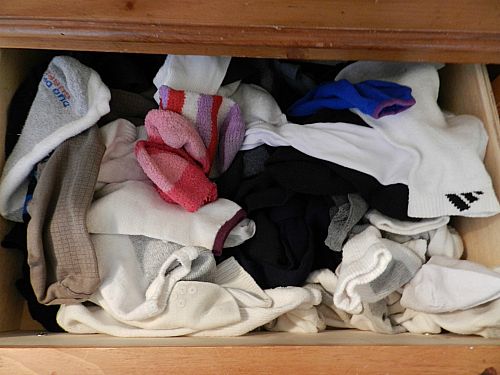 This is how my sock drawer looked before I organized it.
After using the divider, look how neat and organized my socks are now! I was able to get 4 socks in some compartments. Most of the compartments would hold 3 socks.  With this divider, I have 15 large slots and 5 tiny slots. I will use the tiny slots for such things as knee-highs or tights.  Now, I need to make a couple more sock drawer dividers for other rooms in the house.  This divider can be used for organizing a lot of different things in the house. I'm loving how organized my socks are now!
Have you made or bought a drawer divider to use at home?
Like this article? Sign up to get free email updates to Make It Or Fix It Yourself!