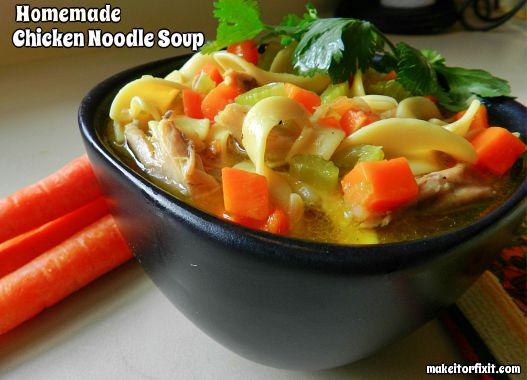 Yesterday, I opened a can of chicken noodle soup and had some with a slice of homemade cornbread. It was so good! So, of course, you know what I was thinking.  I can make this myself.  Who needs canned soup when you can make it homemade.  I think what really made it so good was the homemade cornbread.  In our house, you can't have soup, unless you have homemade cornbread.  It goes hand-in-hand.  Simply delicious!
Ingredients:  (Making Chicken Stock)
3 chicken leg quarters
2 onions (cut into quarters)
3 celery stalks (cut into large pieces)
1/2 garlic head (cut into large pieces)
7 sprigs of thyme
salt and pepper to season
Ingredients (Making Chicken Noodle Soup)
1 onion diced
2-3 celery stalks cut into small squares
1 cup of square-shaped carrots (or just cut 2 carrots into small circle pieces)
8 ounces of egg noodles
1 cup of chicken (add more if you like)
parsley for decoration
salt and pepper
additional seasonings of choice
Directions: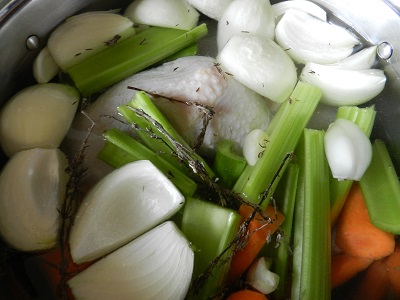 Begin by making your chicken stock.  Put your chicken, celery, garlic, thyme and salt and pepper in pot.  Pour in enough water to cover chicken and vegetables.  Let cook for about 1  1/2 hours.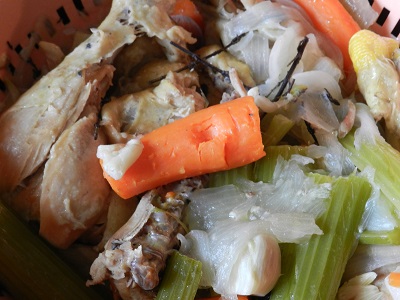 Drain into a colander. Make sure to put colander inside another large pot or bowl.  You will use the chicken stock for making the soup.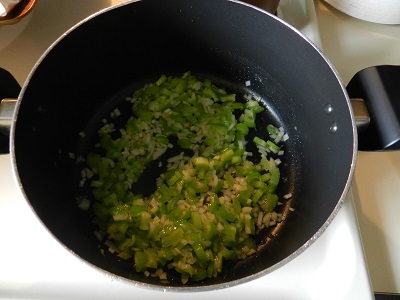 In another pot, saute celery and onion until soft.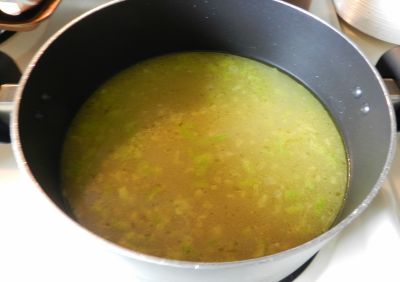 Pour about 2 quarts of the chicken stock over the sauteed onions and celery.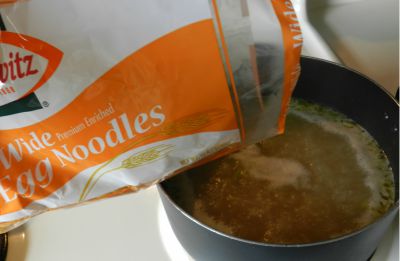 Pour in egg noodles and cook for about 5 or 6 minutes.  Check to make sure noodles are done.  I poured in too many noodles when I first made this.  I think that I only need about 1 cup of noodles.  It will depend on how many noodles you want in the soup.  Personally, I think chicken noodle soup should be more about the juice.
I must admit that I used canned carrots here.  Why? I wanted my carrots to be square-shaped.  I just love the look of them in chicken noodle soup.  (If you're going to use raw carrots, you'll need to saute them when you saute the onions and celery to soften them.)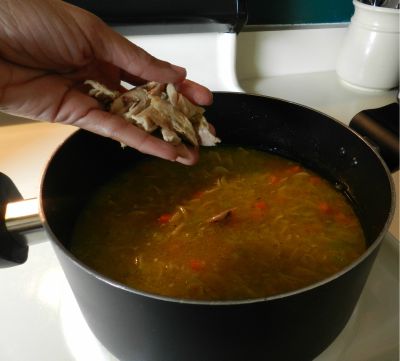 Put in the chicken.  Simmer for about 1 or 2 additional minutes.  Season with salt and pepper and other seasonings of choice.  I think the next time I prepare this dish I will throw in a couple spoons of canned cream of chicken to thicken the broth a little.  Pour into a nice bowl and put a slice of homemade cornbread on the side and you're all set.  Enjoy.
What's your favorite soup to make?  Or, what's your favorite soup to eat?
Like this article? Sign up to get free email updates to Make It Or Fix It Yourself!