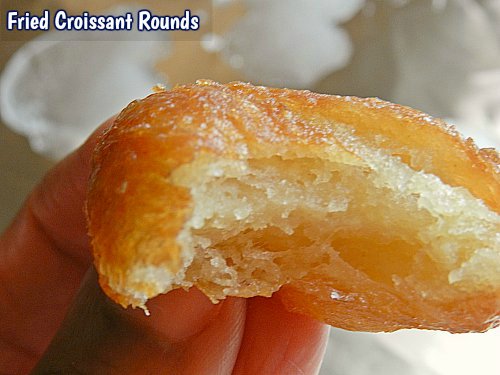 (Printed Recipe at Bottom of Post)
Okay. I just ate seven of these little fried croissant rounds.  That's what I'm calling them.  Some people may call them mini croissant donuts, cronuts, or whatever they're being called.  All I know is that they are round, small, flaky, crispy, and slathered in glaze. So, I guess I get to call them Fried Croissant Rounds or My New Favorite Dessert.  Trust me, you should make these in small batches because you will definitely eat a bunch in one setting.  Enough talking….let's get to how you make them.
Ingredients:  Croissant Rounds
1 package of Pillsbury Crescent Rolls or any brand (will make about 14 mini rounds)
oil for deep frying
Ingredients: Thin Glaze (adjust for thickness)
1 cup, plus 3 tbs of powdered sugar
1/4 cup water or less
Directions: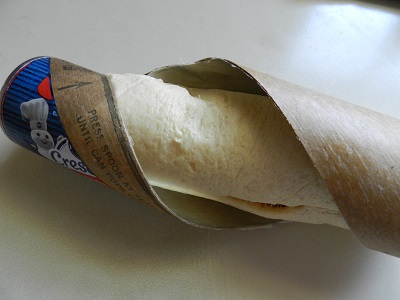 Open the package of crescent rolls.  Unroll the pre-cut pieces.  I used Pillsbury Crescent rolls for a batch and I also used crescent rolls that I bought at an Aldi store.  So, you don't have to have a specific name brand.  They tasted just as great with both kinds.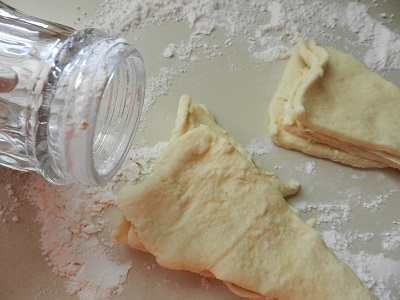 I stacked 3 pre-cut pieces on top of each other.  I tried stacking 4 pieces, but it did not cook thoroughly.  The middle of the rounds were still raw.  So, definitely only go with 3 stacks.  This gives it that flaky, layered look. Or, it just makes it taste great.  Using a small container with a round opening, cut out little rounds.  I was able to get at least four rounds off each stack.  You could roll the pieces out and knead them into a large piece if you prefer that way and then stack it.  I like it this way better. Much easier for me.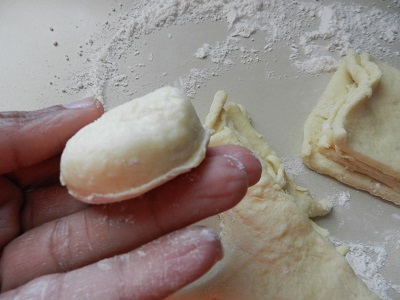 Look how cute they are! Can't wait to get to the finished product!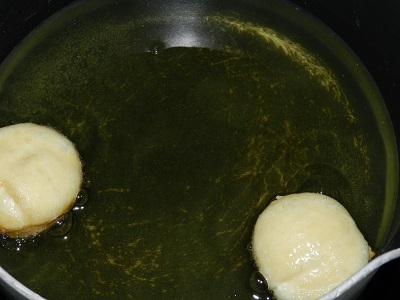 Pour enough oil in pot to allow for deep frying. Heat the oil.  Make sure the oil is hot, but not extremely hot. We don't want to burn them. I had my stove on a setting of 7, if that helps.  Very hot would've been 9 or higher on my stove.   I didn't take the temperature of the oil.
****Before you throw all of them in to the oil, place a couple of the rounds into the oil.  Start off cooking only a couple, perhaps 2, to make sure that they fry to your liking.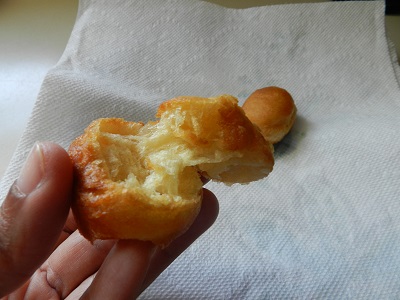 When done, split them open to check and make sure they are done.  If not, adjust cooking. time. Then, cook remaining rounds.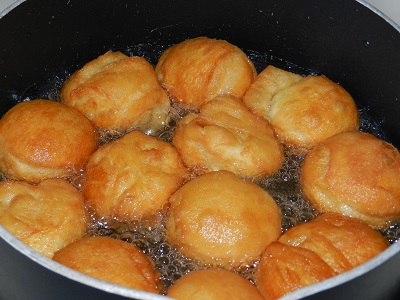 I cooked 45 seconds on one side, flipped over and cooked for another 45 seconds.  Came out perfect for me.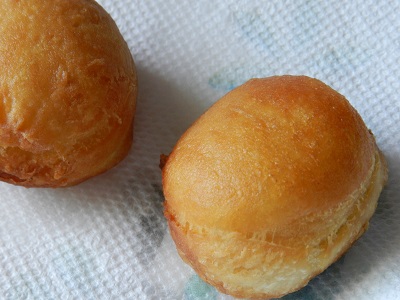 Remove from oil.  Place on plate lined with paper towels.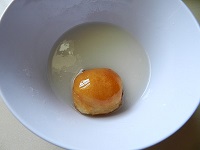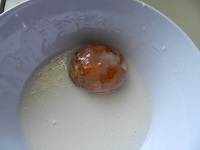 Dip into powdered sugar glaze.  I tried this glaze thick and made thin.  I prefer the thinner glaze.  (1 cup, plus 3 tbs of powdered sugar and 1/4 cup of water.  Just add more sugar if you want it thicker. The thicker glaze does give it a more sugary look and taste.)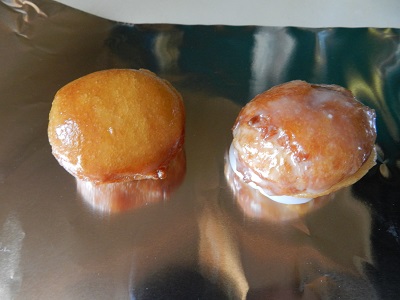 This is a pic of a thin glaze and a thick glaze.  Set for a couple of seconds for glaze to drip.  I didn't attempt to fill these rounds with anything on the inside.  Why should I? They are simply perfect already. ***You can eat them at this point or you can go a step further to get that caramelized glazed look.  The best way to eat them, of course. Turn oven on 500 degrees. Make sure that you decide on a thin or thick glaze before putting in oven.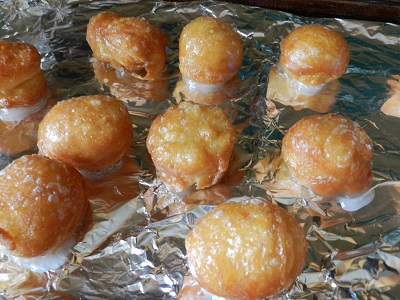 Place glazed donuts in oven for 30 seconds or until you see the sugar bubbling.  Remove from oven.  That's how to get that white-looking bubbled glaze look in the above picture.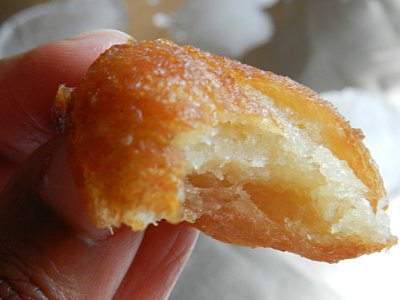 Ummmmmmmm….take a bite! (less glaze)
Then, get another one and take another bite.  (more glaze) Try to stop at your fourth or fifth fried croissant rounds.  They are so delicious!
[amd-zlrecipe-recipe:2]
Like this article? Sign up to get free email updates to Make It Or Fix It Yourself!