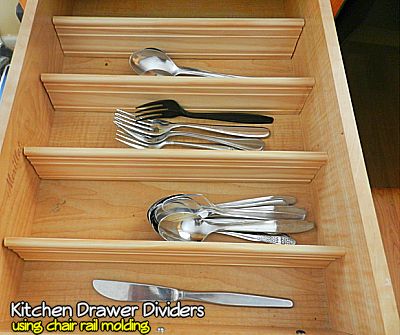 Tried my hand at organizing my utensil drawer in the kitchen.  I decided to go with using some chair rail molding.  If you have some leftover chair rail molding in your house, then it is definitely an inexpensive venture to try.  If not, you can purchase enough for drawer dividers from Home Depot for about $5 or $6. Home Depot will also cut the chair rail molding for you as long as it measures at least 12 inches.  I love the look of the molding in the drawer.  One interesting fact: I'm not gluing or nailing anything down.  The trick: I'm using popsicle sticks.  Why? If I want to move them about, I only have to remove popsicle sticks, reset molding pieces and place popsicle sticks to hold down firmly in place.  Here's how:
Items Needed:
chair rail molding
popsicle sticks
Directions:
First, measure the exact length needed for each dividers.  My dividers measured exactly 12 7/8 inches.  If purchasing wood or molding, make sure to determine the height needed also.  This molding measured close to 3 inches in height.  Perfect for my drawer which is about 4 inches high.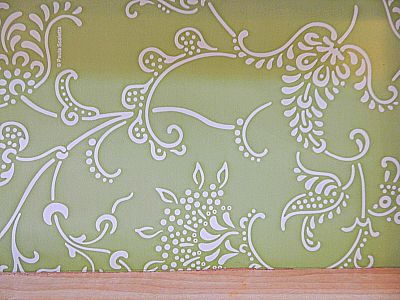 I decided to put shelf liner on the bottom of the drawer.  It is easily removable, so you don't have to worry about it being permanent.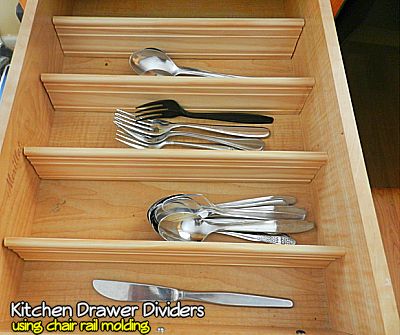 You can opt to go without shelf liner and it is still pretty.  See photo above. (Popsicles not inserted yet)
After covering, I placed dividers in drawer. You should decide the distance that you will need between the dividers before getting started.  It will depend on the size of your drawer and the amount of separation you want between dividers.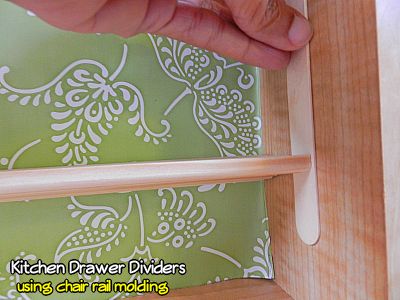 I wanted to keep this job very simple and didn't want to glue or nail anything. The trick to not having to glue or nail down any wood is using some type of wood (or other item) to give a good seal between side of drawer and divider.  You want a snug fit so that the dividers do not move.  You can always remove sticks if you decide that you want a different spacing.  If you don't want to use popsicle sticks, Home Depot carries wood shims that can be used to help the wood fit snugly against the side of the drawer.  Of course, I'm always looking for the most inexpensive way to do a project.  So, the popsicle sticks came in handy, especially since I already had some.  When done, open and close drawer to made sure the dividers stay in place snugly.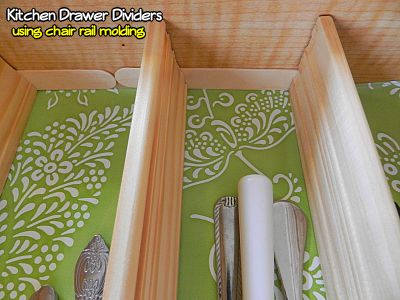 This is a close-up shot to see how the popsicle sticks hold the molding in place….very tight and snug.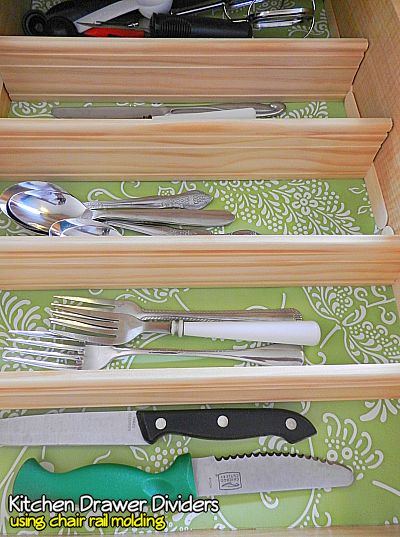 There you have it. Quick and simple!
Also, If you're interest in a DIY Sock Drawer Divider, pop over here and check out my post for making a homemade sock drawer divider.
Like this article? Sign up to get free email updates to Make It Or Fix It Yourself!