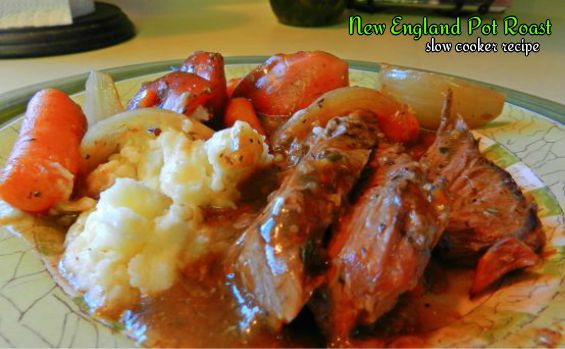 I know that everyone is in the midst of holiday shopping. Whew! I need a break! Didn't we just finish all that cooking for Thanksgiving? If you're as tired as I am now, then you might not feel like cooking any meals at the moment. However, people still have to eat. So, I thought it would be great to review this product when asked by Kraft. You can consider it A Little Help for the Holidays from Kraft. It is so simple and easy to make. This great dish came from their selection of Kraft Recipe Makers Meal Starter. They had a variety of choices to select from and I went with this one, since we haven't had pot roast in years. Plus, it gave me an opportunity to use my crock pot. First, I must admit that this is definitely a time-saver. The instructions are very simple. After all, you're cooking it in the crock pot and step-by-step directions and pictures are written right on the back of the box. You just need to provide a few fresh ingredients to make this work.
Ingredients:
Kraft New England Pot Roast Recipe Makers
2 1/2 lb pot roast
1 onion
1 lb baby carrots
1 lb small red potatoes
Directions:
Begin by gathering your ingredients for this meal. I didn't have small potatoes so I used two large red potatoes and cut them into small size pieces. They worked just as well.
Put your roast and vegetables in the crock pot. This looks good already and I haven't even started cooking it yet. When you can fix your vegetables at the same time as your meat, it's a definite plus! Score 1 for Kraft Recipe Makers.
You'll notice that when you purchase and open the box, there are only two ingredients inside; the Farmhouse Style Brown Gravy and Classic Herb Simmer Sauce. Before you purchase the product, please keep in mind that you can save more on this and other Kraft products using Kraft coupons redeemable exclusively at Target. So, make sure and visit Target.com to get your coupons. I'm a coupon user and always on the lookout for a great deal. I never leave home without my coupons. I'm trying to save every penny possible.
Pour the Classic Herb Simmer Sauce over the meat and vegetables. Turn your crock pot on low for 8 to 10 hours or you can cook it on high for 6 to 8 hours. I let my roast and vegetables cook overnight and it was ready when I got up in the morning. The house was smelling so good! My daughter woke up and the first thing she said, "Mom, it smells good in here!" That's the beauty of cooking with a crock pot. You have the opportunity to wake up to a cooked meal.
After cooking for about 10 hours, it looked delicious in the crock pot.
Now, pour in the Farmhouse Style Brown Gravy Finishing Sauce. This sauce thickens the juice in the crock pot.
Stir to blend in the gravy sauce and allow to cook for an additional 15 minutes on high. It looks like a southern dish that my mom would've prepared when I was growing up. I couldn't wait to taste it……..
This was a tasty meal! The sauce has a somewhat tangy taste to it. So, if you like a little bit of a tang, you'll love this. I liked the thickness of the gravy. As you can tell from the photo, I made some mashed potatoes to go on the side. There was also the potatoes that cooked in the crock pot. You really don't need to add any other side dishes. However, when it comes to gravy, I need mashed potatoes on the side. I would definitely say this is a thumbs up when it comes to ease of cooking and saving time. On top of that, you have a whole meal in the crock pot. We all lead such busy lives. So, if you're totally exhausted during this time of the year and need a little help, then it's definitely worth trying some of the Recipe Makers Meal Starters from Kraft.
From shopping for gifts to planning family dinners, it's hard to keep up with all your holiday to-do's. This year, Kraft is helping out with great weeknight meals and entertaining ideas to make the season a little bit easier. Plus, Kraft is offering up to $20 in coupons, redeemable exclusively at Target, to make food shopping easier and to help you have a happy holiday season.
This is a sponsored conversation written by me on behalf of Kraft. The opinions and text are all mine.
Like this article? Sign up to get free email updates to Make It Or Fix It Yourself!