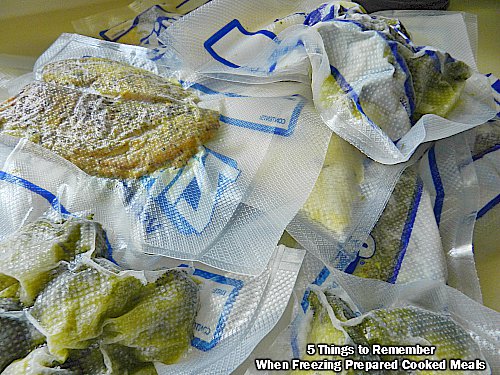 If you've jumped on the bandwagon of trying to prepare and store cooked meals for future use, then here are 5 great things to keep in mind.  First, let me say, that I love that I have started doing this…prepping, cooking and storing meals.  It saves me a ton of time ( I hate cooking, so, I'm all for being in the kitchen the least amount of time that I can.) I have a couple of months of meals that have been prepared over time.  I love the convenience of going to the freezer and picking out what meal that I would like to eat and knowing that I just need to throw it in the microwave. It's a life saver.  I can't have a lot of sodium/salt, so, it saves me from eating out and picking up food that will more than likely contain a lot of sodium.  And, of course, I am saving money from preparing meals in advance. That  is a total PLUS!
Here are 5 things that I have learned since I have started this process:
Vacuum Seal Food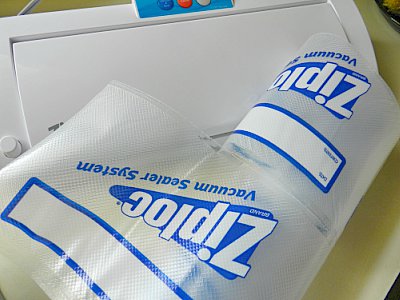 It's really great if you can vacuum seal food.  It will last longer and keep the food fresh longer when vacuum sealed instead of just being placed in plastic storage bags.  Removing all the air out of the bag is so important.  You don't want freezer-burned food when you finally decide to heat it up.  Most frozen meals will last awhile…typically anywhere from 3 to 6 months or longer.  You can date your frozen meals if you want to keep up with how long they've been frozen. There are lots of different types of vacuum sealer products on the market.  I just happen to have a product from Ziploc that I like.  (This is a not a review for Ziploc. I just like this product.)
Freeze Food Items a Little Before Vacuum Sealing
Most foods will vacuum seal better when they are already frozen.  For example, I tried to vacuum seal corn kernels that I had cooked.  When I was trying to vacuum seal the corn, the water from the corn was being sucked up into the sealer and the vacuum sealer wasn't removing all of the air.  It was a mess.  So, from then on, I would slightly freeze food items and then vacuum seal them.  Trust me, it works so much better.  Vacuum sealers work best when there is not a lot of water in the food.  It caused me to have to put in a little more work, but it's worth it.  So, remember to freeze and then vacuum seal.  It removes more air from the bag when the items are frozen.
Cook a Variety of Food to Store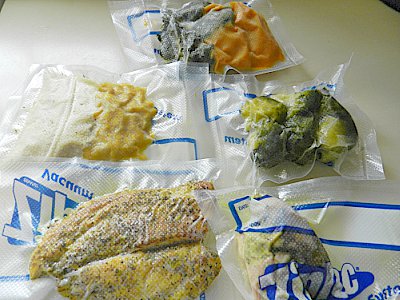 If possible, cook a variety of food.  That way, you will have a choice or nice selection and will not get tired of only one meal.
Separate Meat and Vegetables when Possible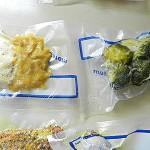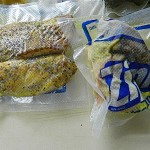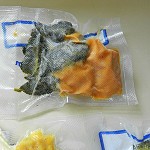 Also, try and separate meat and vegetables/side dishes when possible.  I'm including this as a tip because it will come in handy when you want to mix and match different types of meat with different types of vegetables.  Sometimes, you might not want broccoli with rice, even though you cooked it for a certain meal. Or, you might be in the mood for chicken, instead of fish with a certain side dish.  It's nice to have choices.
Store Some of the Food in Individual portions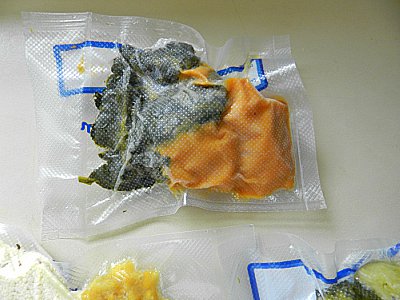 I store the majority of my food in individual portions.  I do this because I prepare a lot of food for myself that does not contain salt.  My family still likes salt in their food, so, if I store for them, it will be in larger or individual portions.  Plus, I may want to grab-and-go if I'm going to be needing to take my lunch or meal with me.  The vacuum sealer I use has these nice baggies that is pre-cut for smaller portions.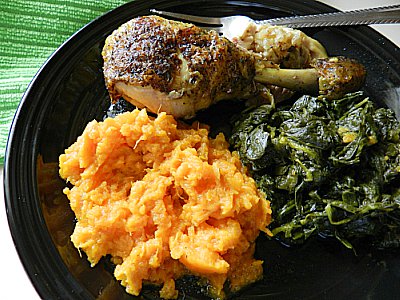 I have definitely cut down on some of the stress that comes with cooking since I started freezing meals.  For example, today my dinner was prepared two weeks ago.  Still, just as tasty as when first cooked. Loving it!
Do you store prepared meals? Do you have any suggestions on storing prepared meals?
Like this article? Sign up to get free email updates to Make It Or Fix It Yourself!